At West Point, Obama Presses for New World Order to Defeat Al Qaeda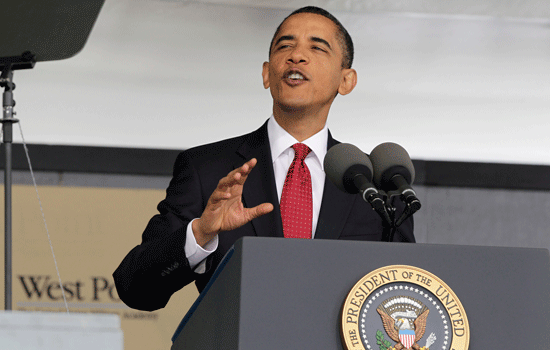 President Obama on Saturday vowed to press for a new international order "that can resolve the challenges of our times" and help the United States defeat Al Qaeda and other threats to freedom.
Delivering the commencement speech at the U.S. Military Academy at West Point, Obama ticked off a list of lofty goals this new order could accomplish; from combating violent extremism to stopping the spread of nuclear weapons to stemming climate change and sustaining global growth.
While saying he was "clear-eyed about the shortfalls" of the international system that has led many critics of the United Nations and other institutions to abandon multilateralism, Obama said the United States would move ahead on a policy of "national renewal and global leadership."
"We have succeeded by steering those currents in the direction of liberty and justice -- so nations thrive by meeting their responsibilities, and face consequences when they don't," he said.
Saturday's comments suggest the Obama administration may be ready to more vigorously court the international community's support, and further distance itself from the "distinctly American internationalism" pursued by George W. Bush.
The Bush administration lobbied for support on issues like the removal of Saddam Hussein from power in Iraq, but at other times pursued unilateral action in defense of U.S. interests.
Obama said the United States would continue to pursue at least one Bush administration goal -- the defeat of Al Qaeda in Afghanistan -- and warned "there will be difficult days ahead." He also said international support would be a key to winning the battle.
"We will adapt, we will persist, and I have no doubt that together with our Afghan and international partners, we will succeed in Afghanistan," he said.
Presidents traditionally deliver the commencement address at a different military academy each year. Obama spoke last year at the U.S. Naval Academy in Annapolis, Md. Secretary of Defense Robert Gates was the speaker last year at West Point.
Obama's speech Saturday comes as would-be terrorists have stepped up their efforts to attack the U.S, including the Christmas Day bombing plot and the attempted Times Square bombing last month. Obama is replacing his director of national intelligence after a Senate report revealed a number of intelligence failures in the failed Christmas Day plot.
In his commencement address at West Point, the president described the war against Al Qaeda as a "different kind of war," noting that the terrorist group doesn't lead a nation or a religion.
"There will be no simple moment of surrender to mark the journey's end -- no armistice or banner headline," he said. "Though we have had more success in eliminating Al Qaeda leaders in recent months than in recent years, they will continue to recruit, plot, and exploit our open society."
"So the threat will not go away soon, but let's be clear: Al Qaeda and its affiliates are small men on the wrong side of history," he said. "We need not give in to fear every time a terrorist tries to scare us."
"We are the United States of America. We've repaired our union, faced down fascism, and outlasted communism. We have gone through turmoil and come out stronger, and we will do so once more," he said.
In his speech, Obama outlined some of the broad principles that will be in the national security strategy he'll unveil next week.
Six months ago, Obama spoke at West Pont to outline his plan to send 30,000 more troops to Afghanistan to revive a struggling war effort while aiming to start handing over security roles to Afghan forces by July 2011.
Obama is going to need Republicans and Democrats to compromise to continue his plan. Corruption in Afghanistan President Hamid Karazi's government and his threat to reach out to the Taliban have left Democrats in no mood to approve a supplemental funding bill that the White House would like to pass by Memorial Day. Some of them are demanding money to help states avoids teacher layoffs and Republicans are objecting to that.
Obama's commencement address was the third one this year. Earlier this month at Hampton University, he told the mostly black graduating class they have a duty to help less fortunate black people to get ahead. And in his graduation speech at the University of Michigan, he called for more civil political discourse, warning that extremism on the left and right was making it difficult to compromise.
Fox News' Wendell Goler contributed to this report.