As Jindal Prepares for Re-Election, Louisiana Looks Friendlier and Friendlier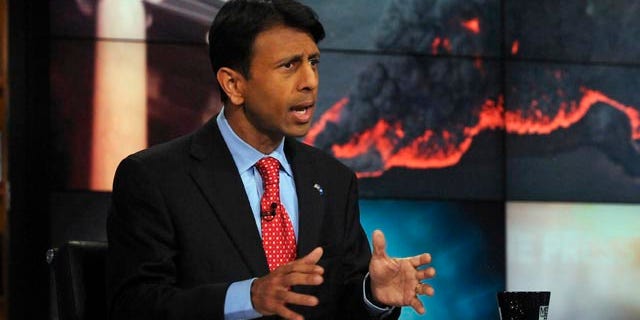 NEWYou can now listen to Fox News articles!
BATON ROUGE, La. -- The hits just keep on coming for the Louisiana Democratic Party.
The party lost nearly all the top races on the ballot this month. Democrats lost control of the Louisiana House of Representatives a week later with the party switch of one of its members. And one of the longest-serving Democratic lawmakers at the Capitol says he may jump to the GOP by the end of the year.
A Democratic up-and-comer who seemed promising to lead the party into the future, Caroline Fayard, handily lost the special election for lieutenant governor this month. Meanwhile, another bright spot for the party, Scott Angelle, a fiery Cajun who can give quite a speech, defected to the GOP right before the Nov. 2 election.
It's setting up what could be a grim 2011 election cycle for Democrats.
So far, no viable Democratic candidate has emerged to challenge Republican Gov. Bobby Jindal's re-election bid, and several longtime Democratic lawmakers are hitting their term limits in districts that might easily flip to the GOP when the incumbents aren't running.
As he conceded his loss to Republican David Vitter in the U.S. Senate race, Democrat Charlie Melancon lamented the increasing polarization of a state in which bipartisan moderate Democrats regularly won elections.
That tradition appears to be over as Louisiana becomes an increasingly red state, anger about President Barack Obama creates backlash for Democrats locally and the Democratic Party's conservative Blue Dog coalition continues to disappear nationally.
Of the top elected offices in Louisiana, Democrats have one U.S. senator, one congressman and one statewide elected official, Attorney General Buddy Caldwell. Five years ago, Democrats held one U.S. Senate seat, two in the House and six of the state's seven statewide elected jobs.
It's a striking change, and beyond the election losses, party switches keep edging away at Democratic power.
Republicans now have the majority in Louisiana's House of Representatives for the first time since Reconstruction, because of the party change of state Rep. Walker Hines, from New Orleans.
Hines, 26, the youngest member of the Louisiana Legislature, isn't a traditional Republican by any stretch. His positions have often been considered more liberal than conservative, but it's clear he's got an eye on his political future in a state increasingly trending to the GOP.
Hines' move gives Republicans 51 seats in the 105-member chamber. Democrats will have 50, and there are four independents. Democrats control the state Senate.
Longtime Democratic stalwart John Alario -- a former state House speaker, one-time ally of former Gov. Edwin Edwards and currently a state senator -- has said he is considering jumping to the Republican Party as well. He's been in the Legislature since 1972, always as a Democrat.
A consummate dealmaker and powerbroker, Alario's loss would be a significant blow to the state Democratic Party, if he chooses to abandon ship.
One blow already delivered to Democrats in Louisiana was the move of Angelle, a Jindal administration appointee, to the GOP fold. A former St. Martin Parish president, Angelle has worked as lieutenant governor while the job was vacant. He's returning to his prior job as natural resources secretary, a post he's held under Jindal and former Gov. Kathleen Blanco.
Angelle, with his engaging demeanor and commanding speechmaking ability, seemed to offer a promising candidate for Democrats if -- or more likely when -- he runs for another elected post of some kind. Now, he'll give that advantage to the Republicans.
Both Angelle and Hines cited similar complaints when they switched parties: complaints directed not at state Democrats, but at national Democrats.
That creates a difficult problem for the Louisiana Democratic Party to hold onto their candidates and politicians when they have no control of the national rhetoric and policies that are driving them away. Whether they can improve their foothold in Louisiana politics will be one of the biggest political questions of next year.