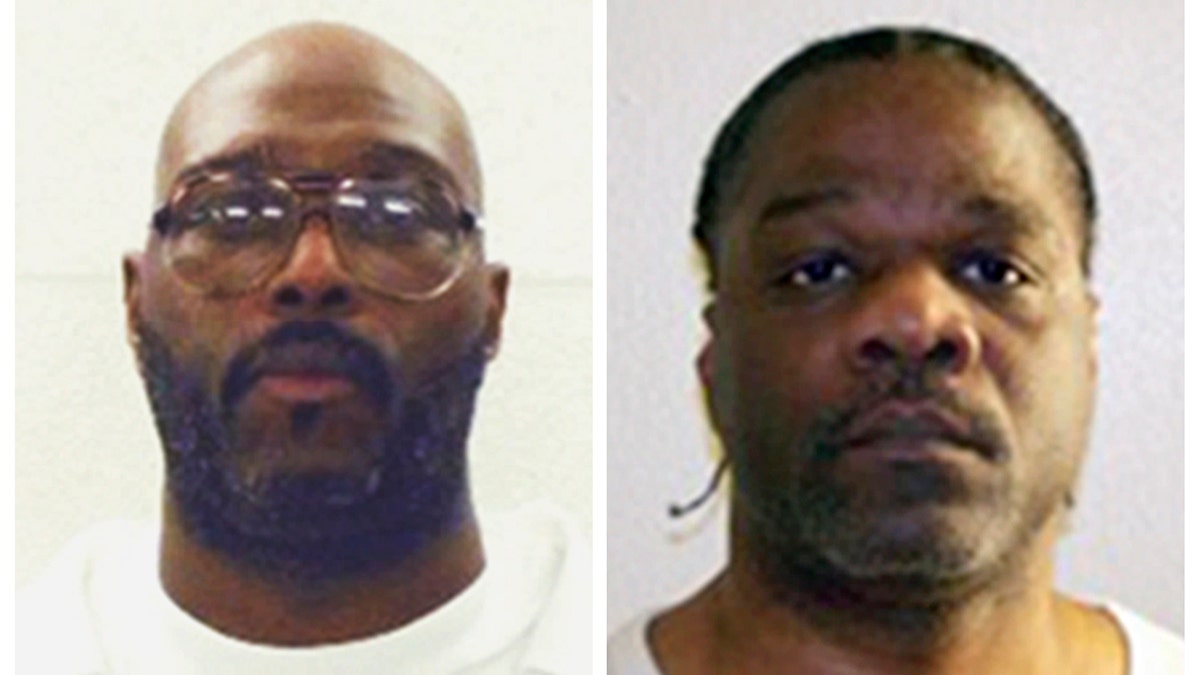 Two Arkansas prison inmates slated to die today have reprieves - one to allow lawyers to try to prove his innocence, and the other to allow the state to find a court-approved method of carrying out his execution.
Lawyers for Stacy Johnson, 47, who was convicted of the 1993 murder of a 25-year-old mother of two, won a stay Wednesday from the Arkansas Supreme Court after arguing DNA testing could prove his innocence.
"Some items have never been tested," Jeff Rosenzweig, Johnson's lawyer, said. "We should be able to use these new techniques, but we've been denied that so far."
A similar bid by Ledell Lee, 51, who was also scheduled to be executed Thursday has not been approved. The American Civil Liberties Union and the Innocence Project, who have taken over Lee's case, argue that Lee has an intellectual disability that resulted from fetal alcohol syndrome. They also said he suffered from "horrible legal counsel."
Lee was convicted ot the 1993 murder of 26-year-old Debra Reese, who he beat with a tire iron her husband had given her for protection.
The two are among a group of eight convicted killers the state plans to put to death by the end of the month, but the executions have been delayed by challenges involving a controversial lethal injection drug. On Wednesday, Pulaski County Circuit Judge Alice Gray ruled the state could not use the drug vecuronium bromide in any of its executions, putting Lee's execution on hold - at least temporarily.
"Irreparable harm will result. Harm that could not be addressed by (monetary) damages," Gray said in a ruling from the bench, siding with the medical supply company McKesson Corp., who accused the state of misrepresenting its use of the drug and sued to stop its use in executions.
In the case heard by Gray, a state prison official testified that he deliberately ordered vecuronium bromide last year in a way that wouldn't leave a paper trail, relying on phone calls and text messages. Arkansas Department of Correction Deputy Director Rory Griffin said he didn't keep records of the texts, but McKesson salesman Tim Jenkins did. In text messages from Jenkins' phone, which came up at Wednesday's court hearing, there is no mention that the drug would be used in executions.

In still another filing, all eight death row inmates asked the U.S. Supreme Court on Wednesday to block their executions. Three of the inmates already had their capital punishments blocked by other court orders.
The state has hit back on every legal challenge and accused defense lawyers of using "dilatory tactics" and "execution eve iteration" to prevent the executions from taking place.
"Petitioners are convicted capital murdered who have enjoyed multiple opportunities to challenge their convictions, sentences and – critically – the method by which they will be lawfully executed," the state wrote in its filing to the high court. "Their guilt and the justness of their sentences are beyond any dispute."
The eight scheduled executions over an 11-day period would be the most any state has ever carried out since the death penalty was reinstated in 1976.
Gov. Asa Hutchinson set the aggressive schedule in February and argued it was needed because one of the three drugs the state uses to carry out lethal injections is set to expire at the end of the month.
What followed was a wave of legal challenges and protests from the inmates and anti-death penalty advocates, as well as the drug manufacturer. The court fights have pushed Arkansas to the forefront of the death penalty debate in America.
After Johnson and Lee, the next two men scheduled to die on April 24 are Jack Jones and Marcell Williams, followed by Kenneth Williams on April 27.
The last time two executions were attempted was in Oklahoma in 2014. In that case, the state botched one execution and was forced to call off the other after the combination of drugs the state used failed to kill inmate Clayton Lockett who was left writhing violently on a gurney as officials spent 20 minutes trying to execute him.
Following the grisly outcome, the state called off the second lethal injection.
The Associated Press contributed to this report.