Arkansas Middle School Yearbook Names Bush, Cheney Among Top 5 All-Time Worst People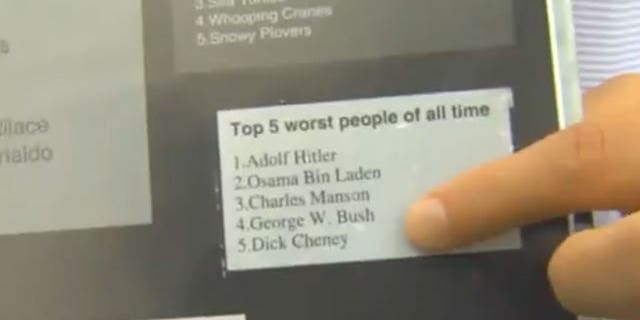 What do George W. Bush and Dick Cheney have in common with Adolf Hitler, Usama bin Laden and Charles Manson?
They've been named the "Top 5 worst people of all time" in a yearbook published by a middle school in Russellville, Ark.
School administrators say they don't know how the former president and vice president ended up in the book, and the school district covered the list with a piece of black tape when parents spotted it after its printing.
Still, some parents are outraged.
"I'm furious as a parent and as a board member and as a taxpayer and as a resident of Russellville. It's wrong," school board member Chris Cloud, who has two kids in the school district, told Fox affiliate KLRT Fox 16 in Little Rock.
Superintendent Randall Williams called the list "an oversight." He expressed surprise when told the tape can be pulled off.
"Well that's disappointing because the yearbook supplier told us this was a definite fix," he told Fox 16.
The yearbook editing process is under review, Williams said. But he wouldn't comment on any disciplinary action the sponsor might be facing.
Click here to read more from KLRT Fox 16.