Arizona Sheriff Joe Arpaio defeated after seven terms, 23 years in office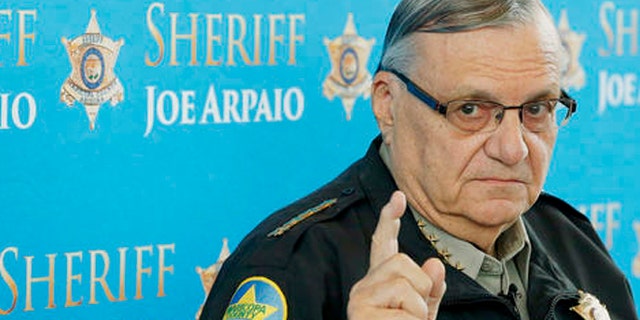 NEWYou can now listen to Fox News articles!
Sheriff Joe Arpaio lost his seventh bid for Maricopa Country sheriff, after a 23-year term fueled with controversy, lawsuits and racial tensions between the Latino communities with an extreme position on the U.S. border.
With an increasing number of Latinos going to the polls, and with ballot measures including recreational marijuana and raising the minimum wage, large numbers of liberal voters turned out to vote in the Arizona county, ousting the longtime Republican Arpaio to Democrat Paul Penzone.
Until Tuesday, voters of Maricopa County had supported the 84-year-old lawman through many scandals — including accusations of racial profiling, mishandled sex-abuse cases, abusing prisoners and questioning President Obama's birthplace.
County taxpayers have spent $48 million so far to defend Arpaio and his office in the racial profiling case. The cost is expected to reach $72 million by next summer.
Two weeks ago, Arpaio was charged with criminal contempt of court for violating a 2011 judge's order to put an end to immigration raids. He has a court date set for December.
Arpaio could face up to six months in jail if convicted.
Arpaio's lawyer, Mel McDonald, said the sheriff will contest the charge. "We believe that when the final chapter is written, he will be vindicated," McDonald said.
His criminal case stems from Latino drivers' complaints that they were singled out by race in Arpaio's traffic stops while he made a name for himself as an immigration enforcer.
Arpaio was lauded by conservatives, including Republican nominee Donald Trump, but locally his stance with immigrant rights activists and groups representing Latinos earned him enemies.
The former sheriff was recorded to have spent $2.8 million on television ads. By August, he had raised $10 million on his re-election campaign, mostly coming from outside Arizona.