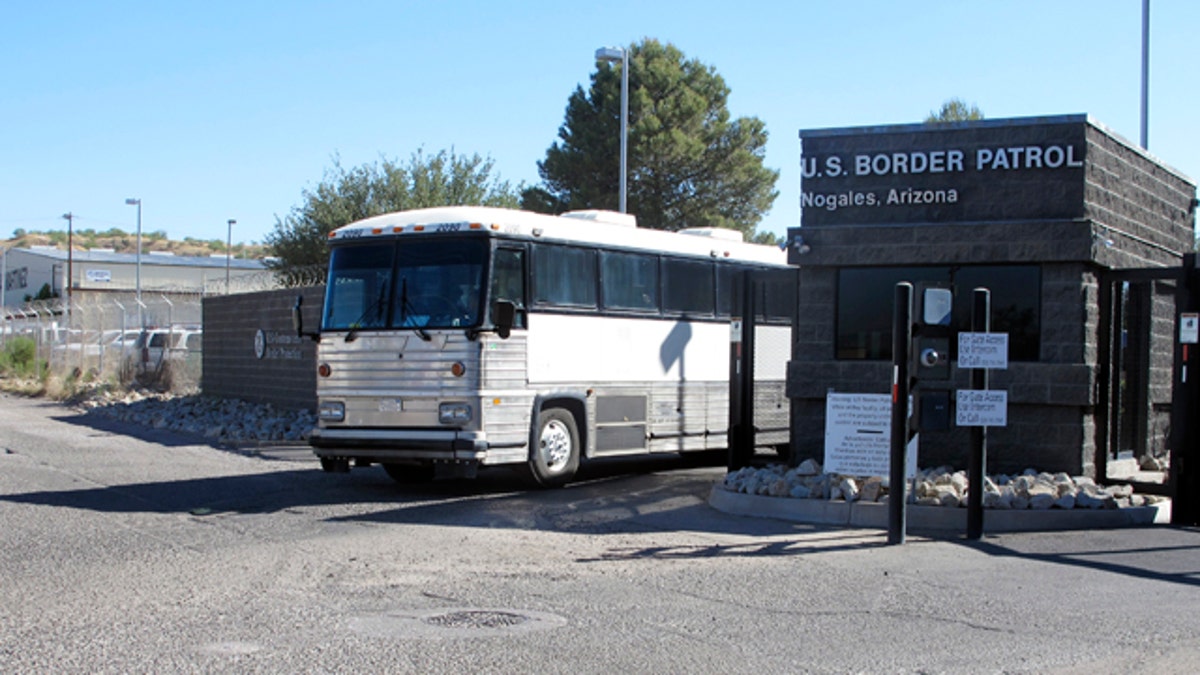 The state of Arizona has shipped mattresses, portable toilets, and showers to a warehouse in Nogales where over 700 illegal immigrant children have been "dumped" by federal agents using the facility as a makeshift holding center.
An official with the Department of Homeland Security told the Associated Press that 2,000 mattresses have been ordered after most of the children spent the night sleeping on plastic cots.
Gov. Jan Brewer's spokesman, Andrew Wilder, said Friday that conditions at the center are so dire that federal officials have asked the state to immediately ship medical supplies there.
DHS started flying illegal immigrants to Arizona from the Rio Grande Valley in Texas last month after the number of immigrants -- including more than 48,000 children traveling on their own -- overwhelmed the Border Patrol there.
Families were flown from Texas, released in Arizona, and told to report to an Immigration and Customs Enforcement (ICE) office near where they were traveling within 15 days. ICE has said the immigrants were mostly families from Central America fleeing extreme poverty and violence.
Federal officials told Brewer Friday that more than 1,000 illegal immigrant children will be "dumped" in Arizona this weekend and the practice would continue for the foreseeable future. Adults and family units will also arrive, though Brewer was not told how many, her office said.
Brewer said the federal government never formally informed her administration of the practice and has never explained it.
Brewer said she has demanded answers from Department of Homeland Security Secretary Jeh Johnson, and is again calling on President Obama to terminate the practice.
"I am disturbed and outraged that President Obama's administration continues to implement this dangerous and inhumane policy, meanwhile neglecting to answer crucial questions our citizens demand and deserve," she said.
The Homeland Security official, who spoke on condition of anonymity because there was no authorization to discuss the matter publicly, said the holding center opened for unaccompanied migrant children because the U.S. Department of Health and Human Services had nowhere to turn.
"They became so overwhelmed and haven't kept up with planning," the official said.
At the holding center, vendors are being contracted to provide nutritional meals, according to U.S. Customs and Border Protection officials. The Federal Emergency Management Agency, meanwhile, will provide counseling services and recreational activities.
The Homeland Security official said the number of children at the warehouse was expected to double to around 1,400. The warehouse has a capacity of about 1,500.
The Arizona Daily Star reported Saturday that Jimena Diaz, consul general of Guatemala in Phoenix, visited the center Friday and said there were about 250 children from Guatemala, with the rest coming from El Salvador and Honduras.
Diaz told the newspaper that the children are being kept in separate groups, divided by age and gender. Most of them are between 15 and 17, Diaz said, with a few much younger than that. Teenage mothers with their children are also being detained separately, he said.
The warehouse began sheltering children flown from South Texas last Saturday. About 400 were scheduled to arrive Friday but, because of mechanical issues with the planes, only about 60 came, the Homeland Security official said. Saturday's flights were canceled, also because of mechanical problems. There are flights scheduled through mid-June.
Federal authorities plan to use the Nogales facility as a way station, where the children will be vaccinated and checked medically. They will then be sent to facilities being set up in Ventura, California; San Antonio, Texas; and Fort Sill, Oklahoma.
Customs and Border Protection in Arizona "is prepared to and expects to continue processing unaccompanied children from South Texas," said Victor L. Brabble, a spokesman for the agency in Tucson.
The Homeland Security official said that the children would be moved out of the Nogales site as soon as Health and Human Services finds places for them.
But the official said: "As quickly as we move them out, we get more. We believe this is just a start."
The children being held in Nogales are 17 or younger. The official estimated three of every four were at least 16.
Nogales Mayor Arturo Garino visited the facility Saturday, but he did not get inside the site where the children were being held. Garino said he did meet with Border Patrol officials. He was told some of the children are as young as 1 year old.
"I have all the faith in the world as mayor and as a citizen of Nogales that our Border Patrol is doing the best and the most kind and humane thing with the children," Garino said.
The town has begun collecting clothing donations for the kids, he said.
"Border Patrol has always been good to the city of Nogales, and they work very closely with us," Garino said. "Now, as a city, we need to help Border Patrol so that they can accomplish their goal of making sure these children are all taken care of."
Immigration officials can immediately return Mexican immigrants to the border, but they are much more hard-pressed to deal with Central American migrants who illegally cross into the U.S. In recent months, waves of migrants from nations south of Mexico have arrived in Texas.
The Homeland Security official said that legally, only their parents or guardians can take custody if the government makes the children eligible for release.
Officials in Central America and Mexico have noticed a recent increase in women and children crossing the border. Father Heyman Vazquez, the director of a migrant shelter in Huixtla in the southern Mexico state of Chiapas, said he and others advise children that it's too dangerous.
Yet Vazquez is seeing more and more youths heading north.
"I remember a little boy of 9 years old and I asked if he was going to go meet someone and he told me `No, I'm just going hand myself over because I hear they help kids,' " Vazquez said.
The Associated Press contributed to this report.