Arizona Senate President Bans Public From News Conferences in Statehouse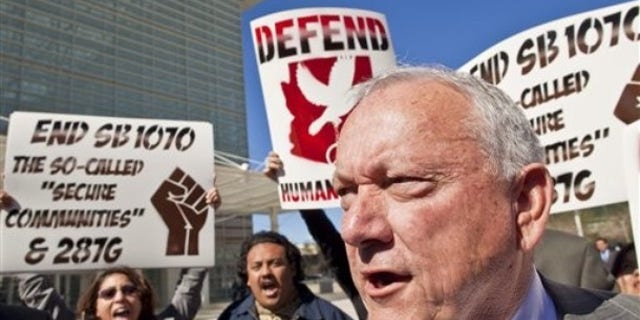 Arizona Senate President Russell Pearce, known for sponsoring a controversial illegal immigration law in the state, has banned the public from attending news conferences held in the state Senate building -- a move that critics say he made to silence them.
In a memo to senators and staff Tuesday, Pearce said safety concerns led to the change. But the public can still attend news conferences held outside on the Senate grounds, he said.
"Due to recent events within the Senate building that directly impacted the safety of the public, members and staff, the use of any hearing room for a press conference open to the public is no longer an option," he said in the memo.
Police arrested six people at the Senate last week, four of them accused of disrupting a news conference, The Arizona Republic reported.
Pearce has faced criticism for allegedly directing law officers to photograph those involved, as well as others who attended a rowdy Senate hearing on immigration last week.
Pearce has denied accusations that he has a "blacklist" in which he gives specific names to officers.
"These accusations are coming from the very people who are causing these disturbances, in an attempt to generate some kind of misplaced sympathy with the public," he said in a statement last week.
But Democratic senators on Monday pressed Pearce to explain last week's arrest of a Hispanic activist. The activist was arrested when he returned to the Senate two days after a boisterous protest over immigration legislation.
Pearce said that he has empowered security officers to determine whether specific individuals should be barred for reasons of safety and decorum.
Now anyone who wants to attend a news conference at the state Senate building will have to show a media credential.
Carlos Galindo, a radio show host and political activist, has held a daily protest outside of the state Capitol ever since he was banned from the state Senate building last week by Pearce after disrupting a state Sen. Kyrsten Sinema's news conference.
"My banning from the building is a way to stop the voice of many people, since I represent thousands of people," he told MyFoxPhoenix.
Galindo admits he was vocal, but never a security threat.
"I would be arrested if I went in that building, I'd be arrested," he said, adding that he's been warned by the Department of Public Safety.
Sinema said banning people from the Senate for speaking out crosses the line.
"Well this is the public's house, so I do believe the public should have a right to be here for public proceedings, which include press conferences, hearings and open meetings," she said.
Pearce said disruptive behavior won't be tolerated.
"The state Constitution gives the president control over the Senate building," he said in a statement last week. "In the future, we will be much more vigilant over misconduct by anyone visiting this building."
But Senate Minority Leader David Schapira told the Arizona Republic that Pearce's recent actions, including conducting budget negotiations in secret, violate his promise to run a more open and transparent government.
"This president continues to deny the people of Arizona access to what's going on at the state Capitol,' Schapira told the newspaper.