Anti-Union Bill Splits Republican Leaders in Indiana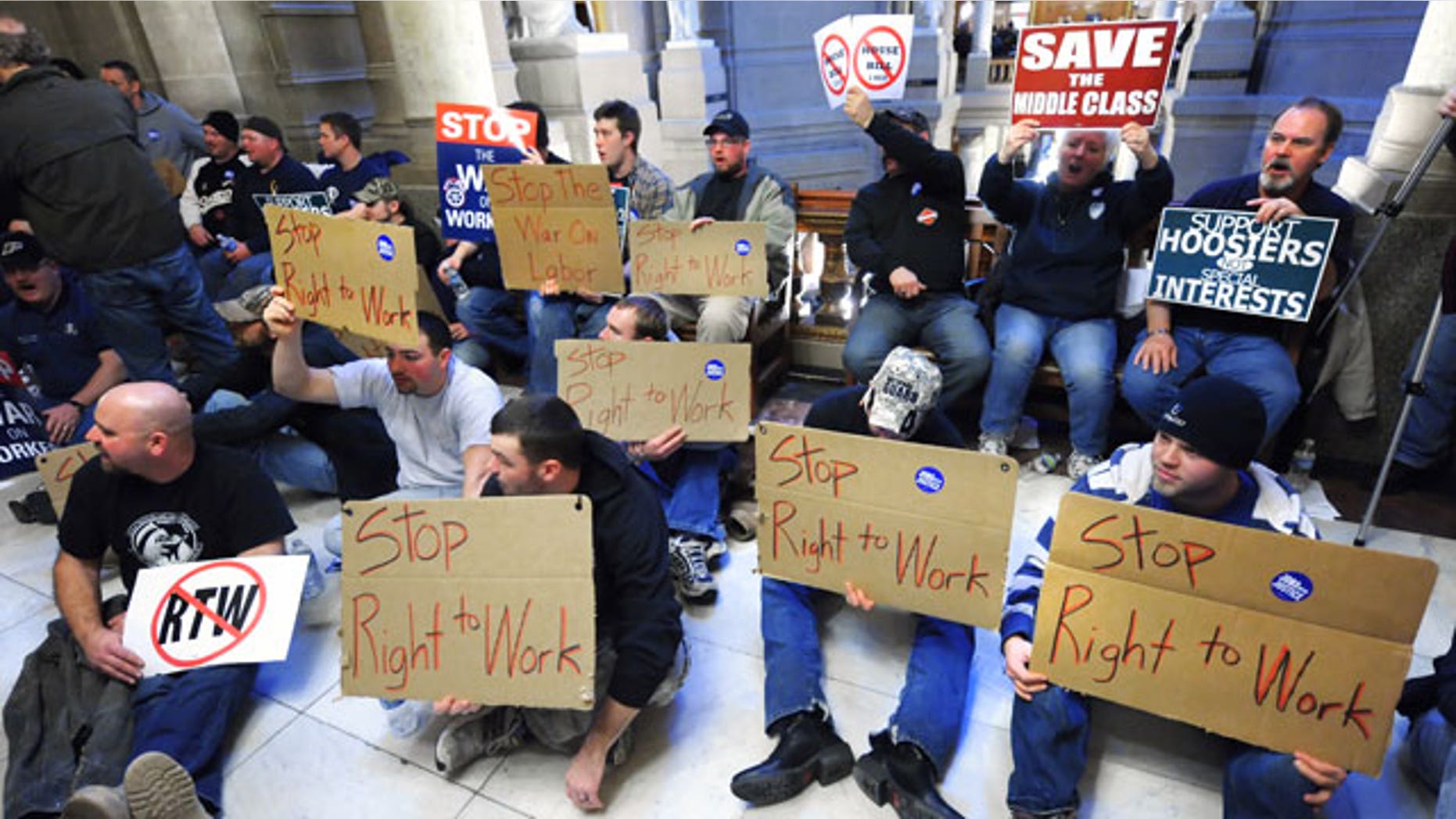 With Democrats fleeing Indiana to avoid voting on an anti-union bill in the latest fight over union rights in a Midwest state, Republican leaders were divided on whether to keep the so-called right-to-work legislation alive.
The bill, which would prohibit union representation fees from being a condition of employment, is under a Tuesday procedural deadline for consideration.
Only three of the 40 House Democrats were in the chamber when Republican Speaker Brian Bosma tried to begin Tuesday's session, leaving it with too few members for a quorum. At the same time, hundreds of union members crowded the adjourning hallways in protest of the contentious labor bill.
Republican Gov. Mitch Daniels said the absence of Democrats on Tuesday was a legitimate move and that he would not use state troopers to compel their attendance.
"I trust that people's consciences will bring them back to work and I choose to believe that our friends in the minority will -- having made their point -- will come back and do their duty," Daniels said.
The governor has said in the recent past that now is not the time to bring forward a right-to-work bill.
A source told the Indianapolis Star that some of the fugitive Democrats were headed to Illinois, the same state where Wisconsin Democrats fled last week to block a bill that would limit the collective bargaining rights of public-sector unions while forcing members to contribute more to their pensions and health care plans.
Indiana state Rep. Charlie Brown told The Associated Press that he and Rep. Greg Porters were in Illinois heading west. He wouldn't give their destination.
A source told the Star that some Indiana Democrats might head to Kentucky. They need to avoid a state with a Republican governor to avoid being taken into police custody and returned to their home states.
Earlier Tuesday, Indiana Rep. Terri Austin said her fellow Democrats were studying proposed legislation and couldn't predict when they would return.
The legislation has drawn strong opposition from union groups, who had several hundred members at the Statehouse for a second day after a GOP-led committee voted Monday to send the bill to the full House.
Union members watching from the House gallery and hallway outside cheered as Bosma put off House business until later Tuesday.
Bosma said he hadn't heard from Democratic leader Pat Bauer, D-South Bend, and that he wouldn't negotiate with people not doing their jobs, alluding to the deadlock in Wisconsin over labor legislation that led Senate Democrats there to leave the state.
"He's taken a page out of the Wisconsin Senate playbook apparently and is shirking the job that they were hired to do," Bosma said.
Austin said Republicans have put forth a radical agenda that will hurt families and that Democratic proposals have been rejected out of hand.
"This has become, unfortunately, one of the most partisan sessions I've ever seen in the Statehouse," she said. "We're prepared to take whatever legal steps are necessary to save this state and to save the families and the children.
The Associated Press contributed to this report.