Angle Defends Controversial Positions, Calls Reid 'Flip-Flopper on Steroids'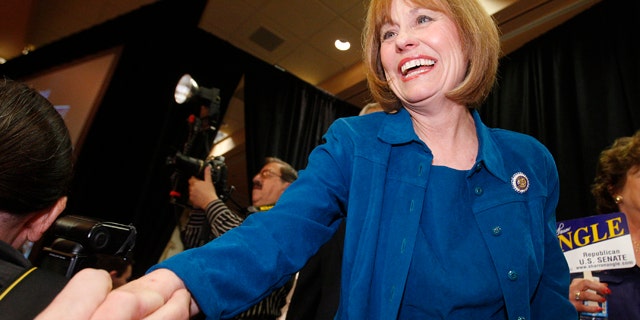 Republican Senate candidate Sharron Angle is defending her positions on at least two issues that her critics have used in an effort to portray her as an extremist.
Angle, a Tea Party icon who is vying to defeat Senate Majority Leader Harry Reid, D-Nev., in the November midterm election, said Friday her positions on Social Security and education are in fact "mainstream" and accused her opponents of taking her views "out of context."
In early June, Angle's campaign website stated that Social Security should be "transitioned out" and the Department of Education abolished. The site said that "the Federal Department of Education should be eliminated" because it "is unconstitutional and should not be involved in education, at any level."
Despite her campaign's later removal of such statements from the website, Angle's critics continue to seize on them to depict her as out of touch with Middle America.
In an interview with FoxNews.com, the former Nevada state lawmaker fought back at such assertions, arguing that her views overall represent the majority of voters – in particular, the Tea Party members – though she declined to explain her position on Social Security in great detail.
"My views are not out of the mainstream," Angle said. "They are actually what every American is thinking and that is that we need to go to a smaller government model."
Such a model, Angle said, would include "putting things back into the states that never should have been under the federal government's guidance in the first place." She said such a fundamental "restructuring" specifically applies to the Department of Education, where "we've gotten one size-fits-all policies that don't fit anyone."
"Just look at 'No Child Left Behind,'" she said of the multi-billion dollar education law signed by President George W. Bush and criticized for falling short of its original goals.
"This would be money better spent right here at the local level, in the local classroom by the teachers and the parents – those true stakeholders," Angle said. "If the states could actually keep their money, they'd be much better off."
On social issues, like abortion --Angle is pro-life even in cases of rape or incest-- the Nevada Republican said her unwavering commitment to conservative values adds consistency to her record and makes her trustworthy among constituents.
"Everyone pretty much knows who I am," she said. "I always err on the side of life."
Angle, who won her party's nomination in the June 8 primary, also went on the offensive, calling Reid a "flip-flopper on steroids" and "the most progressive and liberal of Democrats."
Reid's campaign is now focusing its attacks on Angle's opposition to extending unemployment benefits and her remarks that she wouldn't have fought to save MGM Resorts' CityCenter – a project that Reid helped avoid bankruptcy last year by calling several banks on behalf of the state's largest private employer.
"While her extreme and dangerous agenda for the economy is alarming, the fact that Sharron Angle tells unemployed Nevadans to 'go talk to someone else' and that she wouldn't have even picked up the phone to fight for the state's largest private employer shows how truly clueless and out-of-touch she is when it comes to the economy," Reid campaign spokesman Kelly Steele said in a written statement.
Though Angle's views on certain issues, like Social Security, appear to have evolved somewhat since she won the GOP nomination on June 8, polls show her candidacy continues to gain momentum.
Her campaign raked in more money than the Senate majority leader between April and June. Angle raised $2.6 million during the three-month period, while Reid pulled in $2.4 million.
Texas Sen. John Cornyn, who chairs the National Republican Senatorial Committee, reportedly described Angle's campaign last week as a "work in progress" against four-term incumbent Reid.
"While she's not a first-time candidate, I think when you're running against the incumbent majority leader ... it's the Super Bowl and they're gonna come at you with everything they've got and it would be a challenge for anybody to withstand the negative attacks," Cornyn reportedly told Hotline on Call.