Anger in Kansas over Spanish-language voting guide with wrong registration deadlines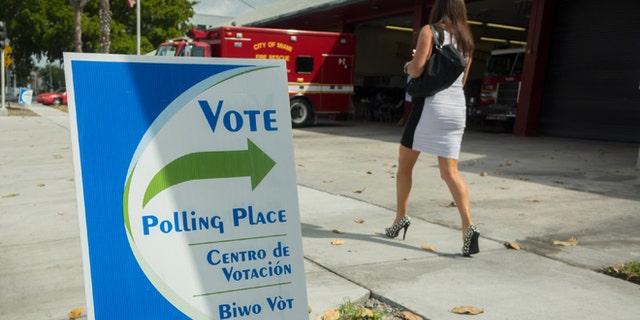 Kansas is once again under fire for a controversial voter registration policy that has hindered people attempting to register and vote in last month's caucases.
The Spanish-language voter guide distributed by the Sunflower state's secretary of state's office did not match the English-language version and also contained errors that could have resulted in prospective voters being unable to register or head to the polls — it had the wrong registration deadlines.
"It was an administrative error that I am diligently working to fix," Craig McCullah, who is in charge of the office's publications and a spokesman for secretary of state Kris Kobach, told the Wichita Eagle.
McCullah added that differences in registration deadlines had already been corrected in the online version of the guide and that the rest of the text will be corrected after by a professional translation service to avoid any mismatches between the English and Spanish.
One of the glaring problems with the Spanish guide was that it said, in two places, that voters could register up to 15 days before an election, even though the actual deadline is 21 days before the election. Another issue was that Spanish-speakers were not told in the guide that they could use their passports as identification when registering even though the English-language guide made that clear.
"It's pretty easy to spot something's wrong when they're using the numeral 21 (in the English guide) and in the other one, the numeral's 15," Democratic consultant Chris Reeves, who brought the discrepancies to light, told the Eagle. "That doesn't take any translation. The numbers are the numbers."
The Kansas Caucuses were held on March 5, giving Democrat candidate Bernie Sanders a 67.7 percent lead over Hillary Clinton's 32.3 percent, while on the Republican side Ted Cruz took the lead with 48.2 percent over Donald Trump's 23.3 percent.
Reeves said he was alerted to the issue by voters in the western Kansas town of Garden City, whose population in about 50 percent Latino, according to Census statistics.
"An individual there was very concerned and she said, 'Well, these guides are all trash. They're wrong,' " Reeves said. "I went back and I went to the VoteKS website. Sure enough, there they were, and they were wrong."
Besides the voting guide controversy, Kobach's office is facing a series of lawsuits challenging the proof-of-citizenship requirements the secretary of state wrote and marshalled through the Legislature.
"Determining if this was incompetency or malevolence by the Kansas Secretary of State's office will not address the real problem: that for some time, Kansans have worked off of clearly bad information," Reeves wrote in an article in DailyKos. "The publication of documents certainly show that not all Kansans are treated equal — as errors on the English language side obviously did not occur, implying that at a minimum, more attention was paid to English language documents."
He added: "The documents have remained on the front page of the Secretary of State's website for some time, incorrect, while being published and relayed in a form that is also incorrect."
Like us on Facebook
Follow us on Twitter & Instagram