All Fashion Eyes at G20 on Michelle Obama, France's Carla Bruni-Sarkozy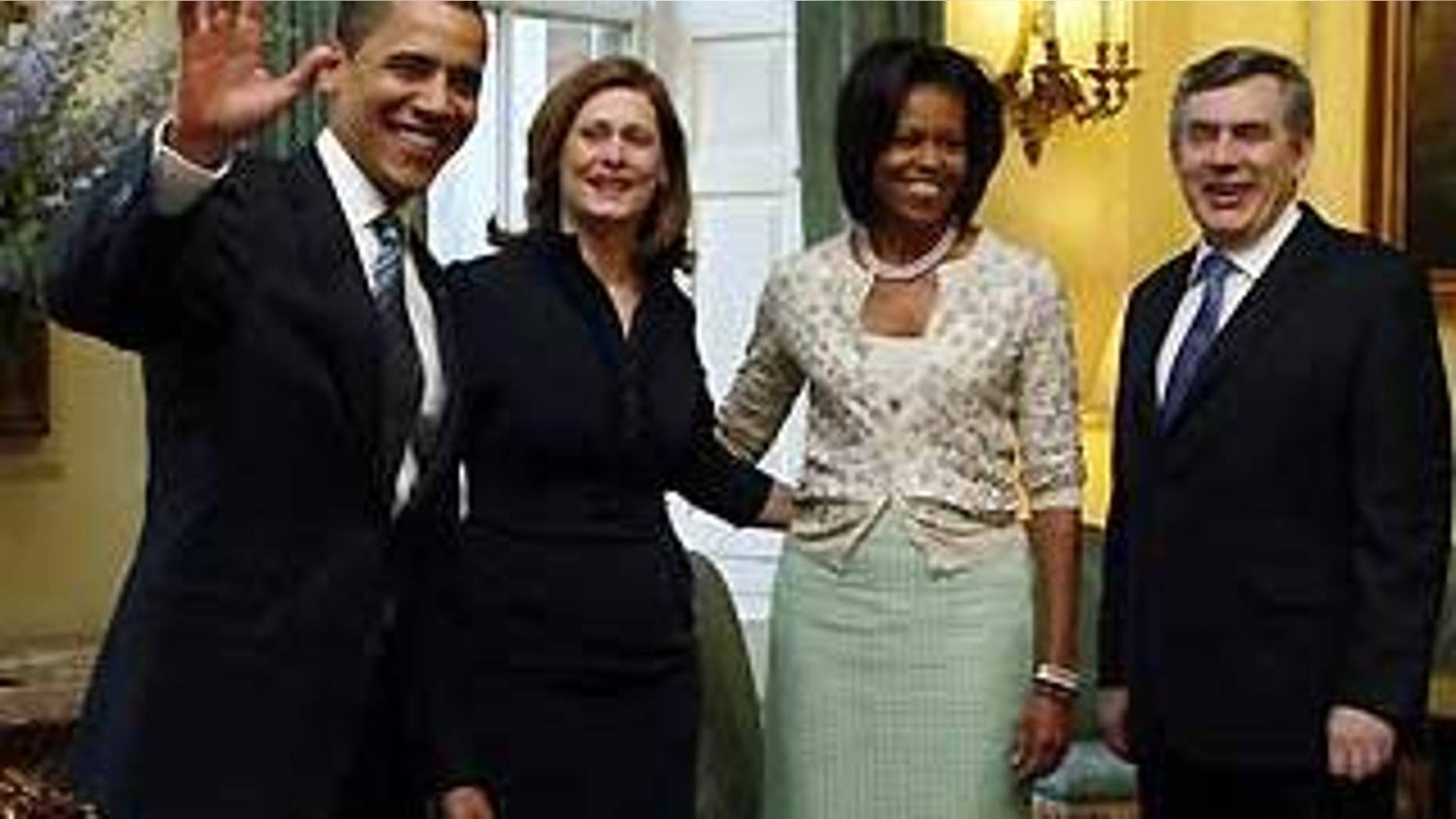 Never mind the economic crisis.
As foreign leaders and their spouses descend on London this week for the G20 summit, fashionistas and photographers are focusing on two first ladies -- Michelle Obama and France's Carla Bruni-Sarkozy.
Obama's attendance at the economic meeting marks her debut in Europe as America's first lady -- and her fashion choices are under scrutiny as she mingles with leaders of the world's largest economies and their partners, including Britain's Sarah Brown, Russia's Svetlana Medvedev and Brazil's Marisa Leticia Lula da Silva.
But fashion enthusiasts are narrowing their focus to Obama's attire and that of her French counterpart,  Bruni-Sarkozy, the Italian-born former model and singer-songwriter and recent bride of French President Nicolas Sarkozy.
"There's no doubt that they're both style powerhouses. The difference is their backgrounds," Katie Connor, fashion features editor at Marie Claire magazine, told FOXNews.com.
"Both of these first ladies ushered in this new era of glamour," Connor said.
Click here to see first lady Michelle Obama's fashions at the G20.
"They're all great style icons," Lauriel White, account executive at Laforce-Stevens, said of Obama, Bruni-Sarkozy and Italian first lady Veronica Lario. Laforce-Stevens is a public relations firm that represents well-known designers like Elie Saab, Milly, Tracy Reese and H&M.
Bruni-Sarkozy, 41, has captivated the press with French haute couture pieces while Obama, 45, has earned widespread applause for her stylish yet varied clothing selections, ranging from sleeveless designer dresses that showcase her toned arms to cardigans and skirts from J. Crew.
Obama traveled to London Tuesday sporting a Michael Kors dress and a long ivory coat with black grosgrain piping made by New York designer Thakoon Panichgul. But when the first lady stepped off Air Force One at London's Stansted Airport, she had changed her attire to a yellow dress designed by Jason Wu.
At a breakfast Wednesday with British Prime Minister Gordon Brown and his wife, Sarah, Obama ditched the high-end labels for a more budget-conscious outfit by J. Crew. The first lady was seen wearing the retailer's champagne-colored "Crystal Constellation Cardigan Cardigan" -- priced at $298 -- and the "Perfect-fit tank" for $18. The first lady also sported a mint green pencil skirt, valued at $158.
With the exception of her shoes -- which were not from J. Crew -- Obama's outfit cost just under $500.
"That's her style -- she's practical. Michelle Obama looks chic, but very accessible, and the average woman feels like she can dress like her. The cardigan is always close by," said Connor.
Bruni-Sarkozy, meanwhile, has embraced high-end designs that are classic and elegant -- often modeling some of the most famous labels in world fashion, like Christian Dior, style experts say.
"As a former model, Carla was expected to take more risks, and she's defied those expectations. She's proven she can play the part. You expect her to be the pop star, but she's really stepped up to the plate and showed that she can dress as the first lady," said Connor.
But while the two first ladies differ in their fashion selections, both women share a striking color preference: they love purple.
When Bruni-Sarkozy accompanied her husband on his first state visit to Britain last year, she sported a violet-colored coat. Obama wore a sleeveless purple dress when her husband addressed Congress in February. And in a primetime interview with CBS News' 60 Minutes following the presidential election, Obama wore a different sleeveless purple dress.
"Purple is a big power color," Connor said. "There's something regal about it, and it's on trend right now."
Royal purple was not the route Obama went when she and President Obama attend a private reception Wednesday afternoon with Queen Elizabeth at Buckingham Palace. Instead, the first lady wore a black Jason Wu coat and Isabel Toledo dress.
Fashion experts admit that both first ladies are under constant pressure from designers to market clothing, but they say Obama has been less conforming to trends.
"She's sort of doing her thing. She dresses the way that she feels best," said Connor, adding that the first lady is "sticking with a handful of designers who really work with her figure and who are accessible to the average woman."
Just how much does the fashion presentation matter?
"First impressions are lasting impressions," White said. "And whether the attire is ultra conservative or flashy, it all matters. The first lady is an extension of the president."