Administration Lowers Bar for Success in Afghanistan War, Seeks Exit Strategy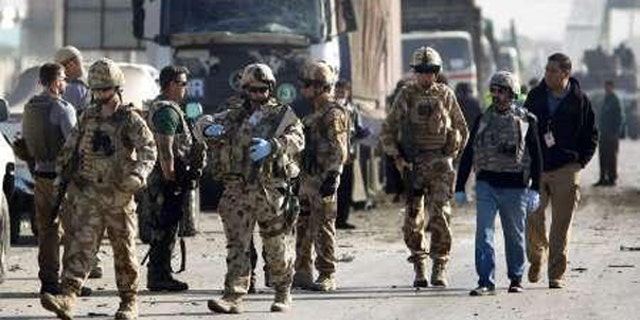 NEWYou can now listen to Fox News articles!
Top Obama administration officials took pains to lower the bar for success in Afghanistan Sunday, stressing that the administration is seeking an exit strategy and holds "no illusions" that it will transform the country into a functional modern democracy.
The ongoing rhetorical tweaking of the U.S. mission in Afghanistan comes as the president weighs whether to send more troops to the war zone. It was thought that officials were leaning toward sending more than 30,000 U.S. forces, but Obama rejected all troop-level proposals last week, sending strategists back to the drawing board.
Obama is expected to announce some troop increase along with clearer limitations on U.S. goals for the war when he returns from Asia late this week. The announcement is expected either just before or just after the Thanksgiving holiday on Nov 26.
But while the three-month delay in settling on a new war strategy has frustrated Democrats and Republicans alike, administration officials argue that Obama is within his rights to take his time and that the mission must be narrowed. They say the focus from here must be on ensuring that Afghanistan does not return to being a "safe haven and a staging platform" for terrorists.
"We have no illusions. This is not the prior days when people would come on your show and talk about how we were going to help the Afghans build a modern democracy and build a more functioning state and do all of these wonderful things," Secretary of State Hillary Clinton told ABC's "This Week" on Sunday. "That could happen, but our primary focus is on the security of the United States of America."
White House Senior Adviser David Axelrod said Sunday that there is a "concern" in the administration about exit strategy, which he said will be a factor in the decision process.
"We have been there for eight years. It is a long, long time. And we have to keep focused on what our purpose was in the first place. Our purpose was to disrupt and dismantle and destroy Al Qaeda," he told CNN's "State of the Union." But obviously we cannot make an open-ended commitment. And we want to do this in a way that maximizes our efforts against Al Qaeda, but within the framework of bringing our troops home at some point. ... There has to be a framework to this decision."
Clinton stressed that point in a separate interview with NBC's "Meet the Press," though she said she would not "define the exit strategy" at this stage.
"We're not interested in staying in Afghanistan. We're not interested in any long-term presence there," Clinton said.
Clinton, an influential voice in deliberations about whether to add large numbers of U.S. troops to the eight-year war, also said Afghan President Hamid Karzai can do more to reduce corruption and go after those who may have looted U.S. aid in the past.
She said the U.S. government will not provide civilian aid without assurances that there are ministries they can hold accountable, and that the Obama administration wants a tribunal to prosecute major corruption crimes and a new anti-corruption commission.
Clinton would not comment directly on concerns expressed by the U.S. ambassador to the country, Karl Eikenberry, who relayed to the White House his reservations about whether problems with the Afghan government could undermine the effectiveness of any troop increase.
Eikenberry's concerns seemed to throw a wrench in the decision-making process -- one that critics say has lasted far too long already.
Senate Minority Leader Mitch McConnell said Obama will have "overwhelming support" from GOP senators if he grants the troop requests, but said the caucus is "frustrated" with the inaction.
"We are a little bit perplexed about the length of time it's taking to make this decision," he told "Fox News Sunday." "Part of being president is you don't have easy choices. You have a lot of choices you have to make among difficult options. None of them are perfect. ... I think the president, as difficult as this decision is, needs to make it, needs to follow the advice of his generals."
Former New York City Mayor Rudy Giuliani went further, telling "Fox News Sunday" that the delay "is political strategy, not war strategy."
The Associated Press contributed to this report.