A muted GOP debate still sparked hot in immigration, Cuba exchanges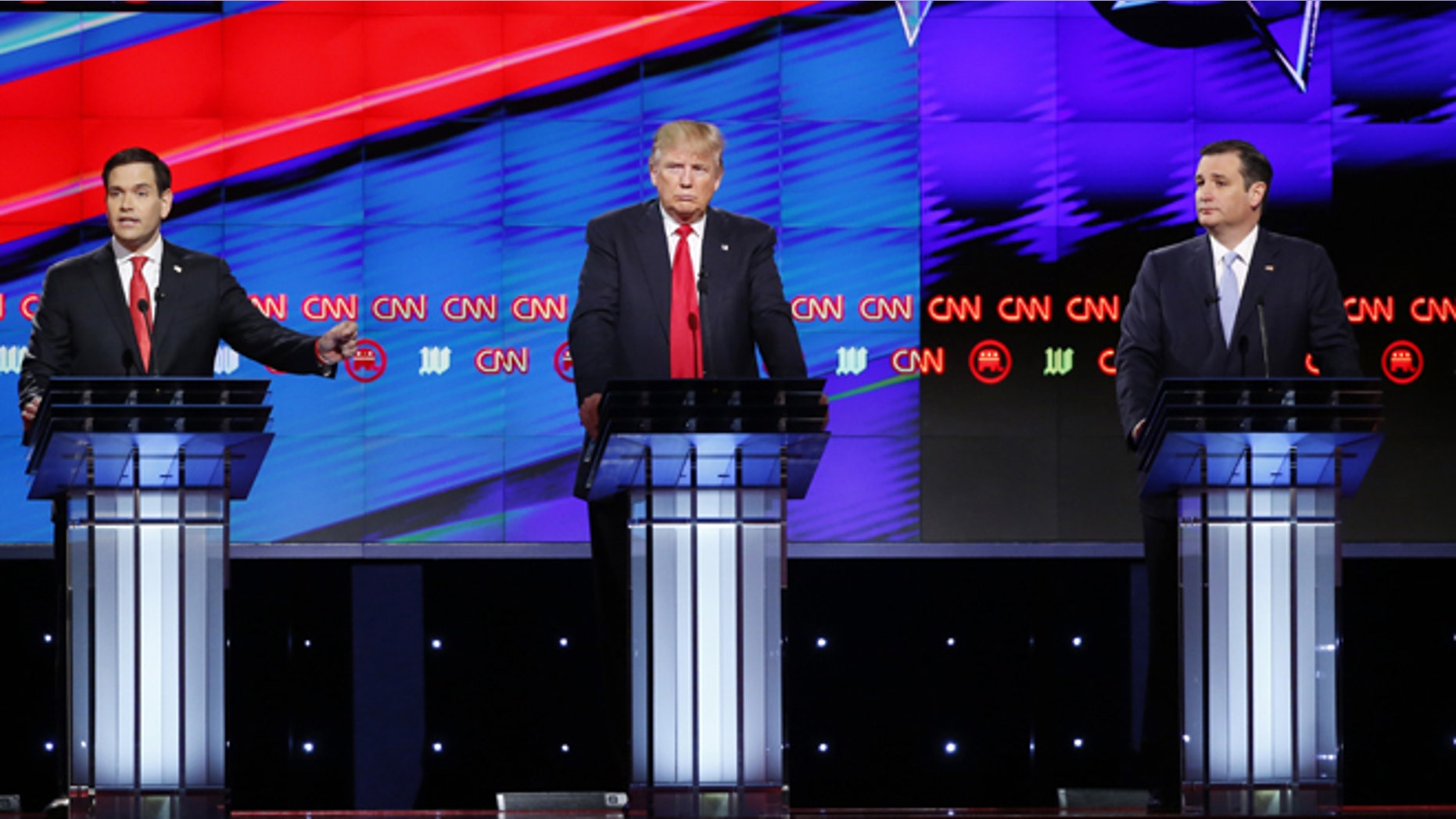 In one of the more toned down Republican presidential debates of the campaign season, the four GOP candidates on Thursday night played nice with each other – for the most part – when it came to one of the most contentious issues of the 2016 campaign season: immigration.
Instead of the heated back-and-forths viewers have come to expect from previous debates, the four candidates on the stage in Coral Gables, Florida, laid out their plans for what to do with topics from H-1B visas for skilled workers to a path to citizenship.
"We need to redefine our legal immigration system so it meets the needs of America," Texas Sen. Ted Cruz said. "We're going to build a wall, triple border patrols and end sanctuary cities."
He added, "We need an immigration system that benefits the American people."
Billionaire businessman Donald Trump, who brought immigration to the forefront of the Republican debate, said that even though he benefits as a businessman from H-1B visas, he would do away with them because they put American workers out of jobs.
Trump said: "I shouldn't be allowed to use" them, because it's "very, very bad for workers."
"I'm a businessman and I have to do what I have to do," he added with a shrug. "It's very unfair for our workers, and we should end it."
Trump has also called for a pause on green cards for foreign workers. He said he envisions that lasting for a year or two because, "We're rushing into things.
Florida Sen. Marco Rubio suggested that the way in which green cards and temporary worker visas are doled out should be changed. "We need to move to a merit-based system," he said.
Rubio, who was speaking in front of a hometown crowd, drew the biggest applause of the night when he slammed the United States' thawing of relations with Cuba.
"I would love for the relationship between the U.S. and Cuba to change," he said. "But it requires the government of Cuba to change."
He added to applause: "The only thing that has changed is that the Cuban government has millions more dollars … Cuba and its rulers remain an anti-American, communist regime."
Rubio later said that U.S.-Cuba relations wouldn't be fully normalized until "Cuba has free elections. Cuba takes all those fugitives from justice – including that cop-killer from New Jersey [Joanne Chesimard] – and sends them back."
Trump mentioned that Cuba has asked for billions of dollars in reparations from the U.S. over the embargo, but it was Rubio's response that garnered the largest applause of the partisan South Florida crowd.
"I don't know where Cuba would bring this lawsuit," Rubio said, "but if they sue us in a court in Miami, they are going to lose."
Each of the candidates had an urgent mission as the GOP debate gave them a last chance to put their case to a televised audience of millions before voters in Florida and four other states dish out delegates next Tuesday. Those elections will go a long way toward determining the eventual GOP nominee.
Cruz was seeking to make it a two-man race with Trump. Rubio was out to save his flagging candidacy by energizing voters in his home state. John Kasich was hoping his above-the-fray strategy would begin to pay off.
Trump, for his part, was itching to deal a death-blow to the campaigns of one or more of his dwindling cast of rivals.
Florida is the biggest prize in Tuesday's voting, and all 99 of the state's delegates will go to the winner.
In all, 367 Republican delegates are at stake – with voting also occurring in Illinois, Missouri, North Carolina, Ohio and the Northern Mariana Islands.
Earlier on Thursday, Cruz earned his first Senate endorsement, from Mike Lee of Utah, a tea party favorite. As Trump has enjoyed pointing out in previous debates, Cruz has few friends among his GOP colleagues in the U.S. Senate.
As Rubio's fortunes have declined in the past week, Sens. Lindsey Graham of South Carolina and Dean Heller of Nevada raised the possibility of Cruz as an alternative, but other backers stood firm in their support for Rubio and declined to even discuss the prospect of Cruz.
Ohio Gov. Kasich, who has tried to stay out of the name-calling fray, pinned his hopes of survival on bringing home the 66 delegates in his state's winner-take-all primary. He has yet to win in any primary or caucus.
In the race for delegates, Trump currently has 458, Cruz 359, Rubio 151 and Kasich 54. It takes 1,237 to win the Republican nomination for president.
The Associated Press contributed to this report.