4 GOP Presidential Candidates Agree to Boycott Univision Debate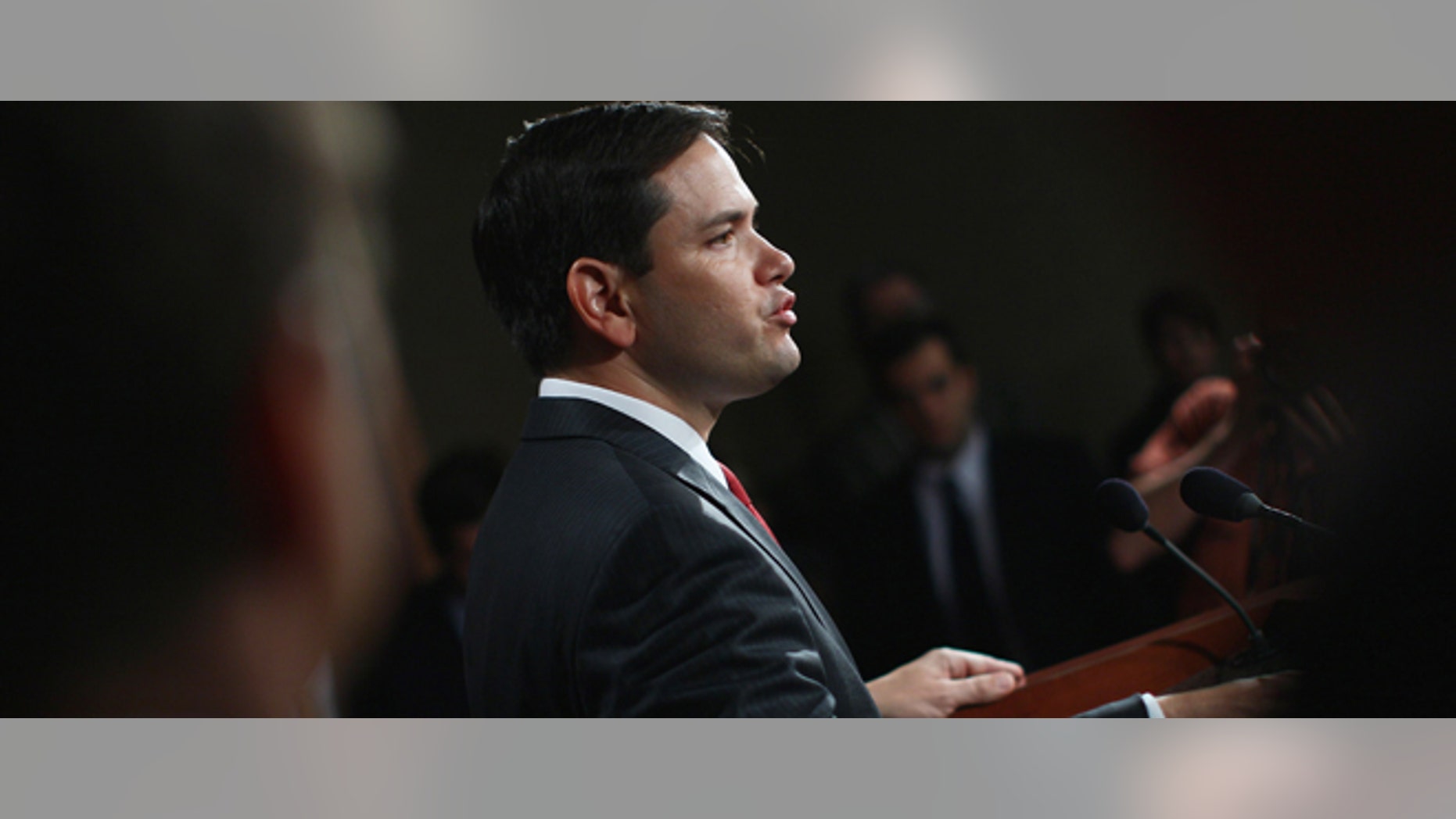 A letter signed by 3 Florida Hispanic Republicans urging a boycott of Univision's planned Republican presidential debate is gaining the support of White House candidates, while triggering a defiant letter in return from the largest Spanish-language television network in the United States.
At issue is whether Univision offered to drop or soften a story about the drug arrest and conviction of Florida's US Senator Marco Rubio's brother-in-law in exchange for Rubio agreeing to sit down for an interview on a show where immigration issues were likely to come up. Rubio, a Cuban-American from Miami, opposes the Dream Act, which provides a pathway to citizenship for many young immigrants.
"Univision takes exception to the false assertion that it attempted to "extort" Senator Rubio in any way, shape, or form," writes Arya Towfighi, Vice President and Assistant General Counsel for Univision.
"At no point in time did anyone from Univision offer to kill or soften the story regarding Senator Rubio's brother-in-law in exchange for appearing on any Univision news program.  Any statement to the contrary is patently absurd."
The Univision letter is written directly to U.S. Representative David Rivera, Florida House Majority Leader Carlos Lopez-Cantera And Florida State Representative Erik Fresen, all Republicans, who the night before demanded Univision issue an apology to Senator Rubio. The elected Representatives also urge the Republican National Committee and each of the Republican Presidential Candidates to boycott Univision's proposed January 29th debate, to be televised nationally from the University of Miami.  Florida's Republican Presidential Primary will be held 2 days later.
So far, 4 candidates have jumped onboard the Univision debate-boycott: Texas Governor Rick Perry, former Massachusetts Governor Mitt Romney, Minnesota Congresswoman Michele Bachmann and former Utah Governor John Huntsman.
"We are troubled by these allegations and would not participate in any such debate unless until Univision satisfactorily addresses the situation," says Andrea Saul with the Romney Campaign.
In a letter written to Univision by the Perry campaign, communications director Ray Sullivan adds "with NBC and Telemundo also hosting a debate the same weekend in January 2012, we will have ample opportunity to engage with Spanish-speaking Americans."
This controversy stems from a Miami Herald story which ran on Sunday in which unnamed Univision staffers and representatives from Rubio's office said that Univision News President Isaac Lee offered to soften or kill a story about a decades-old drug bust of Rubio's brother-in-law if the Republican senator sat down for an interview on the show Al Punto, where he'd likely be challenged to defend his conservative position on immigration.
The story about the 24-year-old drug arrest of Rubio's relative, when the Senator was just 16 years old, eventually was broadcast. The three South Florida Republicans and Rubio allies say the story was nothing but payback.
"This attempt at extorting a respected Republican elected official like Senator Rubio, who is also a proud American of Hispanic descent, is offensive and unacceptable.  The lack of journalistic integrity demonstrated by Univision Television Network must be met with consequences from our Party and our Republican leaders," wrote Rivera, Lopez-Cantera and Fresen to Univision.
Contacted in Tallahassee, Republican Party of Florida Communications Director Brian Hughes told Fox, "We'll see how it plays out.  I don't know that it's up to us to tell presidential candidates what to do. Presidential campaigns make up their own minds."
Today, without elaborating on details from the July conference call between Senator Rubio and Univision, nor endorsing the call for the Univision Republican Debate boycott, Rubio Communications Director Alex Burgos said:
"The Miami Herald's article is accurate. Univision employees themselves were the first to come forward with this account, and we confirm it."
Follow us on twitter.com/foxnewslatino
Like us at facebook.com/foxnewslatino