2004 all over again? Republicans eye election gains – but something's holding them back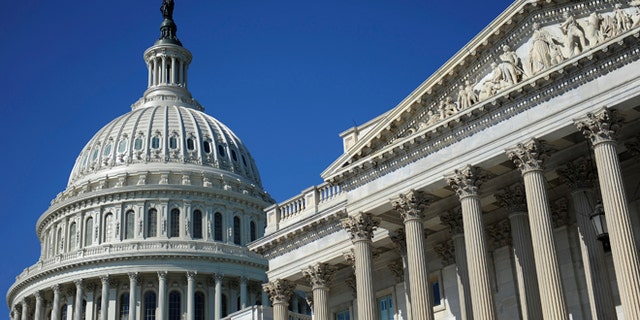 2004 was a big year for Republicans.
President George W. Bush scored a second term in the White House. The GOP maintained control of the House of Representatives. And significantly, Republicans picked up four seats in the Senate. The GOP bolstered a narrow 51-49 edge to a healthy 55-45 advantage after the 2004 vote.
But something lurked beneath the Senate Republican gains. A palpable unease simmered in the electorate. Democrats were already beating the anti-Iraq war path with significant success. They played well in traditionally GOP strongholds. The public quickly tired of the war and questioned arguments used to justify the conflict. Those concerns grew after the U.S. failed to locate weapons of mass destruction in Iraq.
Something was gelling for Democrats, despite the GOP's 2004 gains.
A tangible softness was there. Voters weren't enamored with Republicans. This blossomed for the Democrats two years later.
2014 isn't 2004. President Obama's poll numbers are awful. His party stares at the traditional "second-midterm" slaughter scenario. The numbers appear to favor Republicans.
But if there's such disdain for Obama and Democrats, why isn't the GOP lighting up the scoreboard and putting Democrats away in these Senate races? It's starting to look at least a bit like 2004.
The current Senate breakdown is 53 Democrats, with two independents who caucus with them for a total of 55. Republicans hold 45 seats. The GOP requires a net gain of six seats for outright control. Some handicappers believe Republicans could score a net of eight seats and perhaps go higher.
But political observers see a weakness in the GOP. It's augmented because of such lofty expectations for Senate Republicans in 2010 and 2012. That's why political experts wonder if the GOP's claims of possibly winning eight or more seats is mere bravado. They point to suddenly competitive Senate races in South Dakota, Kansas and Georgia -- locales Republicans should have locked down long ago.
It's long been forecast that the race between Sen. Mary Landrieu, D-La., and Republican challenger Rep. Bill Cassidy, R-La., could go to a runoff if neither secures 50.1 percent. Georgia is another wildcard in the runoff stakes between Republican nominee David Perdue and Democrat Michelle Nunn. Like Louisiana, Georgia requires the 50 percent-plus-one threshold. If it goes to a runoff, voters don't return to the polls until Jan. 6, three days after the constitutionally required date to start the next Congress.
In other words, if control of the Senate comes down to Georgia, the Congress could conceivably start without a clear majority in the Senate.
Senate runoffs are frequent in Georgia, with two semi-recent examples in 1992 and 2008. In the latter, Sen. Saxby Chambliss, R-Ga., faced a late November runoff from Democrat Jim Martin. Chambliss won handily.
But there's a difference with a potential Georgia Senate runoff this time compared with 1992 and 2008. Those were presidential election years which featured the selection of a brand-new, Democratic president. Consumed with setting up their incipient administrations, they could do little to bolster the chances of the Democratic candidate in those years. But a runoff in a midterm election year with a president who will never again appear on any ballot is a different story.
Certainly the argument could be made that Obama is unpopular and his political operation could do little to help in an otherwise conservative, southern state. But here's the rub: Democrats have long forecast a massive demographic realignment in Georgia which could switch the party's fortunes there. That shift may not be ripe just yet. But the black vote is the core of the Democratic Party in Georgia. Obama and company could conceivably rush into Georgia and make quite a showing to get out that vote if control of the Senate swings in the balance. And even if they aren't successful, the effort puts Republicans on notice in Georgia: those demographic changes are coming down the road.
Congressional Black Caucus Chairwoman Marcia Fudge, D-Ohio, is fully aware of the black voter drop-off in midterm elections. She notes that many black voters live in non-competitive House districts. But that's why the CBC wants its base to see competitive Senate races in a new light.
CBC member Rep. Gregory Meeks, D-N.Y., says voters should treat November like a presidential election year.
"This is like voting in a presidential. They are after our president," said Meeks. "Black people do come out to vote when they know it's in their interest."
"They will make our lives miserable for the next two years," chimed in Fudge, citing efforts by some Republicans to discredit the president on everything from where he was born to whether he could cut it as a student at Harvard. "Those are the things which make people vote. If that's the case, we don't even have to work that hard to get them out. They'll be waiting in line to vote."
But that's the twist. Fudge concedes there's a drop-off for midterms. If Democrats showed up in huge numbers like they did in the presidential cycles of 2008 or 2012, the party may well hold the Senate. But that enthusiasm gap is what stung Democrats in 2010 when they lost the House – and waylaid Republicans when they lost both the House and Senate in the midterm of 2006.
So to be sure, the playing field certainly favors Republicans this year in Senate contests. But can Democrats hold on this cycle? Or will this year's Senate races be a lot like 2004 where Democrats make it close -- but Republicans win, despite a softness of support?
Capitol Attitude is a weekly column written by members of the Fox News Capitol Hill team. Their articles take you inside the halls of Congress, and cover the spectrum of policy issues being introduced, debated and voted on there.