Trump or Clinton could save America's infrastructure. Do they have the guts to do it?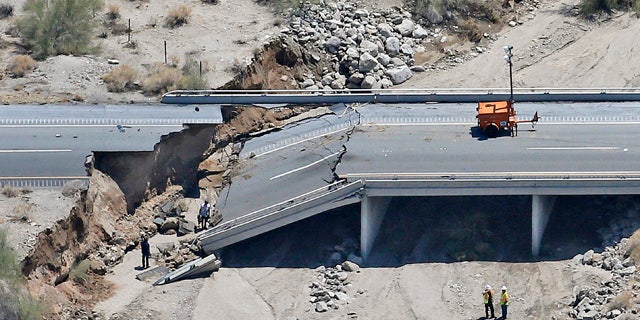 NEWYou can now listen to Fox News articles!
Why aren't both parties jumping at the chance to offer the new jobs and economic growth that a common-sense infrastructure proposal would bring? With economic activity weak, confidence ebbing and monetary policy all but exhausted, a voter can't be faulted for asking this question. Upgrading our country's crumbling infrastructure is tangible and forward-thinking fiscal policy.
House Speaker Paul Ryan is rolling out a six-point GOP legislative agenda that unfortunately omits any mention of such infrastructure investment. In my view, without such investment both parties put in jeopardy achieving many other elements of their platforms.
Both presumptive nominees still have an opportunity to shape the next Congress' legislative agenda. By taking on the cause of infrastructure repair and upgrade, both Hillary Clinton and Donald Trump could demonstrate their clear understanding of some of our country's economic problems and the common-sense, economic solution that has material bipartisan support. Each could signal willingness to fight on all Americans' behalf against the wrongheaded thinking that considers such investment wasteful.
Some object to such funding because they equate it with "stimulus spending" that offers no sustainable benefit and increases the federal deficit. In truth, infrastructure investment increases economic activity, leads to higher incomes and generates a decades-long rise in tax revenues — sufficient not only to satisfy, with interest, the debt initially incurred, but also to generate profit. Once begun, long-lived projects could also bolster confidence and spur private investment and consumption.
Commendably, Clinton has offered a comprehensive infrastructure plan and has committed to submitting it to Congress within her first hundred days in office. In addition, the Democratic Party has just released a draft of its 2016 platform, which includes infrastructure investment https://demconvention.com/platform/. With this infrastructure plank in place, voters could realistically expect a Clinton administration and Democrats in Congress to get behind a major and economically critical initiative. However, the Democrats do not currently hold either the House or the Senate, which could put a damper on or even derail a Clinton proposal. Republican opposition in Congress could still prevent passage of such an initiative.
Trump, on the other hand, could have Republican majorities in both chambers and, as president, might secure the necessary votes (across party lines) to get such legislation passed. The sticking point: He has not yet offered a comprehensive plan or consistently advocated for such a plan.
If Republicans make him their standard-bearer and if he were to develop such a proposal, I, a registered independent in New York, would take note, as I suspect would many other voters. Trump has a track record of completing major projects, taking into account cost and timeliness. Were he also to fight hard for his plan during the general election, he could widen his electoral appeal.
Clinton and Trump are currently in a statistical dead heat in many swing states, including Ohio and Pennsylvania. A credible, major new infrastructure policy proposal, promising jobs, could further expand their support in these important battleground states. Which one will successfully campaign to make infrastructure investment a cornerstone of U.S. domestic policy initiatives?