Rick Sanchez: My Two Dads, The Journey Of Proud Cuban Immigrants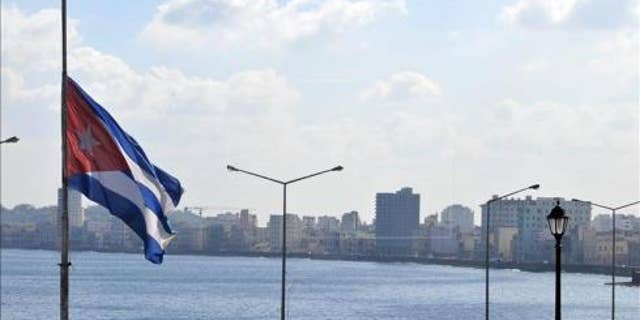 NEWYou can now listen to Fox News articles!
My biological father died this weekend, making these words as much a tribute to him as it is to the trials and triumphs of those who emigrate. I'm bothered by the use of a modifier for a word as important as "father," but so it is. B-i-o-l-o-g-i-c-a-l. It sounds so differentiating. Let me explain why it is.
My father's name was Rodolfo Sanchez. He was one of the hundreds of thousands who fled from Cuba after the Castro revolution began to take form. He was the son of a wealthy man, a capitalist, whose fortune would no doubt be appropriated by a socialist system that appreciated neither individual ownership nor wealth.
Cuba's plight, and my grandfather's, would soon become my father's undoing. There in Cuba, he seemed to have it all: wealth, status and comfort. However, by 1959, it all came crashing down.
All hell broke loose when Cuba's president Fulgencio Batista, a crooked puppet master, fled the island. Batista was followed by what we now call the first wave of Cubans. From a jam-packed José Martí Airport in Havana, tens of thousands desperately rushed to get out. They included rich and poor, professionals and tradesmen, those who feared the future and even those who looked forward to it.
Rodolfo, my father, seemed to fear it. Despite his pedigree, top notch education and law degree, he was unable to crack the success code that so many other Cuban immigrants broke. Gone throughout my childhood and re-appearing when I became an adult, the man I came to know late died this weekend. He died proud but poor.
My non-biological father, meanwhile, both relished the future and did crack the code. Pardon the use of "non-biological," but I can't bring myself to call him my "stepfather." Paco, as I always called him, waited up for me at night. He worried about me, inspired me and disciplined me. He taught me to throw a baseball and how to be a father.
In Cuba, Paco had next to nothing. In America, he reveled in the struggle and came to achieve—even overachieve.
In Cuba, Rodolfo had everything. In America, perhaps unaccustomed to hardship, he struggled both with marriages and money.
The story of my fathers is one repeated by the immigrants who have been coming to America for centuries. It proves only that there is no sure formula for success. And that it's neither predictable nor transplantable.
I tell my story not to judge or rank or castigate but, rather, to share the journey of two proud immigrants. It is the story of my two dads, the one who raised me and the one I finally got to know. I remain grateful for both.