Rick Sanchez: Mayor who "arrested" 90-year-old homeless advocate isn't a bad guy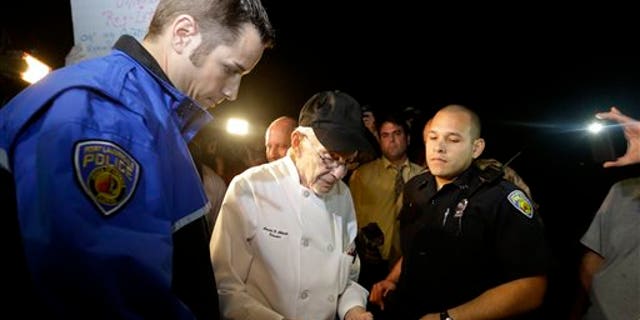 NEWYou can now listen to Fox News articles!
Fort Lauderdale Mayor Jack Seiler is having a bad day – 30 to 40 people, most of them from out of town, are protesting outside his home. "I never realized what a bad guy I was," Seiler jokes.
Seiler is actually not a bad guy. But when headlines around the world screamed about 90-year-old Arnold Abbott's "arrest" by Fort Lauderdale police for feeding the homeless, the mayor became a universally accepted target overnight.
Homeless activists and other extreme liberal groups who have long argued that governments should have the right to regulate, make rules and pass ordinances for the common good are now saying just the opposite. That's right, the "big government" crowd has gone "small government" when it comes to their pet project. Hmm! I asked the mayor, who's a Democrat, about this irony.
"You could not have nailed it better," he told me. "It is dripping with irony, it is so unbelievable. When we initially began doing this, all these groups were thanking us."
They were thanking the mayor because he's a homeless advocate who until now, thought he had a good plan to accommodate the homeless by making sure enough churches were assigned as homeless outreach centers and were coordinating with the city. However, when headlines screamed of a 90-year-old man "arrested," everything changed.
Here are the facts:
The 90-year-old Arnold Abbott was not arrested. He was politely cited for not complying with the city's ordinance, which forbids mass feedings without a permit. The ordinance is aimed at regulating what homeless activists do in public parks, taking into consideration matters like public urination, public defecation, vandalism, loitering and the rights of residents to use the park for their families and children. One other thing, Mayor Seiler likes Arnold Abbott, talks to him regularly and wants to include him in the city's homeless initiative.
"If you actually read the ordinance and read what we have done in terms of a comprehensive compassionate response to addressing homelessness, increasing these programs, increasing locations to feed the homeless," says Seiler, "you'd see that we're trying to establish a reasonable standard so that the homeless are fed in a more humane way."
But that isn't the story that most extreme homeless advocates want told, nor do they want it to go away. They accuse the Mayor of trying to criminalize homelessness and/or criminalize those who want to feed the homeless. I asked the mayor if that's what he's trying to do.
"I would say it is an absolute human right, an absolute right to feed a hungry person, and I agree with that 100 percent," says Seiler. "However, we're just saying you can feed them at any of the 100-plus locations in the city, and none of them create transportation issues or barriers for other residents."
Seiler says mass feedings in public parks without a permit are not good for the homeless or the residents who live near the parks. He says that type of hand-out fails to meet the homeless community's real needs, like mental-health counseling and intervention on alcoholism and drug addiction.
But what about those of us who choose to help the homeless individually?
"We are not going to arrest you for sharing a slice of pizza," says Seiler. "The ordinance is worded to address only mass feedings."
Mass feedings could now be available to the homeless. Mayor Seiler has negotiated a deal with one of Fort Lauderdale's most recognized churches to allow mass feedings just blocks from where Arnold Abbott was cited. The offer was declined. So Seiler then struck a deal to have the mass feedings at the city's renowned Aquatic Center. Now it appears that offer will also be rejected.
"It begins to make you wonder if the issue really is feeding the homeless or if there's a bigger agenda here and why would he turn down legal locations to feed the homeless on Fort Lauderdale beach?" the mayor asks. "And all of a sudden we realized these issues are being hijacked by outside groups – not by Arnold, but by a group that comes in from Missouri."
And the groups will be at it again this week, trying to make lots of noise while avoiding any possible compromise with a mayor they are hell bent on making a bad guy.