Rick Sanchez: Donald Trump's talk was no slip or slur – it was a simple lie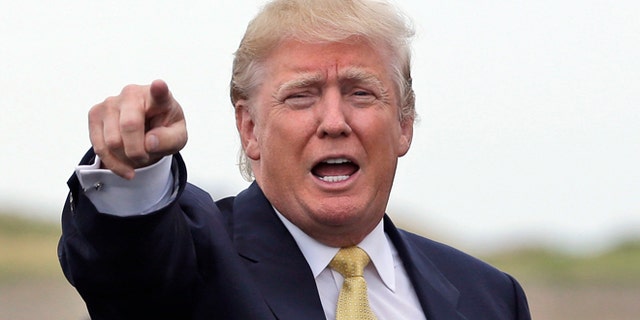 NEWYou can now listen to Fox News articles!
Right now, when it comes to business, Donald Trump is a loser. That's irrefutable; he's losing millions and millions of dollars and stands to lose many, many millions more. Macy's says they want nothing to do with him or his clothing line. NBC and Univision have both said "¡adiós!" That means no airing of Miss USA or Miss Universe in Spanish or in English and good-bye Celebrity Apprentice. Shall I say it? Oh, what the heck. He's fired. That's upwards of 70 to 80 million dollars gone.
Trump did not address the problem at the border, which we all agree should be dealt with. He addressed Mexicans — all Mexicans. In fact, it's hard to tell whether he was referring to those crossing this week, last year, a decade ago or a century ago. Who was he referring to?   
The latest to the "dump Trump" movement is Serta, the largest U.S. mattress manufacturer. It will end its business relationship with Donald Trump because they "value diversity and do not agree or endorse the recent statements made by Mr. Trump."
Even NASCAR is pulling away from Trump. After pressure from top sponsors, NASCAR announced it would not hold its season-ending awards ceremony at the Trump National Doral Miami. Speaking of Miami, where 65 percent of the population is Latino and generally well heeled compared to other Hispanic communities, there's talk of boycotting Trump properties across the board, including Trump's Golf Course and his beachside Condo Towers.
Even Trump himself is now admitting to the financial sting. "This isn't good for my brand," Trump said while being interviewed on Fox News. Yes, its irrefutable—Trump's business is his brand—and it's taking a serious hit.
Finally, some Republican candidates spoke out this week against Trump's slur. Whether it was done on principle or to stop the bleeding for the GOP brand isn't clear, but frankly it doesn't matter. As previously discussed on this site, nothing has ever so galvanized Hispanics from coast to like Trump's barrage of insults. All over America, a rare sight: even Puerto Ricans and Cubans are holding hands while proudly proclaiming; "we're all Mexicans."
Of course, that's the reality on the ground, which is far different from what Americans see on their TV screens night in and night out. On cable and commercial news networks the Trump fiasco has played out very differently. Why? Because generally speaking, there are few if any Hispanic voices on English-speaking TV in America, that's why. And that is why the commentary on Trump has run the gamut from "he's really on to something with voters" to "he shouldn't have said that" to even more idiotic conversations about the political process.
Something missing? Yes, how about a conversation about why Trump is wrong. Not wrong to say what he said because it's mean, but rather just plain wrong. Of course, to know why Trump is so wrong, one of those TV pundits and/or news hosts would have to know something about the Latino community or maybe – I know this sounds absolutely crazy – actually be Latino.
What?
OK, let's do the next best thing. We here at Fox News Latino will take it upon ourselves to help the anchors, pundits and reporters who lack a proper Trump retort. First of all, it's not a "slip," or a "slur" nor a "brilliant play to reach disaffected Americans." It's simply wrong and here's why.
Trump did not address the problem at the border, which we all agree should be dealt with. He addressed Mexicans — all Mexicans. In fact, it's hard to tell whether he was referring to those crossing this week, last year, a decade ago or a century ago. Who was he referring to?
Here are his exact words: "When Mexico sends its people, they're not sending their best, Trump said. "They're not sending you. They're sending people that have lots of problems, and they're bringing those problems with us. They're bringing drugs. They're bringing crime. They're rapists. And some, I assume, are good people."
You want to talk about rape? Let's do it. In 2010, according to the U.S. Bureau of Justice Statistics, about 56 percent of suspects of forcible rape in the U.S. were white and 31 percent were black. Yet, Trump would make us think that we Hispanics are predisposed to being rapists.
According to the FBI Uniform Crime Report, homicide and violent crime rates for all U.S. cities within 100 miles of the border are below the U.S. national average, below their states' averages, and about one-twentieth the average of cities on Mexico's side of the border. You won't hear that story on cable news.
Wait, there's more. When it comes to family values, Latinos are hard to beat. According to the U.S. census, they are twice as likely as non-Hispanic whites to be comprised of a married couple with children.
Here's another one: According to the National Association of Hispanic Real Estate Professionals, Latinos were 51 percent of the total net increase of owner households in the U.S. in 2012.
Hispanics spend 1.5 trillion in the U.S. annually and according to Jack Hollis, CMO of Toyota, they account for nearly 30 percent of all car sales. Meanwhile, Stephen Quinn, CMO of Wal-Mart says Latinos will amount for 90 percent of his company's annual growth.
I could go on, but here's the point. Once again, if you want to know what's really going on in America when it comes to Latinos, you can't rely on our politicians or our friendly, perky and somewhat oblivious cable news and/or network talking heads.
You're better off reading the business pages or maybe better yet, doing you're own homework.