Opinion: Hispanic media are fostering bad assumptions on immigration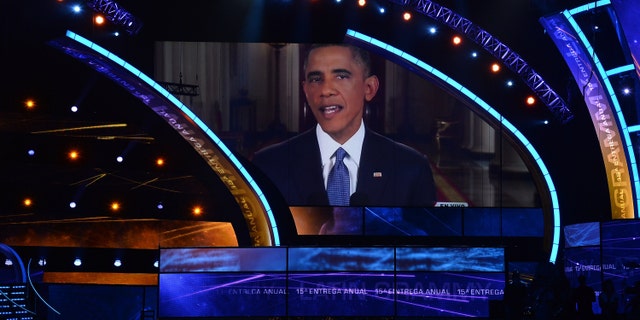 NEWYou can now listen to Fox News articles!
I'm a voting member of the Recording Academy of Arts and Sciences and every year I have the honor of attending the Grammy's and Latin Grammys. After all these years, it's still a thrill to see the best in the business come together for one night of outstanding performances as the industry recognizes its brightest stars.
This year's Latin Grammy's broadcast was as exciting as ever. But it contained a new wrinkle. Before the show kicked off, the arena audience and those watching at home on Univision were shown President Obama's speech on his immigration executive order. I don't remember anyone mentioning a civic rally before the show or there being a disclaimer on the back of my ticket saying that I may be subject to a live political speech from Washington, D.C. when I paid for them. I would have rather had heard a violin solo dubbed over his voice which would have the tone much better.
The Spanish-language media in this country would better serve its viewers and news consumers if it offered a wider breadth of coverage in both subject matter and opinion.
That Univision delayed the start of the show to broadcast the speech was a talking point in media circles, with liberal elites especially praising the network for its decision.
Unfortunately, what should have been a non-event for a network whose target audience is Hispanic has reinforced Spanish-language and Latino media's disturbing tendency to focus its coverage on immigration at the expense of other important issues.
When Latino media dwells on a sole issue, English-language pundits make the lazy assumption that it must be the only issue we care about. Hence all the election season coverage about Hispanic turnout and what effect congressional and administration inaction on immigration might have. There was nary a word about how turnout might be affected by the dozens of other issues brewing in the electorate.
So here's a newsflash for English-language media: We care about a lot more than immigration. Our sons and daughters are serving in the armed forces at home and abroad, so foreign policy is important to us. We're entrepreneurs, so taxes and regulations are important to us. We're parents, so education policy is important to us. Yes, immigration is a big story in our neighborhoods, but you're missing out on so much more that impacts our lives and, ultimately, affects who we vote for. So before your fawning coverage of desperate housewife Eva Longoria, know that she is a celebrity mouthpiece for the left and no one has anointed her spokesperson for all Hispanics. Eva should stick to what she knows best because it's definitely not policy.
And to the Latino media, stop driving the incorrect narrative that the sun rises and sets in our world on immigration alone. Your coverage of immigration is vital, but it tends only to play one note. Your voices in major outlets like Univision are increasingly of a liberal bent, lecturing those of us on the Latino right who believe in limited government and personal responsibility and, yes, have serious misgivings about the president's immigration policy, that we are somehow far out of step with our community.
The major English-language networks have been chastised in some corners for not airing the president's prime-time speech. These criticisms aren't without merit. After all, when the President of the United States addresses the American people, delaying a sitcom for 15 minutes shouldn't be that big of a deal.
For Univision and Telemundo to air the president's speech makes sense. This was a major domestic policy decision affecting much of the two big Spanish-language networks' demographic. But the Spanish-language media in this country would better serve its viewers and news consumers if it offered a wider breadth of coverage in both subject matter and opinion.