Opinion: Cuban rhetoric about the U.S. as bad guy has to stop, along with the embargo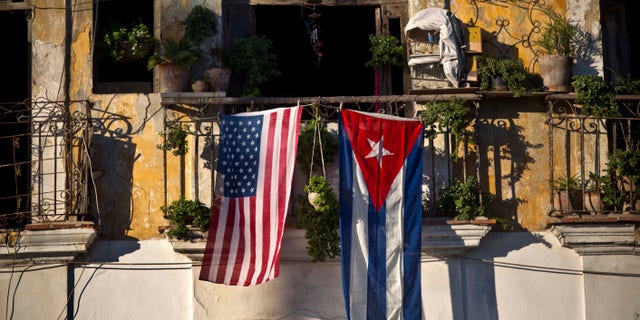 NEWYou can now listen to Fox News articles!
I was born in 1985 in a recently constructed hospital built by the revolutionary government in a small town on the eastern side of Cuba, called Las Tunas. Those were good years from an economic perspective, because even though we lacked basic freedoms my small island was supported financially by the Union of Soviet Socialist Republics (USSR), providing almost everything in exchange for sugar cane. At that time, my father worked for the government as an economist with a good position at "Empresa de la Azucar" while my mother was a teller at the post office located in the first floor of the same building where we lived. In terms of stability it was at least pleasant.
Deeply, in my heart, in the Cuba I dream of one day returning to, there is space for all points of view.
By the time I was 5 years old everything changed, and Cuba became a completely different country, with my pleasant life as a child relegated to the past. The USSR was gone and Cuba stood as one of very few communist countries in the world. In fact, the only one in the Americas, which left us isolated from our neighbors and the rest of world. From that time of my life, the memories and first thoughts that come to mind are the hard days we lived in what came to be called "El Periodo Especial." Translated into English as "The Special Period," it can be explained with one word: scarcity. To tell you the truth, from my point of view, this period is not over yet and I was a witness of the worst of it. I remember the days when we did not have any food to put on table, and the many months I spent going to school wearing sandals because I did not have shoes.
When I was 10 years old, my family moved from Las Tunas to Havana looking for work, and my father went from being an economist to working as a taxi driver in order to give me and my brother a better life. Among the other drivers there were many lawyers, physicians, engineers, etc. They all made more money driving their cars, especially when offering their services to tourists, than they could practicing their professions.
In 2001, my father had the chance to emigrate to the Dominican Republic, where we had some family. That very same year my brother, who was 22 years old, left Cuba looking for a better life in Spain. The following year my mom and I reunited with my father in the Dominican Republic when I was 16 years old. I attended my last two years of high school in Santo Domingo, the capital of the Dominican Republic, and in 2003, I met my wife, Paola.
After four years there, we decided to leave the country looking for a better life in the U.S., but getting there wasn't easy. We took a risk with a dangerous journey on a raft that required crossing the Mona Passage to a small island called La Mona, which belongs to Puerto Rico, a U.S. territory. We spent two days detained in Mayaguez, a small town in Puerto Rico, where we were then released under the unique status Cuban refugees are granted. Thankfully, this made possible a parole, which has opened the doors to opportunity and the American Dream.
We relocated to Louisville, KY where my brother was living after his time in Spain. After many years, my family was finally reunited. Here, in the U.S., I had the chance to go to college and get a bachelor's degree in business, and last year I earned an MBA. Among the greatest opportunities this country has provided me was the chance to serve as an intern in the Office of Majority Leader Mitch McConnell in the United States Senate. It has been a major asset in my career goals, but also a great personal accomplishment due to the fact that I share many ideals with the Senator McConnell and with the Republican Party.
Over the course of the last few months I had another unique opportunity. I have been working with an organization called Engage Cuba, a coalition of businesses, NGOs, and civil society groups that advocate for lifting the U.S. embargo to Cuba. This bipartisan coalition has proven that pursuing a new policy toward Cuba isn't a Republican or Democratic issue.
As a child, I remember that all the calamities we suffered were blamed on the American embargo. After the years I've spent outside of Cuba, I really look forward to the day when the rhetoric about the United States being the bad guy and guilty for everything that goes wrong in Cuba gets left in the past. Like the Soviet Union and its system that failed Cuba, the embargo must end. Even today it gives the Cuban government an excuse for its own failures.
Jose Marti, the famous Cuban poet and liberator, was able to unite all Cubans to fight for freedom. He set the example for us. Deeply, in my heart, in the Cuba I dream of one day returning to, there is space for all points of view. Travel and engagement can help us get there. The sooner we end the embargo, the sooner we can help the Cuban people work toward that future.