Beyonce, Clooney, Kim Kardashian: Celebrities can't save Hillary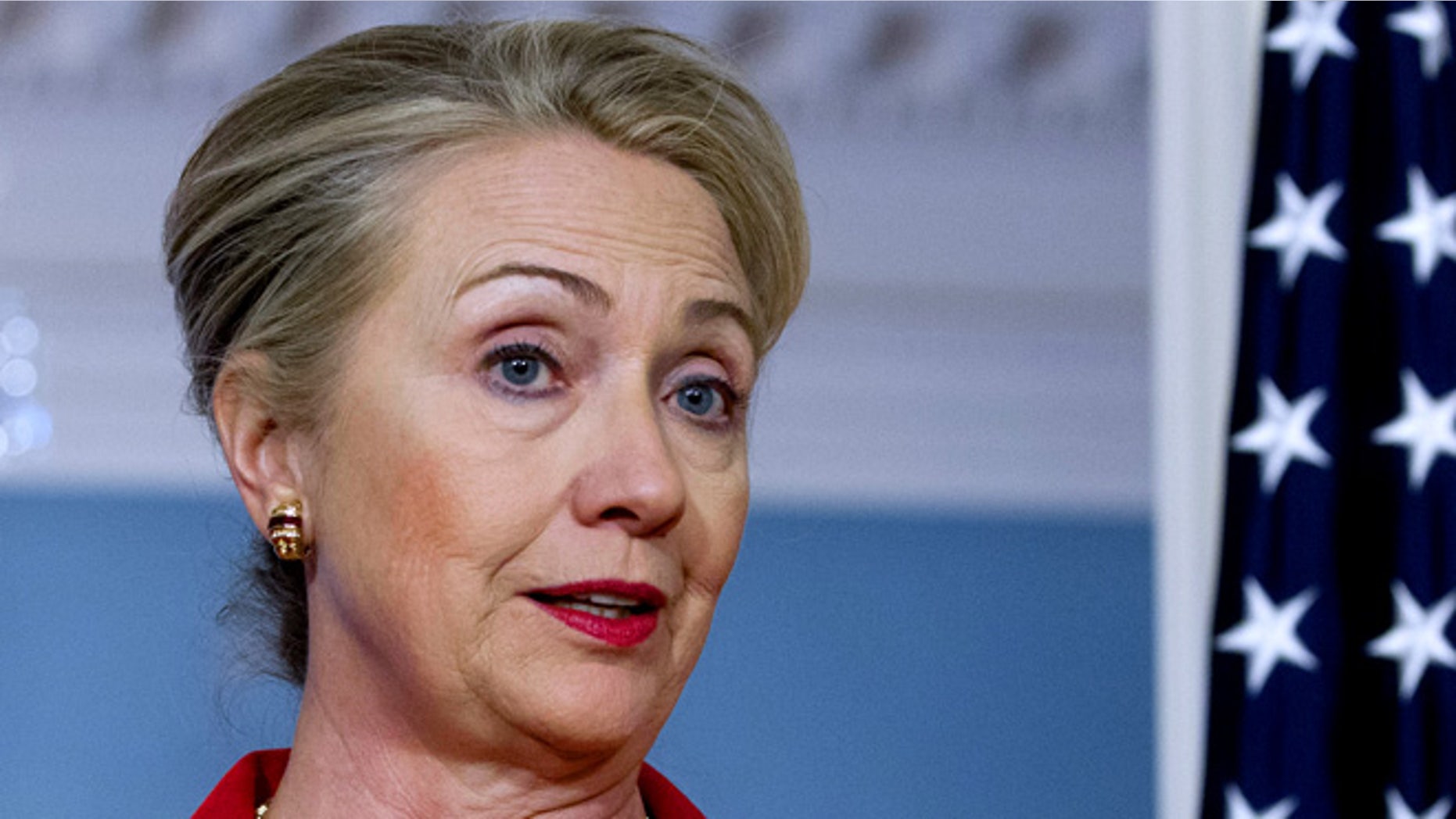 Hillary Clinton's celebrity surrogates are going gaga over how qualified she is to be president, but there's an inconvenient problem with all of their cheerleading: the truth proves them wrong.
Clinton's chief celebrity backer for the moment is President Obama. In his teleprompter-read endorsement of her, Obama said, "I don't think there's ever been someone so qualified to hold this office. She's got the courage, the compassion and the heart to get the job done."
She's got the courage? Clinton has flip flopped on the Keystone XL pipeline, free trade, fracking, a $15 minimum wage, gay marriage, immigration, gun control, mass incarceration and the Iraq war—just to name a few.
She's got the compassion and the heart to get the job done? Clinton got to the heart of her job-killing ideas about energy policy that President Obama admitted would "necessarily skyrocket" energy costs for hardworking Americans when she said, without compassion, "We're gonna put a lot of coal miners and coal companies outta business." But shortly after, she awkwardly and unconvincingly tried to reverse her gaffe when she was trawling for votes in coal states.
If the plane Hillary Clinton is piloting is Air Force One, the country may be headed for a crash landing, based on the risks she poses to America's national security.
Celebrity comedian Louis C.K. didn't seem to be joking when he used this analogy to present his case for how qualified he thinks Clinton is:
"It's like if you were on a plane and you wanted to choose a pilot. You have one person, Hillary, who says, 'Here's my license. Here's all the thousands of flights that I've flown. Here's planes I've flown in really difficult situations. I've had some good flights and some bad flights, but I've been flying for a very long time, and I know exactly how this plane works.'"
But if the plane Hillary Clinton is piloting is Air Force One, the country may be headed for a crash landing, based on the risks she poses to America's national security.
Catherine Herridge and Pamela Browne of Fox News exclusively reported that Clinton did, indeed, receive classified government information on her private, off-the-record email server system (although Clinton had repeatedly denied that she did). Meantime, the State Department's inspector general has condemned Clinton for her violation of emailing rules while she was secretary of state.
Part of the FBI's investigation of Clinton includes assessing the potential damage done by Clinton when she used her private emails to discuss the CIA's drone program in Pakistan.
Real Clear Politics cites security experts who say Clinton's private server system may have been hacked by a variety of foreign entities. And the Associated Press found that "a serious technical problem that affected emails from then-Secretary Hillary Clinton's home email server, [caused the State Department] to temporarily disable security features on the government's own systems"—exposing the State Department's systems to "phishing emails that could deliver dangerous viruses."
Little wonder that a Fox News poll showed that by a 60-27 percent margin, American voters "think that Hillary Clinton is lying about how her emails were handled while she was secretary of state," and "by 57-32 percent, voters say U.S. safety was at risk because of Clinton's mishandling of national secrets."
Clinton's large fan club among entertainment celebrities includes Beyonce, George Clooney, Katy Perry, and many more. Actress Salma Hayek declared, "Hillary is tough!" Kim Kardashian tweeted, "I really loved hearing her speak & hearing her goals for our country!"  But all of Clinton's celebrity endorsements can't save her from her track record of bad judgments, demonstrating that she is unqualified to be commander-in-chief.
Here are several examples. As secretary of state, Clinton asserted that the Obama administration's catastrophic intervention in Libya was "smart power at its best." Then there was her complete botching of the "Russian reset." Add to that her support of the Obama administration's disastrous nuclear deal with Iran, riddled with violations. Clinton reserved some of her harshest criticisms for Israel, America's staunchest ally in the Mideast. She pressured the Jewish state to risk its secure borders and suggested that Israel make concessions to enemies sworn to destroy it, ranging from the Palestinians to the Iranians. Then, too, there is her conduct regarding the Benghazi, Libya attack where four Americans were killed.
Actress Kerry Washington gushed that "#imwithher" as she Instagrammed a photo of herself and Hillary Clinton on the set of (no kidding) "Scandal."  But consider these scandalous words from Clinton:
On MSNBC's Rachel Maddow Show, Clinton said of the scandal over the appalling medical treatment of America's veterans that, "It's not been as widespread as it has been made out to be." This was in complete contradiction to a report by the inspector general for the Department of Veterans Affairs. The report concluded that VA facilities were covering up long waiting lists and shoddy medical care of veterans in at least seven states so that the performance of VA supervisors could be made to look good.  Realizing how bad she looked, Hillary Clinton much later reversed course and said that, "the problems at the VA are unacceptable." What also is unacceptable is Clinton's first reflex: to defend a dysfunctional government agency rather than to immediately commit to the best health care for America's military heroes.
Basketball legend Magic Johnson tweeted that Hillary Clinton "will be a great president for the American people and she will make sure that everyone has a voice!"
Tell that to the minority children Clinton claims to have defended over the years. She has flipped from qualified support for school choice to opposition to it—all in the cause of pandering to the teachers' unions. As one Latina mother put it in a column in U.S. News & World Report, Hillary Clinton "…opposes the surest way to give children the best shot at a better life: expanding school choice and access to charter schools."
Actor Robert De Niro told The Daily Beast that with Hillary Clinton, "There are going to be no surprises, and she has earned the right to be president and the head of the country at this point."
Really? Of all of Hillary Clinton's games, let's call this one "Celebrity Jeopardy."