Puppy yoga gaining popularity as a new twist on the workout
HACKETTSTOWN, N.J. — Yoga is not everyone's cup of tea.
The emphasis on stillness and maintaining a correct posture could come off as complicated and unappealing.
That seems to change when you add a few dozen puppies to the mix.
At Jersey Girl Brewery in suburban Hackettstown, N.J., participants hauled in their yoga mats and plopped them down on the cold concrete brewery warehouse floor. Dozens of puppies ran around, penned in by a network of flipped-over folding tables.
It is one of countless traveling yoga lessons Doggy Noses and Yoga Poses organizes. During the one-hour class, the puppies roam from mat to mat, leaping on participants, tussling with one another, and leaving behind presents for disinfectant-wielding staffers to quickly clean up.
Not too much contemplative stillness takes place during a puppy yoga class. Laughter echoed across the room as the dumbfounded mutts try to figure out what exactly all of the spandex-clad humans were doing.
THE MENTAL BENEFITS OF YOGA TAKE THIS LONG TO KICK IN
"My heart is so full right now with such cuteness," participant Verena Fisher said, cradling a 10-pound golden retriever pup named Scout.
Scout, along with dozens of other puppies there, is up for adoption. The for-profit organization partners with local animal rescue centers for the classes, which receives a portion of the classes' proceeds.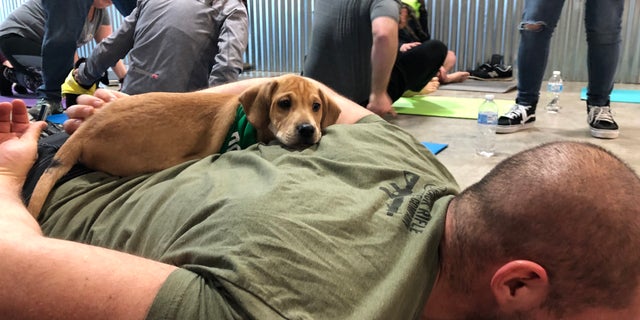 Founder Debra Furstenberg said the idea was inspired by goat yoga, which became a nationwide hit with animal-loving yogis in 2017.
GOAT YOGA: WHAT TO KNOW ABOUT THE LATEST FITNESS TREND
"I thought to myself well if I did yoga with animals, goats are cute but I think I'd rather do yoga with dogs," Furstenberg said.
It originally started as a one-off community service project for her daughter's karate black belt. Now, it has become her fulltime job as they are working on expanding across the nation. They've held events in New Jersey, New York, Pennsylvania, Delaware, Maryland, D.C., Virginia, and Florida.
Similar yoga programs featuring dogs have popped up elsewhere across the country, from Las Vegas to Chicago.
"It's not like traditional yoga, which is perfectly fine because it's therapeutic in its own way," said Alyssia Saporito, a certified yoga instructor that has taught puppy yoga. "You know you just get to come and relax. You get to play with puppies. I always tell the students, don't listen to me, have fun and take pictures. There are no rules. Just have fun."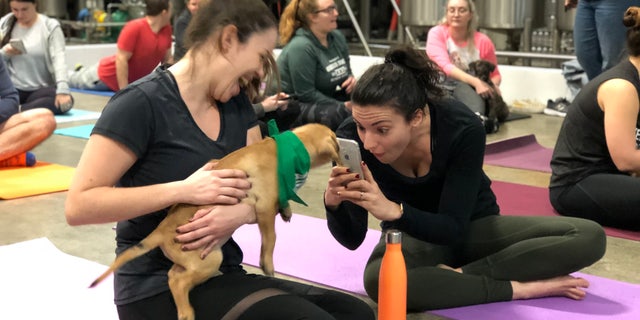 While puppy yoga might yield some different results than traditional yoga, the top official at the national nonprofit the Yoga Alliance embraced the new take on the ancient practice, which dates back to the fifth-century B.C.E.
DOWNWARD DOG, DOCTOR'S ORDER: YOGA COULD EASE BACK PAIN
"This is sort of the new manifestation in the U.S.," said Shannon Roche, acting CEO of Yoga Alliance. "Although, I'd argue that it's probably true that people were practicing with their animals in nature a long time ago."
Roche said that as long as yogis are being safe and thoughtful, this could turn a new corner in the world of yoga.
"I can't think of many things that would help more to bring us to our present moment and learn to calm your mind than a cute little puppy snuggling up against you," Roche said.
CLICK HERE TO GET THE FOX NEWS APP
At the event in Hackettstown, seven puppies were adopted and $500 was raised for Two Hearts Animal Rescue. To date, over $50,000 has been raised for nonprofit animal rescue organizations, Furstenberg said.
"Our team is going to sit down together and really focus on the best way to roll this out into as many places as we can because it's just been a wonderful experience for everybody," Furstenberg said.
After the class was over, everyone received a complimentary drink ticket to use in the brewery's attached taphouse to help recover any lost calories.
"You can do yoga anywhere," said Saporito, the yoga instructor. "You can do in a studio, you can do it in a brewery. Breweries just make it more fun because there's beer."