Bizarre makeup tutorial suggests chopping hair off to create makeup brush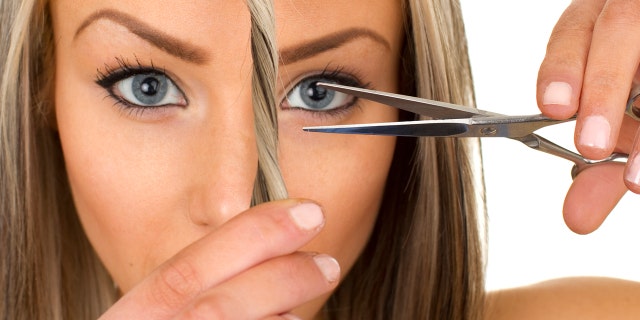 Quality makeup brushes are expensive, but one woman found a way to hack a brush for free.
In a video posted on Instagram, a beauty blogger chops off her own hair, puts her tresses into a pencil top and uses it to apply makeup.
SWIMSUIT MODEL SAYS 'INSTAGRAM ISN'T REAL LIFE'
The bizarre tutorial from "5-Minute Crafts" begins with the woman tying a small section of her hair with an elastic before hacking it with scissors — all while keeping her eyes closed.
After removing the eraser and squirting glue into the pencil top, she adds her newly detached locks into the pencil and trims it down to make the "bristles" even.
Surprisingly, the DIY human hair brush appears to apply eyeshadow smoothly and blend well.
WATCH: CAT CRASHES RUNWAY AT FASHION SHOW IN TURKEY
However, beauty buffs were not impressed with the hair hack job.
"You could buy a brush at CVS for like two dollars," one Twitter user pointed out.
"All that fancy makeup isn't gonna cover the big missing chunk of hair in the front," another joked.
Others were furious the woman lobbed off so much hair and ended up using only a small amount.
"I don't understand why she had to cut so much hair off to end up using like 2 cm of hair," one person said.
A dermatologist told Teen Vogue that using your own hair as a makeshift brush is perfectly safe. Though hair is often full of styling products and chemicals, clean hair is perfectly acceptable to source as a makeup tool.
Just remember, your new makeup brush can't grow back.
FOLLOW US ON FACEBOOK FOR MORE FOX LIFESTYLE NEWS
This article originally appeared in The New York Post.