Women sue San Diego hospital for 'secretly' taping them delivering babies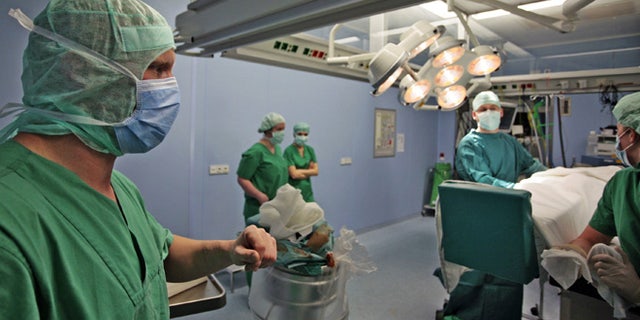 NEWYou can now listen to Fox News articles!
When Melissa Escalera was rushed to the hospital to deliver her infant six weeks before her due date, the last thing she wanted was to have the painful ordeal recorded.
She said she would have never imagined there were hidden cameras in the operating room at the San Diego's Sharp Grossmont Hospital where she had an emergency C-section three years ago.
Now she is one of a group of women treated at the Women's Health Center suing the hospital for what they allege is a "systematic and shocking breach" of their patient privacy rights.
According to inewssource.org, which first reported the case, the hospital is alleging that the patients consented to the video recordings through a generic patient admissions agreement. The class-action lawsuit denies this claim.
Hospital official said they began video surveillance in July of 2012 in an effort to catch an anesthesia drug thief. The recording continued in three operating rooms until to June of 2013, meaning thousands of patients may have been affected.
The surveillance was done via small video cameras mounted inside computer monitors attached to moveable anesthesia machines, inewssource reported.
"When I arrived in an ambulance and was wheeled into the operating room on a gurney, my concern was with my daughter who was in distress and coming six weeks early," Escalera told NBC 7.
"I was not planning on having a baby that September 4th day. It was a highly stressful and emotional time for my family and my doctor. No one ever asked me to record one of my most tender, life-changing moments. I would have never agreed to be recorded in that vulnerable moment," she said.
The claim asserts that the thousands of video clips show the patients "unconscious, undressed on operating room tables and undergoing medical procedures."
"Because of the nature of these procedures, the video captured women while they were emotionally and physically exposed, often naked with their most genital areas visible."
The cameras in the hospital were set to turn on when motion was detected in the room. It's estimated that during the 12- months of video tapping, some 14,000 to 15,000 clips may have captured patients.
Sharp HealthCare's vice president for public relations, John Cihomsky provided this statement:
"Each video camera was 'motion activated' and situated in a manner so as to limit its view to the area in front of the anesthesia cart," and that "when the investigation was complete, the video cameras were removed."
He added, "While images of patients were occasionally recorded, the focus of the investigation was on times the operating rooms were not being used for patient care.
The class-action claim does not specify a requested amount for damages nor name any other plaintiffs.
Like us on Facebook
Follow us on Twitter & Instagram