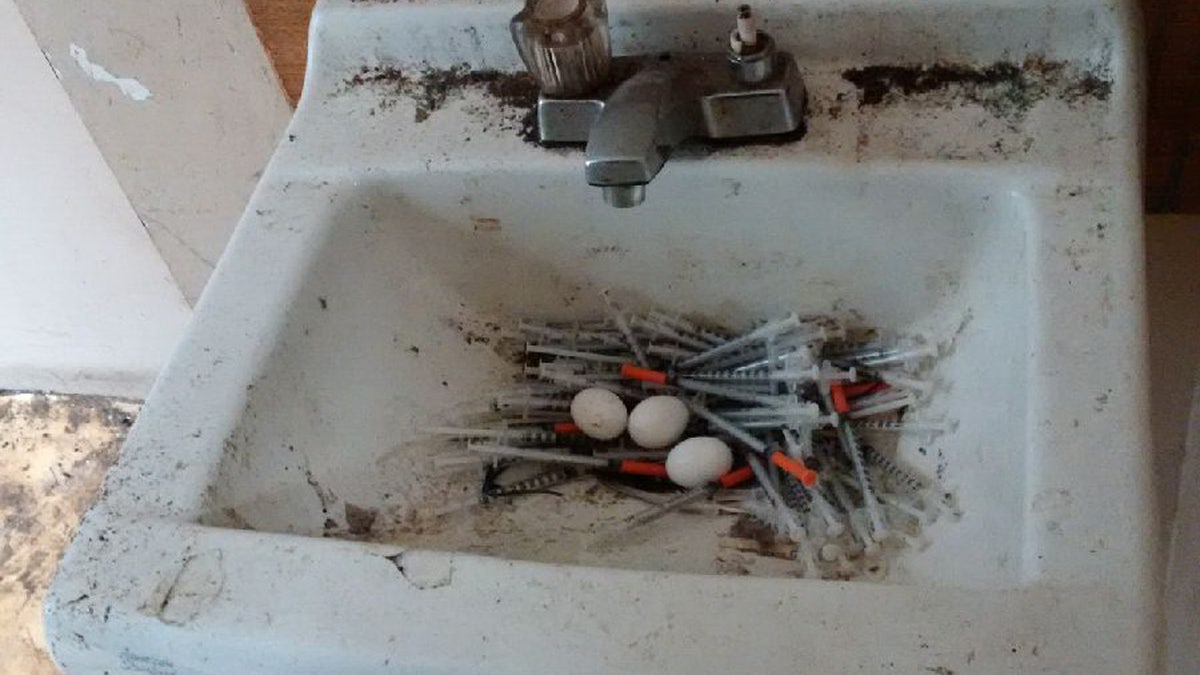 Authorities in Vancouver shared a grim look at the opioid crisis impacting neighborhoods in the Canadian city, with a photo on Twitter of three pigeon eggs sitting in a "nest" of discarded hypodermic needles.
The photo, posted by Superintendent Michelle Davey, shows three white pigeon eggs on top of used needles in a dirty sink.
"Pigeons spotted making a nest out of #needles in a #DTES SRO room. Sad reality of the #opioidcrisis #fentanyl #frontline #notstaged," Davey tweeted.
Vancouver police Sgt. Randy Fincham told Fox News the photo was captured Wednesday by a Homeless Outreach Coordinator for the department during an inspection of a vacant room of a building in the city's Downtown Eastside neighborhood.
"The picture was shared with the public to show the reality of drug use in the Downtown Eastside and to provide a rare glimpse into the lives of first responders, health care providers, and others involved in the opioid crisis," Fincham said.
PAIR IMPRISONED FOR GIVING LETHAL DRUG DOSE TO DISABLED SON
Vancouver is dealing with a surge of fentanyl-related overdose deaths this year, a problem shared with other cities across the U.S. and Canada.
On Thursday, Vancouver Mayor Gregor Robertson said in a tweet there have been 141 overdose deaths in the city so far this year, calling it "BC's most tragic public health emergency in decades."
On April 27, emergency responders in the province of British Columbia dealt with 130 suspected overdoses in a single day, an all-time high, according to CBC News.
OVERCOMING OPIOIDS: WHEN PILLS ARE A HOSPITAL'S LAST RESORT
While Davey said in her tweet the photo was not staged, an ecologist who wrote a book on pigeons told CBC News he doesn't think the "nest" is real.
Luc-Alain Giraldeau, dean of the Faculty of Science at the Université du Québec à Montréal, told CBC News that pigeons always lay two eggs, and real nests are "covered with feces."
Fincham, however, said the image was meant to start "a conversation about the harm reduction efforts of first responders, and the need for treatment options for substance users."