Six North Carolina nurses show off their 'baby bumps' in adorable photo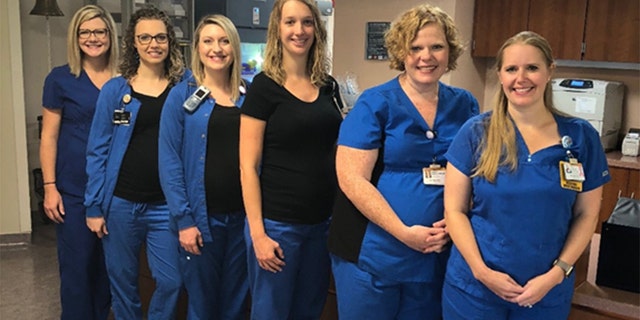 Six nurses in North Carolina who are all expecting within months of each showed off their "baby bumps" in a photo shared by the medical center where they work.
The nurses -- Nina Day, Bethany Stringer, Emily Johnson, Nikki Huth, Sabrina Hudson and Katie Carlton -- all work at the Comprehensive Cancer Center at Wake Forest Baptist Health, according to WFMY-TV.
All six women are between 18 and 37 weeks pregnant.
The news station reported that Day is due on July 31, while Stringer is due in early September. Johnson is expecting to deliver on September 25, while Huth is due October 11. Hudson is due November 13, while Carlton is due in December.
"It's been wonderful leaning on one another and comparing stories and getting and sharing advice," Carlton, an assistant nurse manager at the cancer center, said.
The timing has been a "truly a remarkable experience," she added.