Police officer volunteers to donate kidney to 8-year-old boy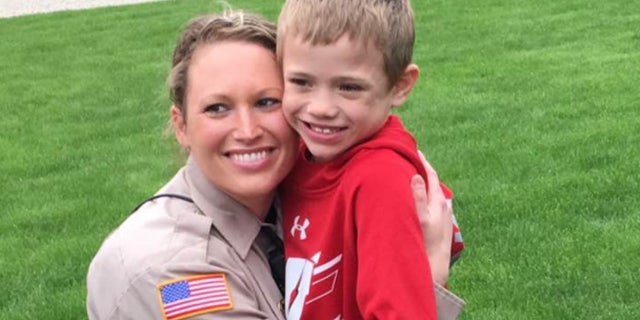 A Wisconsin police officer has gone above and beyond the call of duty for a local 8-year-old, who will receive one of her kidneys in June. It all started in December, when Milton police deputy Lindsey Bittorf saw a post from Jackson Arneson's mom on Facebook and felt moved to help, CBS News reported.
"Jackson went in for a routine kidney appointment the end of November," Kristi Goll, Jackson's mom, wrote on her Facebook page. "At this appointment, his labs showed his kidney function is still decreasing and the doctors are in talks of activating him on the deceased donor list for a kidney transplant."
TEEN DIES AFTER DRINKING TOO MANY CAFFEINATED BEVERAGES
Goll then requested if any of her friends or followers would be willing to get tested to see if they met the O+ blood type requirement for a living donor, as doctors said it would be a better match for Jackson than a deceased donor. The post was shared more than 1,500 times and caught the attention of Bittorf, who had never met the family before.
"Maybe this is just weird and odd but as soon as I saw her post, I just knew. It's me," Bittorf, also a mother, told NBC 15.
Bittorf was one of more than 50 who volunteered at the UW Health Transplant Program to have their blood tested. Earlier this month, she stopped by the family's home to deliver the good news with a plaque she had made for Jackson.
"Jackson, I took an oath to serve and protect my community. My kidney will now be able to serve and protect you! I am your kidney donor," the plaque said.
CALIFORNIA BABY BORN WEIGHING 13.5 POUNDS
Goll took to Facebook to share the good news.
"After months of searching for a kidney donor for Jackson, I can say, 'the search is over!!' I can't even put into words how amazing of a gift we are receiving from this amazing person," Goll wrote in a May 2 post on Facebook. "She surprised us after work today and I still feel in shock. Jackson is so excited and says, 'I think my new kidney will make me run faster!' Today you became our hero."
The transplant is scheduled for late June, and Bittorf said she's thrilled to be able to give Jackson's parents peace of mind.
"It's the best feeling being able to give a parent the 'OK' that your kid is going to be healthy," she told NBC 15. "You don't have to worry anymore about your son."