Lip-filler horror after mom's infected injections leak out pus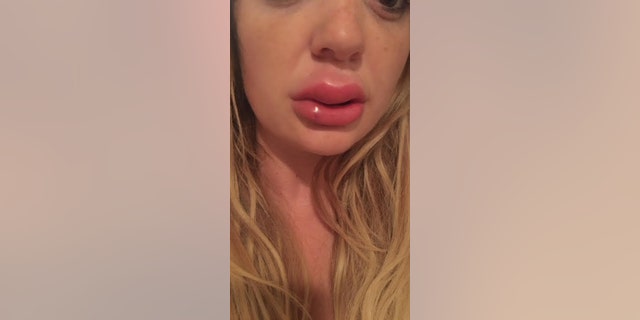 A woman's harrowing experience with cheap lip fillers that left her with pus oozing out of her face caught the attention of a celebrity doctor, who now wants others to be aware of the risks that can come with seeking unregulated cosmetic procedures.
Jessica Bennett, of the U.K., said she was desperate for help after her lips became swollen and hard following questionable filler injections.
"My lips just blew up. I looked like a duck," the 24-year-old, who did not disclose where she got the fillers from, told Nottinghampost.com. "It was hot and tingly, and really hard. I was taking anti-inflammatory tablets."
BOY WITH AUTISM FIGHTS TO KEEP SERVICE DUCKS AFTER TOWN ORDERS FAMILY TO GET RID OF THEM
In a graphic video allegedly posted to Facebook, yellow pus could be seen leaking out of Bennett's top lip. The video caught the attention of Dr. Tijion Esho, who regularly appears on E4's "Body Fixers" show. In a video posted to his Instagram, he told followers that he had been in contact with Bennett and was safely removing the infected fillers.
WARNING: GRAPHIC VIDEO AHEAD
"I get sent A LOT of emergency cases," Esho wrote in an Instagram post alongside the graphic video. "This young lady contacted today with this video. She's now on my emergency table!"
Bennett told the Nottinghampost.com that Esho prevented the situation from getting any worse, and that she had the bottom lip filler safely removed, with another procedure planned to remove the top lip filler next week after she finishes her antibiotics. While it was not Bennett's first time seeking plastic surgery, she is cautioning against choosing the cheapest option.
"I don't regret having any work done," Bennett, who has had a breast augmentation and butt lift, told the news outlet. "And I wouldn't say no to more fillers. But girls just want it done there and then, and as cheaply as they can. I'm not saying 'don't do it,' I'm just saying 'be careful who you go to.' It could be anybody doing it who just has some good photos on Instagram."
Esho told the news outlet that social media and the influence of reality TV shows have sparked an increase in women seeking cosmetic procedures, but not all are regulated.
NJ GIRL MAY BE FIRST PERSON IN US TO CARRY LONGHORNED TICK
According to the British Association of Aesthetic Plastic Surgeons, non-surgical procedures, such as fillers, are not regulated by a governing body.
"So people need to be careful about who is injecting something into their face," a spokesperson reportedly told Nottinghampost.com. "Even if it is non-surgical, the possible repercussions can include nerve damage, bruising and infection. It's not about who injects it, but about who can deal with the consequences. People can call themselves cosmetic surgeons, and – unlike plastic surgeons – it doesn't really mean anything."
Esho told the Mirror that he's seen an increase in the amount of corrective procedures at his practice, and that while a quality lip filler could cost from $450 to $650, unregulated facilities may offer it for as low as $65.