How Patty Duke's own battle with mental illness helped shape legacy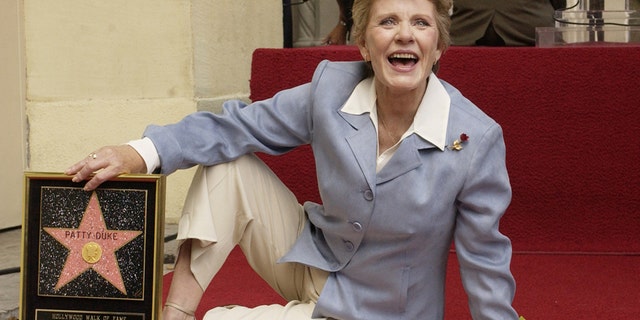 In most circles, Patty Duke may be best known for her longtime career in Hollywood, including her Academy Award-winning performance at age 16, as Helen Keller in "The Miracle Worker," and later on "The Patty Duke Show." But to growing population of activists, she was also revered for her outspoken voice about her mental health struggles.
Duke, who died of sepsis from a ruptured intestine Tuesday morning at age 69, suffered from bipolar disorder, and she spoke openly about how it impacted her life daily. She was diagnosed with the disorder in the 1980s, when it was called manic depression.
Her son Sean Astin described his mother as a "warrior" who fought for awareness of the disorder during a time when mental health issues carried an even larger stigma than they do today.
"She would do fundraisers and she would lobby Congress and write another book specifically on bipolar disorder ... She was indefatigable," he told Entertainment Tonight. "Wherever I go on this planet, for my whole life, people would come up to me and they'd say to me, 'How's your mom?'"
In 1992, Duke spoke with former "Today" show co-anchor Katie Couric about bipolar disorder, crediting a 13-day marriage and other lapses in judgment to her mental health struggles.
"I choose to take responsibility for those things that I did, and I tried to not— you can't fix them," Duke told Couric in an interview. "You can't buy back that time, but to certainly explain to the people who were so seriously injured emotionally and spiritually that there was something else going on. The best way is, once you start taking your medicine, if that works for you, is to change that behavior. And it's taken, oh, it's 10 years. It's thrilling for me to say 10 years of a healthy life."
Bipolar disorder is marked by dramatic fluctuations in mood, energy, activity levels, and the ability to carry out daily tasks, according to the National Institutes of Health (NIH). Different from the typical ups and downs every individual has, the disorder can be treated with medication and counseling. According to the Centers for Disease Control and Prevention (CDC), bipolar disorder is more common in women than men, accounting for an estimated lifetime prevalence of 4 percent. It's thought to be the most expensive behavioral health care diagnosis, costing more than twice as much as depression per affected individual, according to the CDC.
"Lithium [as a treatment] is not the be-all and end-all,"Duke told Couric in the "Today" show interview. "It doesn't solve everything. You need to continue to work, some of us, until you sort out the other things and resolve as many as you can."
Astin also told ET his mother acted as a trailblazer for other women to open up about their mental health.
"She was one of the first public figures with a big public profile who did that," Astin told ET. "What's so funny is, as her son, seeing her— the real her, the authentic her— which most people saw as wel l... the more she opened up, the more she shared of her pain, the more she revealed how excruciating pain can be turned into bliss."