Court to decide whether severely ill tot in UK can travel to US for pioneering treatment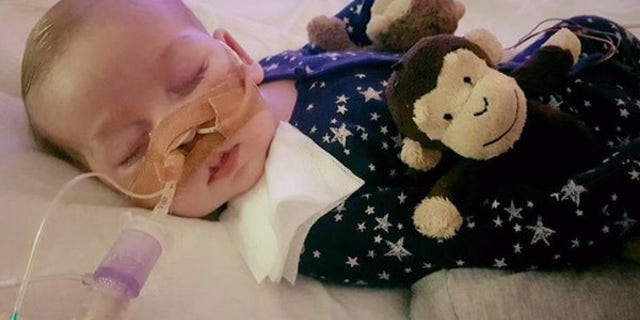 The desperate parents of an "extremely unwell" baby have increased their fundraising goal by $124,000 just days after hitting the $1.5 million target to "cover GoFundMe's handing fees".
Connie Yates and Chris Gard are anxiously awaiting the ruling of a High Court judge about whether they can take eight-month-old Charlie to the US for pioneering treatment.
The tot has a rare genetic condition that causes severe muscle weakness, deafness and epilepsy and is on a life support machine at London's Great Ormond Street Hospital.
The couple, from Bedfont, west London, hit their huge goal at the weekend after donations poured in as celebrities, including Michelle Keegan, Katie Price and Charlotte Crosby, backed the campaign.
The figure was today increased to $1.6 million, and in a message thanking people for their support, Miss Yates said: "We have had to put our total up to cover gofundme fee's plus the more money we get the more time we can spend in America."
The fundraising platform hosting the donation page said its fees are standard for all appeals.
A GoFundMe spokesman said today: "Guidelines regarding our fees are stated clearly on our website and are standard for all campaigns. We are looking closely at Charlie's case as it develops."
The family have endured an agonising 24-hour wait to discover the fate of the ill tot as they prepare to face a judge tomorrow where they will beg him not to let their son die.
Specialists at Great Ormond Street Hospital (GOSH) say it is time to stop providing life support treatment and allow the tot to die in dignity.
Mr Justice Francis has been considering evidence in the Family Division of the High Court in London before he'll decide what option is in Charlie's best interests.
Care worker Ms Yates broke down in court yesterday as she said the American doctor offering the ill tot therapy admitted he's "less enthusiastic" after hearing of the "vanishingly small" chance to save him.
The expert, who cannot be identified, told Mr Justice Francis via telephone link from the US that the tot was "in the terminal stages of illness" and admitted he did not previously realise how severely ill Charlie was.
He added that 18 people had been treated with nucleoside bypass therapy – though none of them were in such a severe condition – and conceded that Charlie's therapy was "clearly unchartered territory because no one has done this".
The doctor said the treatment would be compassionate and proposed a therapy that he said would provide a "small chance" of a meaningful improvement in Charlie's brain function.
"It may be a treatment, but not a cure," he said. "(Charlie) may be able to interact. To smile. To look at objects."
He said he proposed trying the therapy for up to six months.
Mr Gard clutched and gazed at a cuddly monkey belonging to Charlie as he listened to the specialist in paediatric medicine at GOSH tell the judge that Charlie was "extremely unwell" and likely to be feeling pain.
She said there was a "very small" theoretical chance that treatment would result in any improvement.
The specialist said that possible benefit was outweighed by the continued suffering Charlie would endure.
"Charlie is suffering and that outweighs the small theoretical chance that this may be effective treatment," she said.
"It has never been about cost to us.
"This treatment could theoretically be given here.
"We don't feel it is right for this child at this time because of the suffering and the extent of the neurological damage."
A barrister representing Charlie's parents told the judge that normal life did not cause him pain.
"There is no evidence that he is on a regular basis in pain," said Sophia Roper.
"His normal life does not cause him pain."
Ms Roper, who was praised by the judge after it was revealed she is representing the family for free, said Charlie's parents did not want him to "live at any cost".
"The purpose of life-sustaining treatment continuing has always been to try to find treatment not to keep him alive at any cost," she told the judge.
"If there is evidence of irreversible brain damage, if that is the position, we will not be pressing on."
Mr Justice Francis told the court: "The mother has very bravely said she would not want treatment to go on to the point where it did not work."
The court heard both parents were "utterly devoted to Charlie and have worked hard to become experts in this disease".
Mr Gard was later seen leaving the High Court clutching the monkey cuddly toy, and later with the memento tucked into his suit jacket pocket.
A fundraising appeal set up by the couple, who are both in their early 30s, smashed its £1.2 million to get Charlie the pioneering treatment in the States only yesterday.
Celebrities including Michelle Keegan, Katie Price and Charlotte Crosby joined the campaign to help try and save little Charlie's life.
Writing on Facebook, the couple said: "You may have seen that we have reached our £1.2m target! Thank you so much for all of your support!
"We are currently preparing for court tomorrow where a judge will decide Charlie's fate.
"We will keep you updated when we can but once again, thank you for your continuing support."
A GoFundMe spokesman said: "The outpouring of support for Charlie and his family is absolutely incredible.
"This is the second largest campaign we've seen in Britain and the social sharing and number of donors are absolutely huge."
He added: "It is very rare and hugely moving to see this many people come together so quickly and it's testament to the power of Charlie's story."
This Morning viewers were left in tears during an emotional interview with baby Charlie's parents Connie and Chris.
Last week they told of their relief after doctors lifted a "do not resuscitate" order that would have stopped medics from trying to revive him if his condition suddenly deteriorated.
Postman dad Chris, 32, said: "The decision came out of the blue and was later confirmed by his consultant.
"Connie and I were thrilled because it is such a positive step in the right direction. We are hoping it means doctors believe there is hope for Charlie."
To support the family, go to the Help Save Charlie's Life page on GoFundMe.
This article first appeared on The Sun.