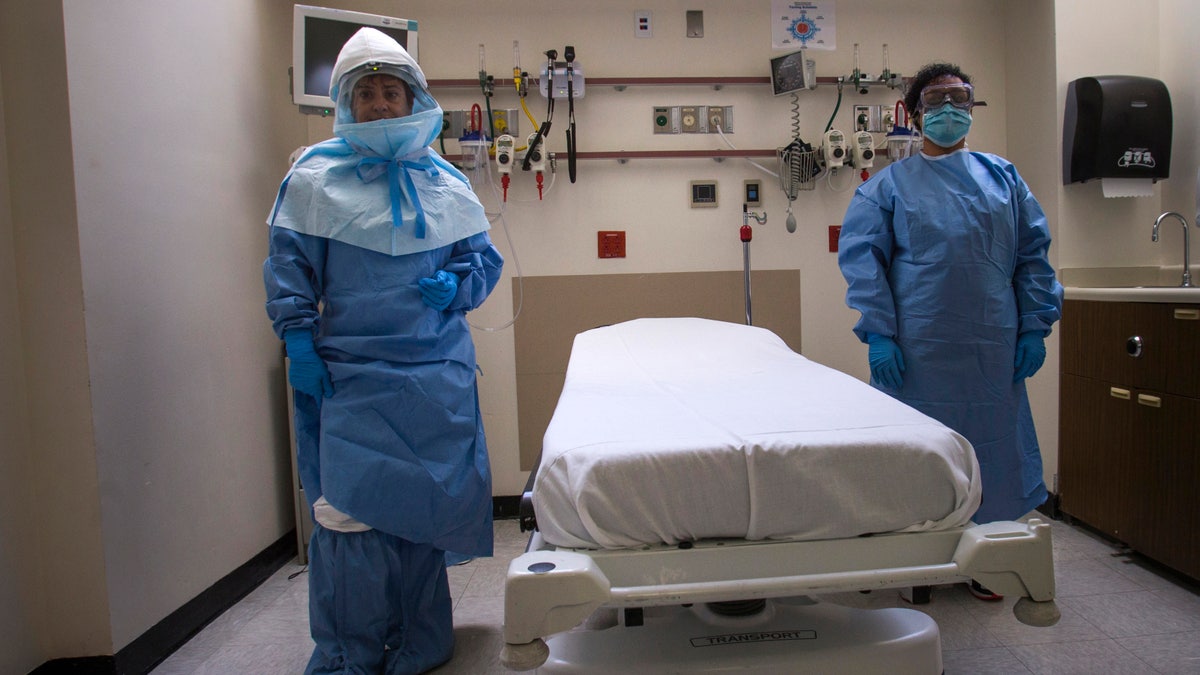 A preliminary investigation by the Centers for Disease Control and Prevention (CDC) into how two Dallas nurses who cared for Thomas Eric Duncan became infected with Ebola has raised questions about personal protective equipment protocols and whether or not they are stringent enough at U.S. hospitals.
Amber Joy Vinson and Nina Pham both wore protective gear including face shields, hazardous materials suits and protective footwear as they inserted catheters, drew blood and cleaned what have been called "copious amounts" of Duncan's bodily fluids. Still, the two somehow contracted Ebola from the dying man.
"The thing is that this patient required intubation and hemodialysis … those sorts of procedures and interventions markedly increase exposure to various different bodily secretions," Dr. Amar Safdar, associate professor in the department of medicine, division of infectious diseases and immunology at NYU Langone Medical Center, who did not treat Duncan, told FoxNews.com.. "That is the reason why there was a fairly high exposure of these bodily fluids to the health care personnel."
According to a CDC spokesperson, the agency is reviewing their guidelines for personal protective equipment when treating Ebola patients.
"We're doing it now as we learn more about what happened in Dallas," CDC spokesperson Jason McDonald told FoxNews.com. "As we understand what happened there, we're going to look at changing our guidelines and recommendations to health care providers."
"The CDC has very specific guidelines and it's again a learning curve," Safdar said.
According to CDC guidelines updated August 1, when a patient arrives at a hospital in the early stages of the disease— symptoms such as fever, joint aches, headache— health care workers are to wear fluid-resistant/impermeable gowns, disposable gloves, a face mask and an eye shield, either goggles or a mask with a built-in face shield.
Online, the CDC has sought to clarify the Ebola protocols in a health care setting, adding specifics on the website about double-gloving and restricting the number of caregivers involved. These are recommendations, not requirements. More than 75 people were identified as being involved in Duncan's care, including the two infected nurses.
The materials worn for a patient in the early stages of disease are standard barrier precautions for infectious disease and are discarded after use, Safdar said.
"It doesn't apply just to someone being suspected of Ebola, it's a routine practice all across the nation, especially for drug-resistant bacteria to prevent spread," he said.
If a patient progresses and has symptoms such as vomiting and diarrhea that release potentially infectious fluids, then additional precautions are implemented.
"Boot covers, leg coverings, an impenetrable body suit that covers the neck as well as the head area, and also an apron up the front because that's where the zipper is for these impenetrable suits to just prevent if anything splashes," Safdar said, noting that health care workers should change into scrubs that would be discarded after use and not wear their own clothing, jewelry or ID badges under the protective layers.
At advanced stages of the disease, the impenetrable suit and full headgear are used so no bodily fluids come in contact with a health care worker's body.
"It's scary looking, but it protects," Safdar said.
Taking these precautions when dealing with an Ebola patient is vital, Safdar noted.
"Absolutely 100 percent of the time, precautions need to be taken for someone who is in the advanced stages, hospitalized with Ebola virus disease, because that is when the person becomes contagious and can transmit the virus to other people," he said.
The Ebola virus, which is transmitted through bodily fluids of an actively ill patient, is not highly infectious, but breaches of protocol in the removal of personal protective equipment can increase risk.
"This is a pathogen that's not forgiving," Dr. Amesh Adalja, infectious disease specialist at the University of Pittsburgh Medical Center, told FoxNews.com. "So if you have a breach in protocol, you're really doing a virus a favor, because it's still not a very contagious disease … the virus really has no avenue of infecting you unless it finds a breach."
CDC director Dr. Thomas Frieden has cited a "breach in protocol" that allowed Pham to become infected while she cared for Duncan in the intensive care unit, but has not specified the nature of that breach. He did, however, note that some of the nurses at Texas Health Presbyterian inadvertently violated the CDC protocols by wearing too much protective gear.
"These are good, dedicated people who worried about themselves and their families and they were trying to protect themselves better, but in fact, by putting on more layers of gloves or other protective clothing, it becomes much harder to put them on, it becomes much harder to take them off. And the risk of contamination during the process of taking these gloves off gets much higher. That's true for several different areas of the body," Frieden said Wednesday.
Texas Health Presbyterian said in its statement that Duncan was moved directly to a private room and isolated. It said staffers wore "appropriate personal protective equipment" as recommended by the CDC at the time, and that when the CDC issued updates, the hospital followed its guidelines.
"When the CDC recommended that nurses wear isolation suits, the nurses raised questions and concerns about the fact that the skin on their neck was exposed," the hospital said. "The CDC recommended that they pinch and tape the necks of the gown. Because our nurses continued to be concerned, particularly about removing the tape, we ordered hoods."
The hospital did say that when it received Tyvek suits, some were too large and nurses may have used tape to make the suits fit better.
A nurse at Texas Health Presbyterian Hospital, Briana Aguirre, said on NBC's "Today" show that nurses and other employees were asking their supervisors what they should be doing.
"Our infectious disease department was contacted to ask, `what is the protocol?'" Aguirre said. "And their answer was, `We don't know. We're going to have to call you back.'"
Aguirre, who did not deal directly with Duncan but helped take care of Pham, said the protective gear they were provided left the neck exposed.
Safety rules have evolved since Ebola was first recognized in 1976 in Zaire. And while there is still no cure, the World Health Organization and Doctors Without Borders have developed relatively safe ways to care for people during many large and deadly outbreaks in Africa over the past four decades.
But Ebola is a new phenomenon in the U.S., providing an opportunity for health officials to revise protocols.
The current outbreak, the largest in history, is blamed not on protocol violations but on a lack of care. The virus has killed almost 4,500 people, most of them in West Africa.
The Associated Press contributed to this report.