British couple shares heartbreaking photos of son's last days to raise awareness of deadly infection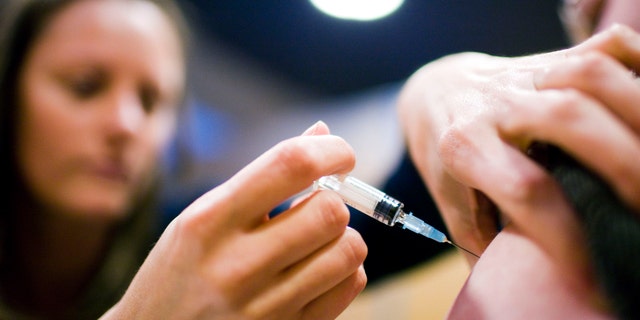 NEWYou can now listen to Fox News articles!
A British couple has shared photos of their son's last breaths before meningitis B claimed his life in 2013 to raise awareness of the deadly illness.
Claire and Mark Timmins lost their son Mason to the disease two weeks before Christmas 2013, according to news.com.au. They had been storing photos of his last days on Earth in a box— until the death of another British child, 2-year-old Faye Burdett on Valentine's Day, prompted an outpouring of support for nationwide vaccination against meningitis B among children.
The BBC reported that Lee Booth, of Gasthead, started a petition for the vaccine after he said doctors deemed his daughter too old for it. The death of Faye, who isn't related to Booth, fueled support for the petition— which had garnered more than 640,000 signatures and counting as of Monday morning. Because the number of petition signatures has surpassed 100,000, Parliament will consider the recommendation, the BBC reported.
The Centers for Disease Control and Prevention (CDC), in the United States, recommends that preteens, teens and young adults at an increased risk of meningococcal disease get vaccinated to protect against the serogroup B type.
The Timmins family said their decision to release photos of their late son was easy.
"So many people responded through shock from [Faye's death], and so we thought if it's going to make a difference we should use our photo (sic) as well," they said, according to news.com.au.
While Faye suffered from a rash prior to her death, Mason's meningitis exhibited with vomiting. Twenty-four hours after the episode, Mason died at the hospital in his parents' arms, news.com.au reported.
"Hopefully it will shock people into finding out more about meningitis," the Timmins family said, according to the news website. "We want people to know just how quickly it can happen."