Brazil May Impose Warning Labels for Lingerie and Underwear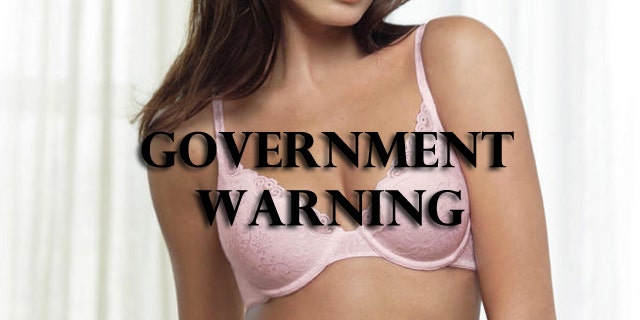 Lawmakers in Brazil may have found an unconventional way to get their citizens' attention.
The congress has recently passed a law that would require sexual health messages to be placed in underwear manufactured and sold in Brazil. The measure, which was introduced 12 years ago, is now awaiting approval from Brazilian President Dilma Rousseff.
Bras would carry tags encouraging self-examinations for early detection of breast cancer. Underwear would advise men over 40 to get screened for prostate cancer or women to use condoms to prevent cervical cancer.
If passed, intimate apparel manufacturers who violate the law would face penalties that can be as severe as having their operating licenses suspended.
While some health policy analysts see these messages as another example of Brazil's progressive health measures, lingerie manufacturers see the law as a pain in the knickers. And leaders in that industry have been very vocal about their discomfort. The country's apparel industry is the sixth largest in the world and the lingerie sector produces more than 735 million pieces a year.
"If I have to add just a really small message on the existent tab, it is not a problem," said Bruno Henrique da Silva Mello, general manager of lingerie company Del Lara.
"However, if I have a new tab, the cost will grow for the consumer," he said, adding that a new pair of skivvies could cost twice as much as they do now.
While the textile world and lawmakers agree that preventative sexual health messages are worth passing on, whether underwear is the right vehicle is a point of contention.
"This kind of relation [between underwear and disease] is totally absurd," said Maria Teresa Pugliesi, legal director of SindiVestuário, union of Brazilian clothing industry.
"To add a new tab is not just very onerous, it is uncomfortable for the customer. For example, when I buy something, I cut the tab as soon as I get to my house," said Pugliesi.
How to make the message stand out is another problem, say others in the apparel industry.
"If it is too small it would make no difference," said Monike de Mello Pereira, marketing assistant from Fruit de La Passion, a Brazilian lingerie company. "We have to show it in a very attractive way to make it useful for the customers."
Brazil's constitution guarantees its citizens the right to health, so their healthcare is subsidized by the government. In that context, it's not surprising that policy makers are championing a preventative health campaign, experts say.
"It is [an] unusual [measure], but Brazil has had some really interesting approaches to dealing with a lot of things," said Amy Nunn, assistant professor of medicine at Brown University, whose work in HIV and AIDS policy has led her to study Brazil's healthcare system.
One such tact was an edgy campaign in the 1990s aimed at the tobacco industry. The Brazilian government went a step further than issuing printed warnings on cigarette packages. The entire backside of every cigarette box carries a graphic image illustrating the adverse side effects of smoking, which ranged from impotence to gangrene.
In the course of two decades, the percentage of people who smoked was cut in half.
"Brazil is a country that knows how to sell things. The whole place is peppered with clever marketing advertising. It's something they do well," Nunn said.
That's what Barbosa Neto seemed to be banking on when he proposed the law based on inspiration from an anti-cancer association from the state of Goiás.
"If you think optimistically, people will read it. If you think negatively, people will not," Neto said. "Think optimistically and you are going to find that this a friendly and good action. Some people will read it and some people will not. That's the truth."
Soni Sangha is a freelance writer based in New York City and Luís Henrique Vieira is a freelance writer based in Brazil.
Follow us on twitter.com/foxnewslatino
Like us at facebook.com/foxnewslatino