The truth about Rieslings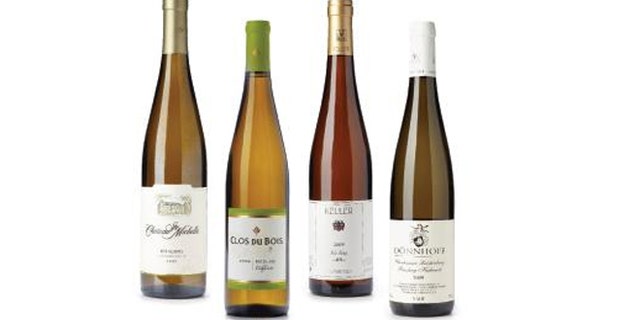 When given a glass of Riesling, many would presume that first sip was going to be quite sweet.
That's because many Rieslings are. But many are not.
Food critic and author David Rosengarten stopped by to dispel the common misconception. He has been covering the wine world for 25 years, including during his stint as Gourmet magazine's restaurant critic. Now he has begun importing wine, and his current mission is to get more people to drink Riesling
Riesling is a white grape that which originated in the Rhine region of Germany. The grape's sweetness depends on the time it is harvested. Those picked earlier in the season can be quite dry, while those harvested later are sweeter.
Rosengarten says that when the Germans started selling their wines in the U.S., they presumed Americans wanted the sweet stuff, so that's what they imported. But that's not all they made.
Rosengarten brought in three German Rieslings and suggested we look to three key words on the labels to help figure the bottle's taste. Look at the label for one of these three words: Trocken, Feinherb, Spatlese.
Lets start with the last, first. If you're Riesling bottle says Spatlese – presume it's sweet. If it says Feinherb, it's less sweet.And Trocken? Dry. Yes dry. There are dry Rieslings out there.
You can also check the alcohol content of the bottle. The higher the alcohol, the drier the wine.
Rosengarten also says it's one of the best wines for food. We tasted the following:
2008 Lorenzhöfer Riesling Trocken, Weingut Karlsmühle (Mosel)
2011 Riesling Qualitatswein Feinherb, Vols (Mosel) (he called this a "great all-purpose wine; an ideal picnic choice.")
2002 Bernkasteler Graben Riesling Spatlese, Franz Dahm (Mosel)
He also has created his Wine Manifesto, in which he has created 10 different categories of wine to help people pick the appropriate wine with food.
So go pick up a bottle of Riesling, check out the label and let me know what you find.
Cent'Anni