Maine bakery avoids legal food fight with NYC chef over the name of its Cronut knock-off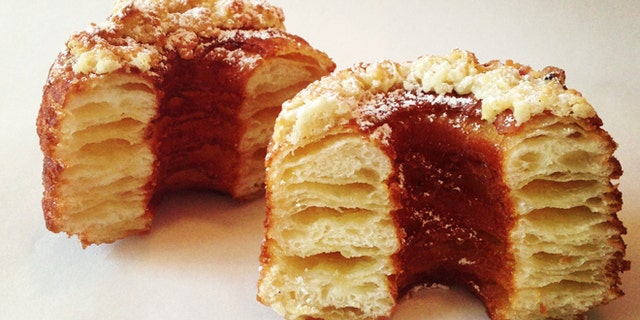 The owners of a tiny Maine bakery that was threatened with a lawsuit over its popular Cronut knock-off are hoping a new name for its tasty treat will keep them rolling in the dough.
The Little Bigs bakery in South Portland has been calling its version of the croissant/donut hybrid a Crauxnut until this month. That's when owners James and Pamela Plunkett were hit with a cease-and-desist letter from lawyers representing Cronut creator New York City chef Dominique Ansel, the Portland Herald-Press reported Sunday.
The Plunketts asked patrons on Facebook to suggest a new name.
The winner was C&D, a nod to cease and desist.
Little Bigs' copycat dessert is sold only on Sundays and has a wait-list.
"We kind of looked at it as a badge of honor. We felt like we got a guy in New York City recognized that a tiny little operation like Little Bigs here in South Portland, so it was kind of fun. We took it as a moment of pride," said James Plunkett, according to the Wall Street Journal.