KFC's most outrageous marketing stunts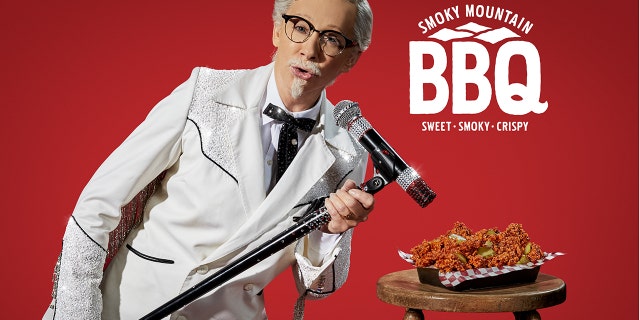 NEWYou can now listen to Fox News articles!
Customers may come for KFC's homestyle cooking, but the fast food giant and their marketing team is proving they're more than just fried chicken and mashed potatoes. From quirky dishes and merchandise to cheeky publicity stunts and even cheekier public apologies, the chain might knock Wendy's out of the social media spotlight.
Take a look below at how the chicken empire developed a dedicated fan base.

11 herbs and spices
KFC awarded Mike Edgette, the man who uncovered their "11 herbs and spices" Twitter joke with a custom-framed oil painting of Edgette and the Colonel himself. The Twitter sleuth holds a drumstick as he points into the scenic wilderness while receiving a piggy-back ride from Colonel Sanders.
A bold apology 
This past February, KFC had to temporarily close hundreds of their U.K. locations when they ran out of fried chicken. A chicken restaurant without chicken, they released this public apology for the inconvenience in an attempt to recapture the favor, or at least the attention, of their disappointed customers.
KFC WORKERS ACCUSED OF SMUGGLING CHICKEN AMID SHORTAGE
Boozy gravy
We all know KFC's gravy is "so good you could drink it," but most people would hesitate to take it to this level. In January, the food chain released a video of cocktail recipes centered around their gravy, including a recipe for a popcorn chicken-topped vodka "Gravy Mary," which can be viewed here.
Put a wing on it
A few years ago, KFC swooped in just in time for prom season with their chicken corsage. For $20, prom-goers could purchase a corsage kit complete with a $5 gift card for the drumstick. Though, the chain only produced 100 kits, making the drumsticks hard to come by.
A scent that will blow you away
Ever feel like you like fried chicken so much you wish you could bathe in it? For a limited time last year, you could. In 2017, KFC partnered with a Japanese retailer to produce limited edition fried chicken-scented bath bombs.

Mother's Day romance novella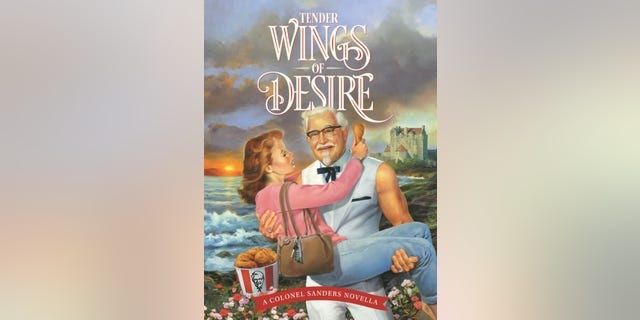 KFC's kitchen got a lot steamier last year when they released "Tender Wings of Desire," an 83-page romance novella about the budding relationship between Colonel Sanders and a young, rebellious woman named Madeline Parker. The free e-book received praise on Amazon, but is sadly no longer available for download.
FOLLOW US ON FACEBOOK FOR MORE FOX LIFESTYLE NEWS
Chicken truffles
The fast food chain may not be known for dessert, but KFC is not one to limit the flavors of their famous fried chicken to dinner. Last year, KFC New Zealand offered truffles made to taste like spicy chicken marinade and the Colonel's secret spices -- just in time for Mother's Day.
"Finger-lickin' good"
In 2016, KFC customers in Hong Kong were offered a manicure that had them craving — you guessed it — chicken. KFC took their slogan to a new level when they introduced edible, chicken-flavored nail polish in Hong Kong.
Escape with the Colonel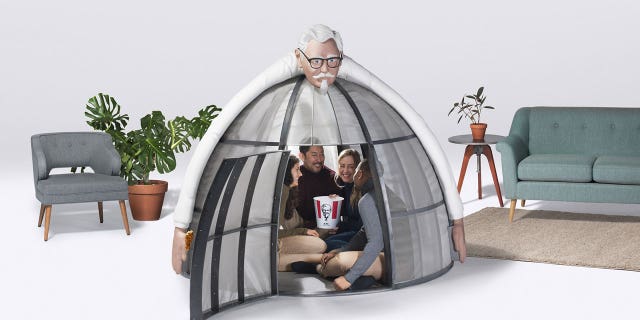 Colonel Sanders isn't just a household name — he was an igloo name as well with the introduction of KFC's internet escape pod. Released just before Cyber Monday in 2017, KFC's one-of-a-kind steel, foam and colonel-topped igloo was created to block internet signals from leaving or entering the space. So last year, one lucky buyer and three friends may have spent a cyberless Monday with the Colonel.

Reba McEntire becomes the newest colonel
KFC has introduced several celebrity "Colonels" over the last few years, but the newest Colonel is clearly the "Fancy"est of all. In January, the company revealed the newest colonel, Reba McEntire. Appearing in a sparkly, bedazzled version of Colonel Sanders' iconic white suit, the singer and actress performed in a commercial before an enthusiastic crowd enjoying her music — and their buckets of fried chicken.