Reba McEntire is KFC's new Colonel Sanders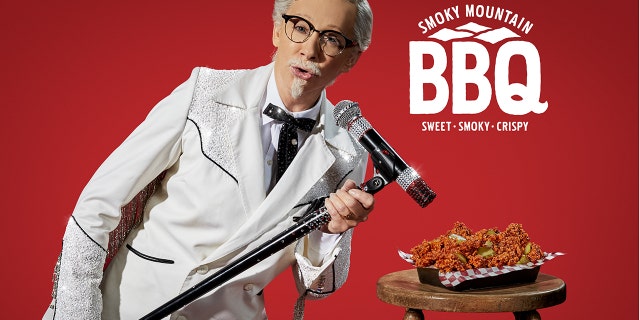 NEWYou can now listen to Fox News articles!
KFC announced the Fancy new Colonel Sanders today.
Country music superstar Reba McEntire is next in line to fill Colonel Harland Sanders' shoes, becoming both the first globally-known musician, and the first female celebrity to play the fried chicken chain's iconic mascot.
KFC RETIRES ROB LOWE, HIRES NEW CELEB COLONEL
The Oklahoma-native will start fulfilling her Colonel duties in advertisements on television and web as a spokesperson for KFC's new Smoky Mountain BBQ flavor – a mashup of Memphis and Carolina-style barbeques.
The singer and actress was an obvious choice to play the first female Colonel, the CMO of the quirky brand said in a press release.
"With Reba's southern roots and entrepreneurial spirit, she truly embodies the values of the Colonel and the crowd-pleasing flavor of our Smoky Mountain BBQ," said Andrea Zahumensky, CMO, KFC U.S. "The pairing of a universally loved music legend like Reba with a universally appealing flavor like Smoky Mountain BBQ makes what I like to call 'Smoky Mountain Magic.'"
Reba herself is a KFC supporter, but even she calls her role as the Colonel "the most unique one yet."
"I grew up with Kentucky Fried Chicken. It's part of my story, and I'm so excited to now be part of theirs," said McEntire. "I've held a lot of roles in my life –sort of like the Colonel himself –but this is certainly the most unique one yet."
FOLLOW US ON FACEBOOK FOR MORE FOX LIFESTYLE NEWS
In the commericial, McEntire is seen pulling off an impressive performance as the Colonel rocking out on stage while reminding audiences that she is "definitely not a woman" and that "absolutely nothing has changed" about the mascot.
At one point McEntire as Colonel throws a hat to McEntire as herself, while churning out lyrics that ask those to "please ignore any likeness to a famous country singer."
The funny cowyboy-themed Honky Tonk commercial ends with line dancing and her reiterating that she's definitely "not a famous woman."
The "Country Music Queen" is joining the celebrity ranks of actors Ray Liotta and Rob Lowe and comedian Norm McDonald who have all played the chicken-slinging Colonel in the past.