KFC workers accused of 'smuggling' chicken into restaurant amid massive shortage in UK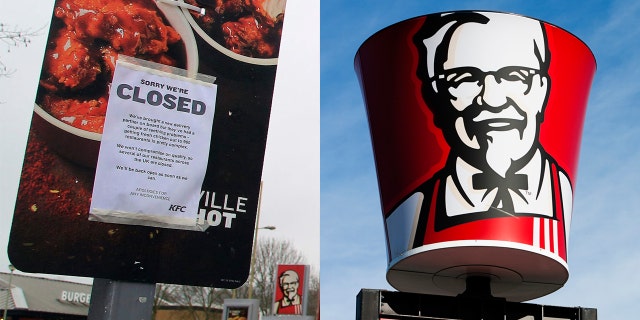 KFC workers were accused of "smuggling" raw chicken into one of the chain's restaurants in the United Kingdom during a massive poultry shortage that has left hundreds of locations closed in the region.
A video surfaced over the weekend that appeared to show two workers taking in six "bulging and gloopy shaped" black bags into the KFC restaurant in Erith, southeast London, Yahoo7 News reported.
MICHIGAN BURGER KING AIRED RAUNCHY SEX SCENE ON DINING ROOM'S TV, SAYS FAMILY
Danny Mercer, who posted the recording, said the workers were going into the restaurant through the back door.
"I got KFC in Erith shut down because I caught them on videos smuggling raw chicken into the back of the restaurant out of the back of a car in black bags and boxes and unrefrigerated," Mercer said, according to Yahoo7 News. "Turns out there has been a delivery problem nationwide for all KFC restaurants."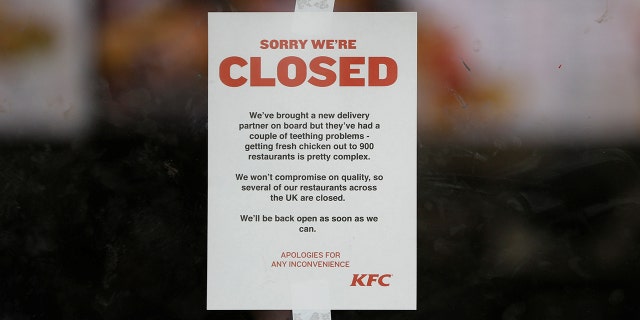 He added that the bags of raw chicken were not in boxes.
Staff from another London-area KFC store reportedly went to a local butcher shop to buy all of its raw chicken, though the butcher refused, according to BuzzFeed News.
About 470 KFC locations — more than half of the U.K. locations — remained closed on Tuesday due to the chicken shortage. The fast-food company said the shortage occurred after it changed its delivery provider to DHL last week.
"We anticipate the number of closures will reduce today and over the coming days as our teams work flat-out all hours to clear the backlog," the fried chicken chain said.
MCDONALD'S GUEST LEFT 'DEVASTATED' OVER MISSING INGREDIENT
Some locations remained open, but with revised hours to avoid running out of fried chicken and meeting the wrath of hungry consumers. The company provided several updates on social media, posting quirky messages to keep customers laughing during the chicken crisis.
"Some chickens have now crossed the road, the rest are waiting at the pelican crossing," read one message posted to KFC U.K. and Ireland's Twitter.
However, some customers, including a little girl, were very mad at the chain for not giving her the fried chicken she was craving.
"I don't look sad but I really am disappointed. I'm mad at KFC," the girl told ITV. "Look at them, they're just chillin', they're happy. Sorry, we're mad with them. We want to get in there, sit down, have some food, but we can't do that today."
The Tower Hamlets Police in East London is also fed up with hungry KFC fans. "Please do not contact us about the #KFCCrisis," the department tweeted on Monday. "It is not a police matter if your favorite eatery is not serving the menu that you desire."
FOLLOW US ON FACEBOOK FOR MORE FOX LIFESTYLE NEWS
The Associated Press contributed to this report.