KFC releasing steamy romance novella in honor of Mother's Day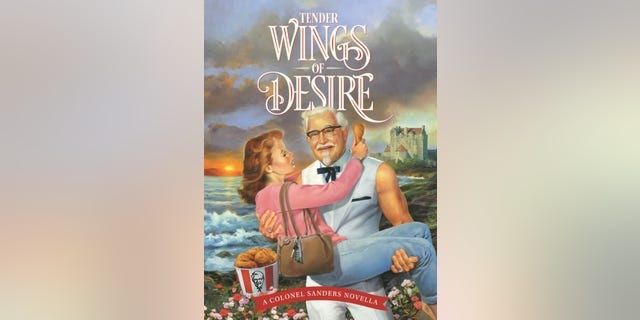 If you dream of running your fingers through Colonel Sanders' frosty goatee while he whispers sweet nothings into your ear, KFC has got the perfect Mother's Day gift for you.
On Thursday, the fast-food chain released an 83-page romance novella called "Tender Wings of Desire," which tells the fictional story of Harland Sanders' courtship of a young Victorian Lady.
"Paired with a $20 Fill Up featuring KFC's Extra Crispy Chicken, mothers can finally get what they want this year — a family meal they don't have to cook, and some alone time with a captivating novella," the company wrote of their "ultimate Mother's Day gift" in a press release.
KFC SENDS FRIED CHICKEN VIA HOVERCRAFT TO 69-YEAR-OLD WOMAN IN FLOODED VILLAGE
According to its official description, "Tender Wings of Desire" re-casts Sanders as "a handsome sailor with a mysterious past" who one day disrupts the rebellious life of one Madeline Parker.
The cover of the novella features a romanticized drawing of the Colonel, his biceps bulging out of his sleeveless white suit, as he literally sweeps a red-headed woman off her feet and carries her across the English coast at sunset.
"The only thing better than being swept away by the deliciousness of our Extra Crispy Chicken is being swept away by Harland Sanders himself," explained George Felix, director of advertising for KFC U.S.
No purchase is necessary to obtain a copy of KFC's first "Colonel Sanders novella." For a limited time, "Tender Wings of Desire" will be available as a free download on Amazon.com. The company is also planning to give away 100 physical copies on Facebook — along with generous helpings of free chicken, of course.
After all, KFC reports that Mother's Day is their busiest day of the year, resulting in a 40-percent increase in sales.
"This Mother's Day, the bucket of chicken I get for my wife will come with a side of steamy romance novella," added Felix. "Dinner is taken care of, and she'll have the time to escape her busy schedule."
FOLLOW US ON FACEBOOK FOR MORE FOX LIFESTYLE NEWS
With "Tender Wings of Desire," however, KFC continues to double down on its efforts with unorthodox advertising.
In 2015, the company debuted an ad campaign featuring "SNL" alum Darrell Hammond as Colonel Sanders, and later recast the part with such comedians and actors as Norm MacDonald, Jim Gaffigan, George Hamilton, Rob Riggle and Billy Zane. And in 2016, the company released fried-chicken-flavored nail polishes and secret-spice-scented candles in order to create some buzz on social media.