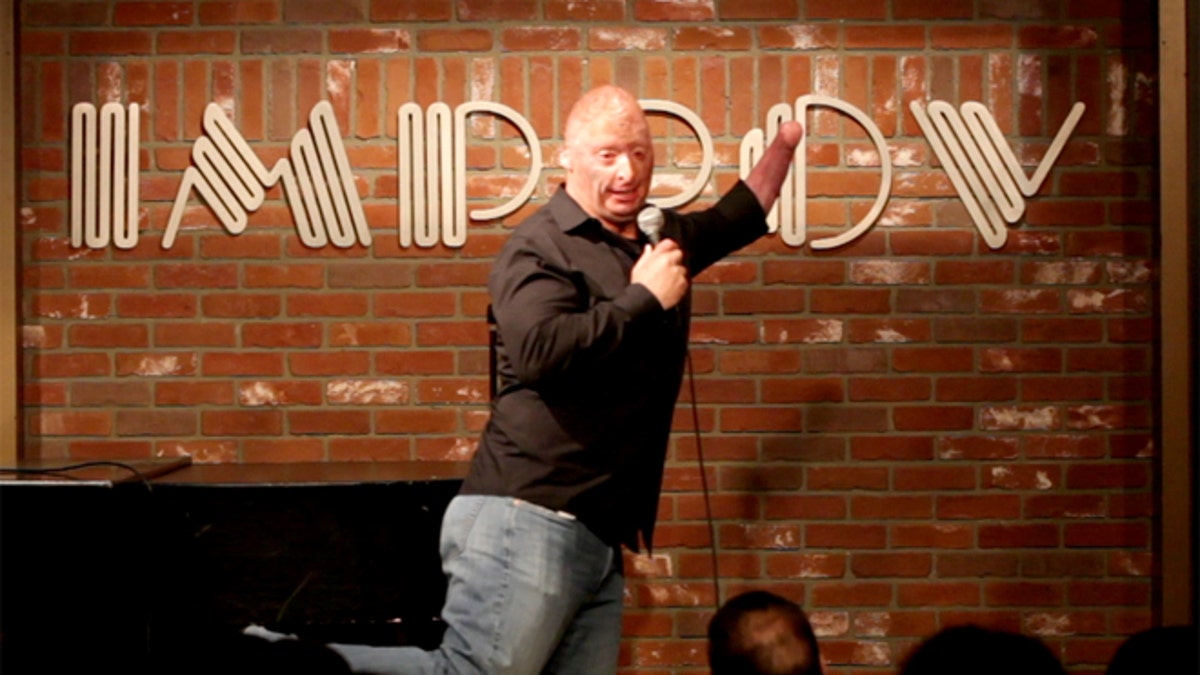 They say laughter is the best medicine, and for the injured servicemen and women featured in the new documentary "Comedy Warriors: Healing Through Humor," healing comes not only through laughing themselves, but through making others laugh as well.

"Once you can laugh at something, that's the first step to moving on. It's often uncomfortable for people to look at burn victims or an amputee, so they use humor to make others feel more comfortable," filmmaker John Wager told FOX411. "It also raises awareness of what they are going through."

"Comedy Warriors" features five severely wounded veterans of the wars in Iraq and Afghanistan:
-- Marine Corps Reserve vet Rob Jones, who was wounded by an IED and underwent above-knee amputations in both legs.
-- U.S. Army warrior Bobby Henline, whose Humvee was hit by a roadside bomb north of Baghdad in 2007, burning 38 percent of his body. His head burned to the skull and his left hand had to be amputated.
-- Former Army Captain and helicopter pilot Darisse Smith, who suffered a lower back injury that led to permanent nerve damage, forcing her to have a spinal cord stimulator implanted to block the pain signal between her leg and her brain.
-- Joe Kashow, who served with the 4th Infantry Division in Iraq and was wounded by a roadside bomb, leading to the amputation of his right leg below the knee.
-- Steve Rice, a retired US Army 1st lieutenant, who lost his left leg below the knee after he was blown up by an IED in Iraq in 2003.
Now all five American heroes have stepped into new territory, exploring the mending powers of comedy with cameras on them every step of the way. "Comedy Warriors" follows them as they work with professional comedy writers and A-list comedians, including Bob Saget, Zach Galifianakis, Lewis Black and B.J. Novak, who help them create and deliver stand-up comedy routines, culminating in a big performance night at two of L.A.'s top comedy clubs.

"Of course you are going to ask, when you are the sole survivor, you ask 'why me?'" Henline said. "I don't want to let the guys down who didn't make it."

While the premise for the film is profound, tear-jerking and thought-provoking, Wager admitted they really weren't sure it was going to work.

"We think they're funny," he said, "but getting them in front of a live audience was a risk we had to take. We'd never done anything like that before."

And whether it is joking about instantly shedding 25 pounds from losing a limb, or making a comment like "Back in 2003, I was involved in a pretty aggressive study abroad program with the United States Army… it didn't go well," "Comedy Warriors" seeks to make light of what is usually perceived as a somber and sad situation.
Wager says so much of what we see about wounded warriors is "dark and serious," and his goal was to make something "uplifting and funny."

"This is about men and women who turn their tragedy around. They all went through some dark times, but humor has helped them accept what they have gone through," he said.
"It's also inspirational. It makes you realize how little you have to complain about. If these people can laugh about their problems, you maybe can too."

"Comedy Warriors" is being rolled out into theaters across the country and is available on-demand. For more information visit ComedyWarriors.com.

Follow @holliesmckay on Twitter