Who knew? Even supermodels use body doubles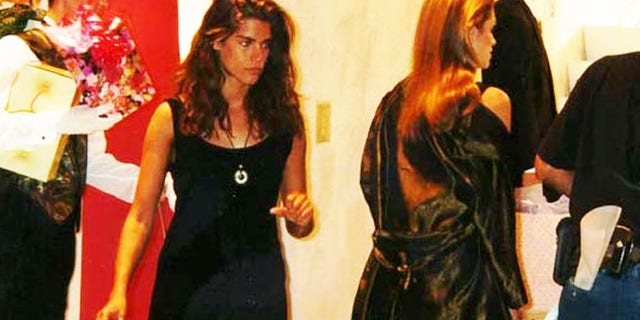 During the 1995 Super Bowl, Cindy Crawford starred in a series of big budget commercials for Blockbuster Visa, during which the sexy supermodel walked outside a fancy hotel, causing two taxis to almost collide.
Except she didn't.
The exterior shot was done with an entirely different model, Nicole Clark, a body double done up to look like Crawford.
"Cindy had a speaking role so she did her close-ups and dialogue. Her time was limited because she was busy with her roles in 'House of Style' and her first feature 'Fair Game,'" Clark told FOX411's Pop Tarts column. "Thus there was a need for a double."
Indeed while we constantly hear about actors and actresses and their body doubles, it turns out even supermodels, who earn their living based solely on their perfect bodies and faces, often use doubles with even more flawless bodies and skin.
"If there is a girl with better legs, and the commercial has a scene where the shot only shows legs, then it makes sense to use the model with the better legs," Nadja Atwal, a former model who now manages the likes of "Real Housewives of Miami" star Joanna Krupa, and Guess by Marciano model Julia Lescova, explained. "My friend, the German actress and model Alexandra Kamp, was known for having the best legs in town and doubled several international top models for commercials."
Petite model Isobella Jade has doubled for celebrities such as Christina Ricci and for Rachel Bilson on editorial shoots, as well as a "parts" models for everyone from Victoria's Secret to Easy Spirit to Seventeen Magazine. She said people are always surprised to learn that models often require an on-set twin.
"Not all models have nice hands, feet or behinds. So a body parts model is often used to make up for the giraffe tall fashion model's flaws. That's why I tell shorter, aspiring models about other avenues that involve using the important 'other assets' to book work," she explained. "Usually the model double has to have a similar skin tone to the featured model, measurements, and similar hair style, perhaps a bra cup-size and shoe size. It just depends on what the company is trying to accomplish."
And there is more to it than just simply standing there and resembling a familiar face and figure.
"When I was younger, I had to break in the heels and film initial takes of running scenes – resulting in bloody feet and bloody shoes," she recalled. "But I feel sorry for the actress that had to wear them after me."
On other occasions, the model double is required to stand in place of the model while the photographer sets up the shot and ensures the best lighting and placement. Former model Nicole Weider said the most "eye-awakening" job she ever did was as a stand-in for Victoria's Secret Angel Adriana Lima.
"Having my bra adjusted many times by several strangers on the set while I was waiting for the model to start shooting, I realized modeling lingerie was embarrassing and uncomfortable and not glamorous at all," she said.
Model doubles can also cut significant production costs, and protect the more famous face from showing their "bad side" to the world.
"If a model is booked for a three-day commercial out of which one day the commercial shows the model's body parts, or from the back, or if the focus is on another person, the stand-in model/body double will take the place of the expensive supermodel and the brands saves tens of thousands of dollars," Atwal explained. "Some commercials also have very sexy scenes which some supermodels don't feel comfortable with, like some top actresses don't like sex scenes, so for that purpose, a body double also makes sense wherever the camera moves away from the face."
According to Linda Teglovic, owner of the agency Body Parts Models Inc., there is no body part that doesn't need a double at some point.
"There are a lot of girls who body double butts and hands. Hands are the most common, and a lot of the supermodels don't have good hands, or full body, or legs," she said. "A major electronics company called and all they wanted is ears, and we don't have an ears division, they didn't say what type, so we used all of our hand models and made them ear models. I worked so hard on it and they ended up using only two ears."
And while supermodels take home the big bucks, their lookalikes can carve quite lucrative careers as well, earning as much as $1,000 a day. Atwal said that even years ago she earned $500 a day for doubling her hands and cleavage, noting that hand models are in particularly high demand.
But being a body double can take its toll.
"I realized I was in a disservice to women," said Clark, who despite her Crawford-esque stunning exterior, turned her back on the big checks, haute couture and fashion industry all together. "I realized I was doing a disservice to all the girls in my world."
And while filling Lima's shoes (or rather, her bra) Weider had a similar revelation.
"The (job) was like a dream come true at first. I had always looked up to those models. But it turned out to be a hard look at the falsity of the modeling industry in general, and it really changed my perspective," she said. "The picture-perfect models that companies advertise often wear tons of extensions to elongate and thicken hair, their entire bodies are bronzed and contoured I was sick and tired of how degraded I started to feel. I felt that my worth was only based on how I looked. But now my experience in Hollywood has allowed me to help other girls understand how damaging the industry can be."
- Danielle Jones-Wesley contributed to this report.