Whitney Houston's erratic behavior had been building over a week, source says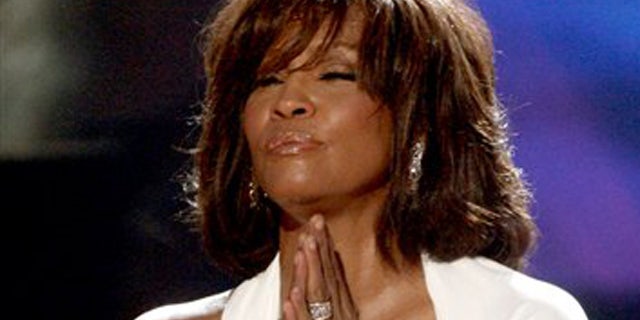 As fans, friends and family come to terms with the sudden death of singer Whitney Houston, more details are emerging about her behavior in the days prior to her passing.
Fox411.com's Pop Tarts column has learned that Houston was a mess when she showed up to Hollywood hotspot Playhouse on Feb. 2 around 10.30pm to support her on again/off again boyfriend Ray J, who took over the turntables as guest DJ.
"She was a total wreck. She drank cognac and champagne, and seemed completely out of it from the moment she arrived until the moment she left," an insider told FOX411's Pop Tarts column. "Yet at the same time she seemed like she was enjoying herself with her friends. She went to the smoking patio a few times throughout the night and was also seen roaming around throughout the club and even ventured walking upstairs to the smaller room."
Apparently Houston, who stayed until 2.30am, continually left her VIP booth, although it was unclear why or what she was doing while in the club. According to our insider, Houston was still very close to Ray J, his sister Brandy Norwood, and their family.
A week later, in the days before her death, similar scenes were reported.
People.com reported that Houston, notoriously plagued by drug demons in recent years, raised eyebrows after checking into the Beverly Hills Hilton on Wednesday, and appeared "out of it." Over the course of the next few days, the pop diva was spotted looking noticeably disheveled with wet hair and mismatched clothes, waving her arms around frantically and wandering aimlessly through the hotel, all while smelling of alcohol and cigarettes.
Houston behaved similarly Thursday night when she helped coach Ray J's sister Brandy for her upcoming Grammy performance, according to the L.A. Times.
And in what turned out to be her last ever performance on Thursday night, Houston was seen acting erratically, looking worse for wear with blood dripping down her leg, at a pre-Grammy bash for Kelly Price at the club Tru Hollywood. Multiple reports suggested she got into a tequila-fueled confrontation with former "X-Factor" star Stacy Francis after finding Ray J chatting with Francis.
TMZ also reported that Houston and her personal posse "partied heavily" on Friday night in the bar at the Beverly Hills Hilton, where she was found dead in her room the next day.
"Everyone was saying they thought she was getting better," added a source. "And now this."