'Unhinged' CNN star Jake Tapper belittled staff during angry outburst, report says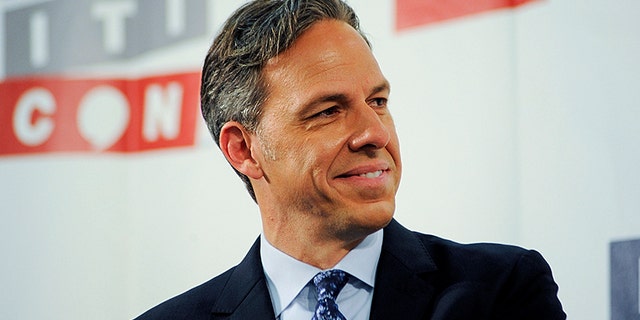 CNN star Jake Tapper "blew up at his staff" last week when they bungled a series of clips intended to criticize President Trump's explanation of his press conference with Russian President Vladimir Putin, according to Mediaite.
The Media watchdog site reported on Wednesday that Tapper "went ballistic" when his crew didn't have the clip he wanted to play and urged readers to share video of the incident if available. The site is popular for members of the media industry and a "reliable CNN production source" provided the tip on Tapper.
It all reportedly started when Tapper wanted to show three clips of Trump in chronological order, beginning with him famously saying of alleged Russian election meddling, "I don't see any reason why it would be Russia."
The second clip was Trump's correction, when he said he meant to say he didn't see any reason why it "wouldn't" be Russia that interfered with the 2016 election. According to Mediaite's source, the third clip was supposed to footage of Trump acknowledging that Russia interfered while adding that it "could be other people also."
Tapper's program aired the first two clips but seemingly failed to have the third soundbite ready when the CNN anchor wanted it – and they reportedly paid the price.
"Alright, we don't have the clip for some reason," an annoyed Tapper said before tossing it to a guest and then going to a commercial break.
Mediaite reported, "During the commercial break … Tapper went ballistic, berating his staff in front of the entire studio for 'not reading my emails!'"
The "reliable CNN production source" described the incident as both "unhinged" and "bananas," adding that Tapper yelled about his staff's "incompetence."
CNN did not respond to Fox News' request for comment.
"If, by chance, you have video of the incident, we would love to see it," Mediaite's Aidan McLaughlin wrote, providing his email address.
If Mediaite uncovers the footage, it won't be the first time the site has uncovered embarrassing antics of a cable news star.
Last year, MSNBC's Lawrence O'Donnell launched into a profanity-laced tirade at his staff that was unearthed by the site. O'Donnell was heard complaining about "insanity in my earpiece" and begging someone to "stop the hammering!"
Initially, O'Donnell complained that he couldn't hear audio in his earpiece during a report on President Trump's trip to Texas in the aftermath of Hurricane Harvey.
"Someone in that control room is out of control," he said, before adding expletives.
As the problems persist, O'Donnell became visibly enraged, banging his fists on the desk and repeating "G-d d--n it" and "F--k" and it continued to escalate from there.
"STOP THE HAMMERING!" He eventually screamed. "STOP THE HAMMERING OUT THERE! WHO'S GOT A HAMMER? WHERE IS IT? WHERE'S THE HAMMER?"
Fox News' Samuel Chamberlain contributed to this report.