Trevor Noah rips Trump for Matt Whitaker remarks: It's 'one of the most blatant lies ever'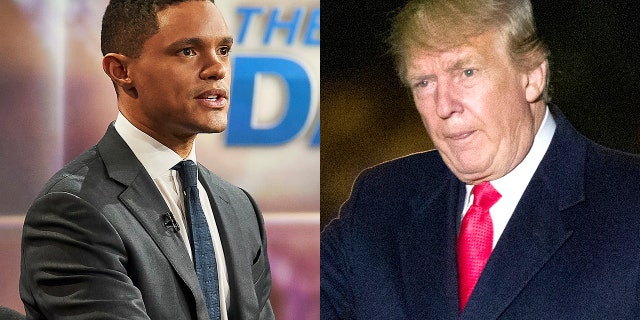 "The Daily Show" host Trevor Noah began Monday night's episode of his Comedy Central show by mocking President Trump for his inconsistent comments about whether or not he knows his newly appointed acting Attorney General Matt Whitaker.
Noah called Trump's remarks on Whitaker "one of the most blatant lies ever."
"You know, sometimes Trump lies so hard he gives my brain whiplash because most people lie in a gradual curve. 'I know him… actually, I know him through a friend… well, I don't know.' Trump is like the Tokyo Drift of lying," Noah told his audience. "I mean, at this point, you've just got to laugh when Trump contradicts himself. He's like Newton's Third Law -- for every Trump, there is an equal and opposite Trump."
The "Daily Show" host then slammed Trump for his tweets about the deadly forest fires in Northern California and how instead of "sending support and comfort" he's "blaming people while the fire is still happening."
Noah said the president "had a chance" to put this behind him in France, where he was scheduled to commemorate the 100th anniversary of the end of World War I by attending a ceremony at the Aisne-Marne American Cemetery which was meant to honor fallen American troops, but his attendance was canceled due to rain.
"All he had to do was show up for a ceremony at an American cemetery to honor the World War I troops. Super easy, but apparently, not easy enough.," Noah reacted. "So the president's helicopter can't fly in the rain? What, does the helicopter need to keep its head dry too? Is that it?"
"I understand weather. Even if the helicopter couldn't fly, sure the president could've found another way to get there," Noah continued. "I mean, all the other world leaders did. Even Merkel. Even Angela Merkel made it and her side lost World War I."
After criticizing Trump for "taking a rain check" on the ceremony, Noah wrapped up the segment by mocking the seemingly deteriorating "bromance" between Trump and French President Emmanuel Macron, specifically comparing the affectionate body language they expressed early on with the current lack of chemistry.
This isn't the first time Noah has been critical of Trump. In July, the 34-year-old famously compared Trump to an African dictator, calling out his "style" and "demeanor" while on "The Daily Show."
"Donald Trump reminds me in many ways of many African dictators," said Noah, who is South African. "His demeanor, his style, who he presents himself as and how he processes his power is something that's all too familiar, not just for an African but for someone from the Middle East, for instance. Anyone who comes from a developing nation is all too familiar with a leader like him, so it's not as shocking as it may be for many other people."
And Noah didn't stop there. He also went on to compare the president to Hitler. "People do struggle to process negative information day in and day out, and when you can find a way to put a positive spin on it, you create, in many ways, the Charlie Chaplin effect that he created during the war, when World War II was happening, soldiers were watching his videos about Hitler and it changed the way they perceived this undefeatable leader in their minds, because of the way he was comedically processed."