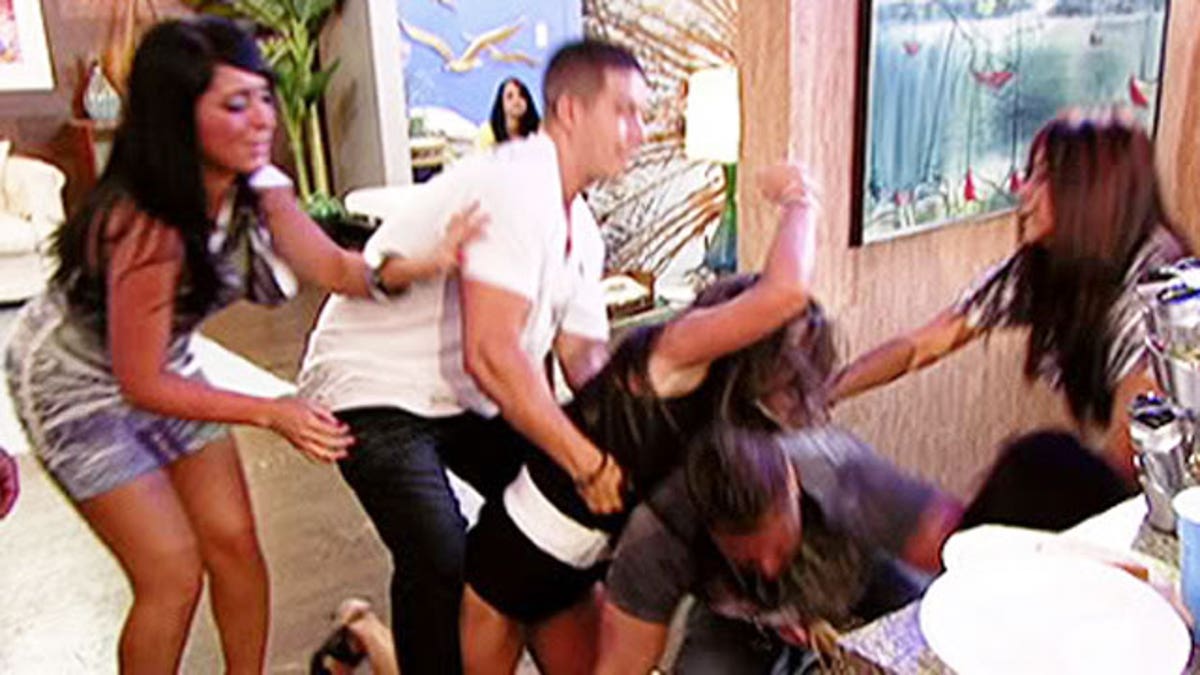 Think most of the misogyny on MTV comes from men? Guess again, says a new study of the network's shows, which finds women engage in a whopping 88 percent of the shows' sexual dialogue, insult each other much more than the men, and offer themselves up in positive portrayals only when they're talking about physical appearance and their ability to bounce back from getting ridiculed.
Television watchdog group The Parents Television Council (PTC) releases its jaw-dropping report "Reality of MTV: Gender Portrayals on Reality TV" on Wednesday, and Fox411.com got an exclusive first look at its findings.
They're not pretty.
Nielsen data were used to identify the most-watched prime time reality shows on cable among the 12 to 17 demographic in 2011, which included MTV shows "Jersey Shore," "Real World," "Teen Mom 2," and "16 and Pregnant." Analysts then analyzed the content on the most recent full season of each show, logging the language and context of the language used.
Here are their bombshell findings:
-- Only 24 percent of what females said about themselves was positive across all shows combined.
-- Positive dialogue between females focused on their appearance, sense of accomplishment and emotional resilience.
-- While terms men used for each other were often viewed as complimentary (e.g., big man, dawg, superhero, McGyver, winner), women used far more degrading language when talking about other females (e.g., rodent, skank, trash bag, trick, ho and much worse).
-- Females talked about sex acts more than men, talked about sex more graphically than men, mentioned sexual body parts more than men, and talked about intercourse and foreplay more than men.
-- Although 88 percent of the sexual dialogue between females and males across all shows focused on intercourse and preliminary activities leading to intercourse, the topics of virginity (0.2 percent), contraceptives (1.4 percent) and STDs (2 percent) were only mentioned 4 percent of the time.
-- "Jersey Shore" made up 47 percent of the disparaging remarks (mostly coming from cast members Ronnie and Sammi) and 59 percent of the sexual references across all four shows.
"The most shocking finding – or at least the most disturbing – was the way the two genders spoke of themselves. The women were overwhelmingly more disparaging when speaking of themselves. With so much being invested and so much at stake in empowering one's self, especially for girls, the overwhelming message from reality television targeted at teen girls is to be overly negative to yourself," PTC President Tim Winter told FOX411's Pop Tarts column. "After so many years of pursuing equality for women, our study suggests a glamorized, but grossly distorted view, of what it means to be feminine."
According to the study, the issues surrounding negative media models of female and male behavior have only been exacerbated by the increase in reality television shows over the past few years, particularly as networks strive to reach the next level of shock value for their audiences. The report also claims that the continued success of these shows is dependent upon the "outrageousness of the content," and that this can have serious implications on teens and tweens in the middle of establishing their own identity and core social values.
The PTC hopes that the study will intensify the national dialogue that has already begun with regards to the sexualization of women and girls in the media, and is urging parents to pay closer attention to the potentially harmful media images and messages their children may be consuming. They are also calling out advertisers, claiming that the media dollars underwrite television programming which contains "sexualized and narrowly defined gender portrayals."
Sign Up for the FOX411 Entertainment Newsletter.
"Collectively, we must call upon media makers to present a more balanced view of 'reality.' We must demand more responsible depictions of how females and males resolve conflict and broader perspectives of what it means to be a female or male beyond the limits of current stereotypes," the study concluded. "The saddest commentary is how ultimately these media themes and images serve to paint a very vivid picture of low expectations. The fear of setting low expectations for our young girls and boys is that they may fulfill them."
MTV reps declined to comment until they had a chance to see the report.