Top Talent 'Spooked' by OWN's Poor Ratings, Source Says, as Rosie O'Donnell, Oprah Winfrey Launch New Shows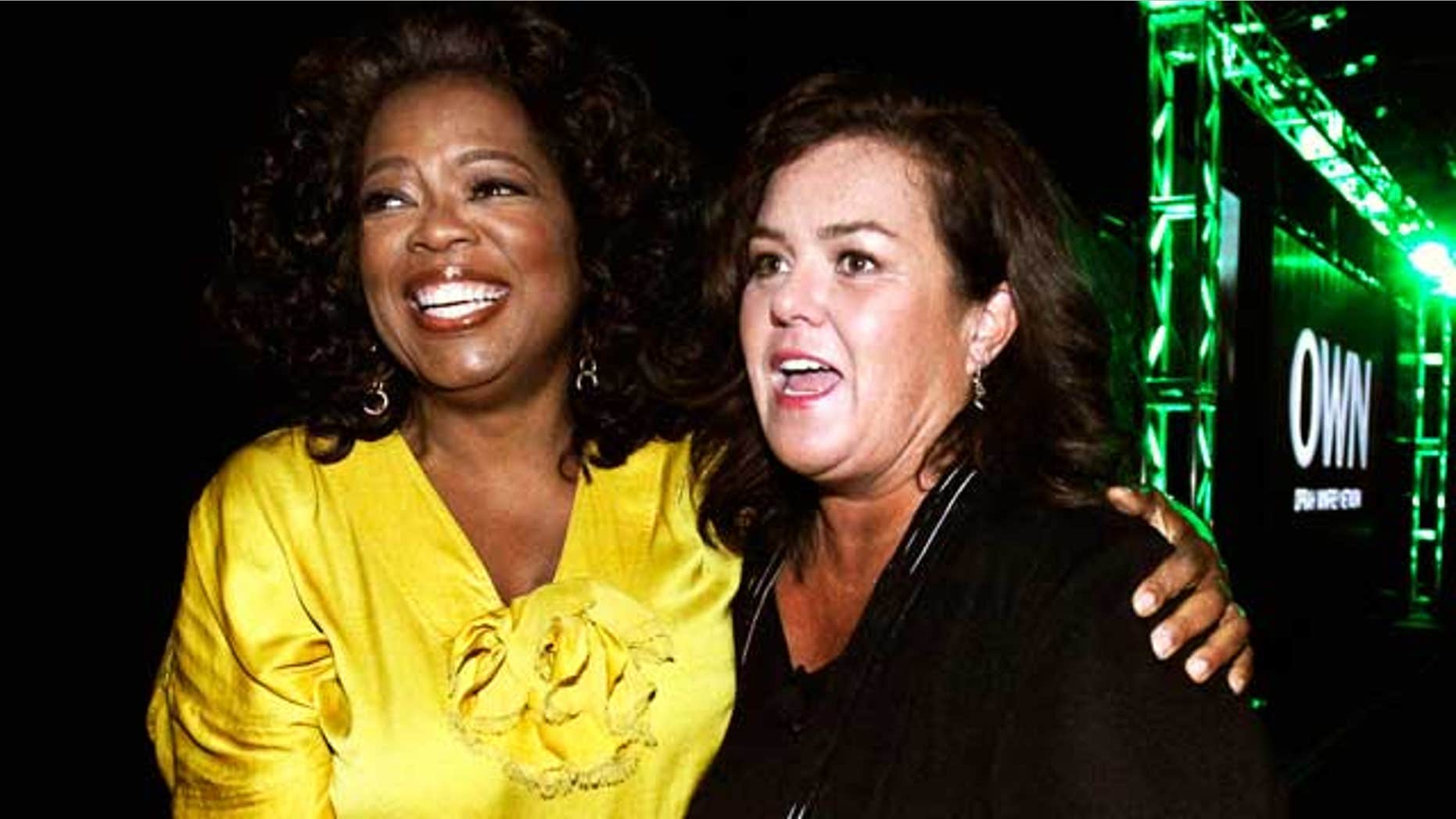 Rosie O'Donnell and Oprah Winfrey launched their new shows on OWN Monday night. But it seems the pair may be the only big names left on Winfrey's struggling cable network, at least for the foreseeable future.
In the first 10 months of Oprah Winfrey's OWN cable network, the talk show titan was able to lure well-known talent like Shania Twain, Naomi and Wynonna Judd, Tatum and Ryan O'Neal, Sarah 'Fergie' Ferguson and Celine Dion to create shows that embodied her "live your best life" mantra in the form of "emotionally driven docu-soaps."
Now, with all of OWN's celebrity shows wrapped, and none yet announced to be returning for a second season, attracting A-list celebrities to the fledgling network could be a challenge.
"Top talent is spooked," a source close to OWN tells FOX News. "I think it would be difficult for them to attract any big names now. Early on, Oprah was able to call in some favors, but I think today getting any top stars to commit to a reality project for OWN is a really tough sell because no one's watching."
Since OWN launched in January 2011, its prime-time audience has dropped more than a third to 250,000 viewers. An average of 109,000 viewers tuned in on an all-day basis in July, the last month for which Nielsen figures were available. That is one-third of the viewership expected by advertisers.
Earlier this year, OWN lost star Jenny McCarthy before she taped her first show, as FOX News first reported. McCarthy was unhappy with Winfrey's Harpo team, who were put in charge of producing her show. (OWN is partnered with Discovery Communications. Winfrey, as CEO of OWN, cherry-picked talent from Chicago's Harpo Productions to staff the Los Angeles-based network, the source said.)
Now, FoxNews.com has learned that McCarthy wasn't the only one who was unhappy.
"Last year, Oprah flew into L.A. for several top-secret meetings with OWN execs to tell them that they needed to start treating people better," the source explained. "She was hearing word from the outside that the OWN team wasn't treating others with respect. They earned a reputation for being exceptionally nasty to people."
One OWN executive, used to being a big fish in a smallish pond, apparently had an embarrassingly inflated ego. "The people who worked for Oprah thought they walked on water," says the source. "One of the producers–you'd never know her name unless you were in the business–always traveled under an assumed name. It was ridiculous. She thought she was so important just because she was a producer for 'The Oprah Winfrey Show.' It was insane, but that's how they thought."
Indeed the attitudes of many on the Harpo team did not play well in Hollywood.
"I think that's one of the problems with OWN–Oprah and her staff are so used to everything she touches turning to gold, they expect everyone to fawn all over them," the source explains. "Oprah has had such unprecedented success, the team at Harpo felt that they didn't need play by the rules when they came to Hollywood. They just did exactly what they wanted."
Another challenge for OWN is Winfrey's requirement that her network feature "feel-good television," which is at odds with the traditional reality TV format, which prizes conflict and controversy.
"With the reality shows that Oprah has tried to do, there hasn't been any fighting or conflict–things that people usually tune in to see on reality television," the source explains. "She had many stipulations on what could and could not be shown. Everything had to be uplifting, and no negative stereotypes. Everything had to be approved by Oprah in order to get on the air. It wasn't like she wasn't looking at it or paying attention."
Winfrey's serious involvement is at odds with Winfrey's message that the reason the network was struggling was that she was still transitioning into her new job and so not giving it her undivided attention.
"I feel like I have not begun to give anything to OWN," Winfrey told  Entertainment Weekly in May, shortly before the final season of the "Oprah Winfrey Show" wrapped. "It's going to improve exponentially with the amount of time and service I can give to it."
But Winfrey, a notorious perfectionist, was fully involved with OWN from the beginning, the source says. "Oprah signed off on everything, so it was disappointing to see her say, 'Oh, I wasn't paying enough attention to OWN," the source explained. "I think the people who were in place wish she wasn't paying attention, because they probably could have gotten some shows on the air that would have rated higher. But in fact they were following everything she said."
Of course even bringing in veteran reality producers is no guarantee of success. "OWN was supposed launch a show, 'Oprah's Live Your Best Life,' a daytime talk show venture that they partnered on with Mark Burnett," says the source. "Here's one of the best reality producers in the business. He's had some failures, he's not untouchable, but his track record is pretty solid."
Burnett has produced a series of big reality hits including "Survivor," "The Apprentice" and "The Voice," as well as a few clunkers, like 2007's little-watched "Pirate Master" for CBS, which ended its run as an online-only show, and 2003's "The Restaurant," which earned disappointing numbers for NBC.
"(Burnett) entered into a deal with Oprah and did several projects that just tanked. 'Your OWN Show: Oprah's Search for the Next TV Star'–that was a horrible failure," the source said of the show that premiered during the January 2011 launch of OWN. "Finally, an executive at Mark Burnett explained that they were 'putting a pin' in all of the production development associated with OWN."
In January, OWN exec Christina Norman shut down development for an untitled daytime talk show that was to be executive produced by Burnett, with no official explanation. Burnett still has a production deal with Winfrey, but is no longer actively developing shows for OWN.
Requests for comment from OWN and Mark Burnett Productions reps were not returned.
But Winfrey is hardly alone in her struggles to launch a brand new cable network.
"No matter whose name is on it, or how successful they may have been in other ventures, starting a cable network is just plain difficult–especially right now," Melissa Grego, executive editor of Broadcasting & Cable, tells FoxNews.com. "OWN launched at probably the single most challenging time to start a network. The advantage OWN has is Oprah. Viewers know, trust and love her and will undoubtedly continue to sample the new programs she puts on her air. From a business standpoint, Oprah is also one of OWN's biggest challenges, because there is a huge expectation for greatness. 'It's Oprah! It's got to be a hit!' That's not just realistic or fair to expect a network to start right out of the gate with the kind of success that other networks have spent years or even decades working on."
Another industry insider agrees. "It's a business of peaks and valleys," executive producer and former network executive Bryan Hale said. "For example, TLC was a very quiet network and then a fringe show, 'Trading Spaces,' propelled it into the public conscious. MTV is notorious for having periods of very quiet times, and then locking on a hit and riding that until there's another lull. Bravo was a tiny network known for 'The Actors' Studio' and was off on the sidelines until 'Queer Eye for the Straight Guy' came along and changed its fortunes. Honestly, I personally think that's what's going to happen with OWN. They will find that one show that really resonates with viewers and turns things around."
A solid hit–or two–for OWN could change the course for struggling network. "As tough as road as OWN has to meet their goals, I wouldn't bet against the combination of Oprah Winfrey and Discovery Communications," says Grego. "Ultimately what they need to do is find a few hits, and then they're off to the races."
O'Donnell could be on to something, as she premiered "The Rosie Show," with special guest Russell Brand, to generally positive reviews. Winfrey's new "Lifeclass," basically a hodgepodge of inspirational clips from her legendary talk show, got lower marks from critics.
And with just one show each in the can, there should still be plenty of time.