Tom Cruise's Latest 'Mission Impossible' Tops Box Office for Second Straight Week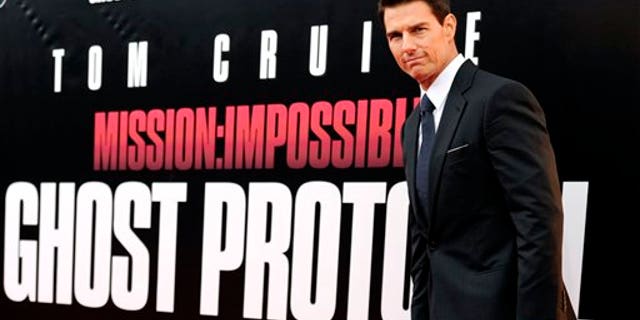 LOS ANGELES – Tom Cruise's new mission remains impossible to beat at the box office.
Studio estimates Sunday placed "Mission: Impossible -- Ghost Protocol" in the No. 1 spot for the second-straight weekend with $31.3 million. With a $134.1 million domestic total, it's the first $100 million hit with Cruise in the lead role since 2006's "Mission: Impossible III."
The Paramount release led a solid New Year's weekend as Hollywood managed fair business to end a sluggish year on a more promising note for 2012. Domestic revenues closed out at $10.22 billion for 2011, down 3.4 percent from 2010's, according to box-office tracker Hollywood.com.
That was a slight improvement over Hollywood.com's projections a week earlier, when Hollywood was limping through the normally busy holiday season with a lineup of underachieving movies.
"This week was a pleasant surprise," said Hollywood.com analyst Paul Dergarabedian. "Last week, we were really pretty gloom and doom, but this final push at the end of the year was stronger than expected. It's a good way to head into 2012, with at least a little bit of momentum at the box office."
Still, movie admissions were down sharply for the second year in a row. Factoring in higher ticket prices, domestic attendance slipped to 1.28 billion in 2011, off 4.2 percent from 2010 admissions and the smallest audiences Hollywood has had since 1995, according to Hollywood.com.
Hollywood started the year in a deep rut, with domestic revenues trailing 2010's by 20 percent or more as a weak first quarter fell far short of the previous year's spectacular results for the sci-fi sensation "Avatar."
Studios nearly dug themselves out from that deficit over the summer, but business lagged through the fall and holidays as audiences had a ho-hum response to most movies.
Some studio executives had predicted record revenues for 2011. The movies themselves may simply have held less appeal to fans than expected, though audiences also could be skipping trips to theaters to watch movies on big-screen home setups or to play with the countless entertainment gadgets now on the market. Viewers can watch films at home or on portable devices for a fraction of the cost of going to theaters.
The industry is looking ahead to an impressive lineup to turn things around this year. Big titles include the superhero tales "The Dark Knight Rises," "The Amazing Spider-Man" and "The Avengers"; the latest in the animated franchises "Ice Age" and "Madagascar," along with "Brave," the new adventure from animation master Pixar; Will Smith and Tommy Lee Jones' "Men in Black 3"; Daniel Craig's new James Bond thriller "Skyfall"; Johnny Depp's vampire story "Dark Shadows"; Ridley Scott's "Prometheus," a cousin to his sci-fi classic "Alien"; and Peter Jackson's "The Hobbit: An Unexpected Journey," the first in a two-part prequel to his "Lord of the Rings" films.
The rest of this weekend's top-three remained unchanged. Robert Downey Jr.'s "Sherlock Holmes: A Game of Shadows," from Warner Bros., finished second again with $22.1 million, raising its domestic total to $132.1 million.
The 20th Century Fox family sequel "Alvin and the Chipmunks: Chipwrecked" was still at No. 3 with $18.3 million to lift its haul to $94.6 million.
In its first full weekend, Steven Spielberg's World War I epic "War Horse" came in fourth with $16.9 million, pushing its domestic total to $43 million.
At No. 5 was David Fincher's thriller "The Girl with the Dragon Tattoo" with $16.3 million. The Sony release, which stars Daniel Craig and Rooney Mara, now stands at $57.1 million domestically.
Cameron Crowe's family tale "We Bought a Zoo," featuring Matt Damon and Scarlett Johansson, finished at No. 6 with $14.3 million. Released by 20th Century Fox, the movie raised its total to $41.8 million.
Rounding out the top films was Spielberg and producer Jackson's animated action story "The Adventures of Tintin" at No. 7 with $12 million. The Paramount release lifted its domestic sum to $47.8 million.
Estimated ticket sales for Friday through Sunday at U.S. and Canadian theaters, according to Hollywood.com. Where available, latest international numbers are also included. Final domestic figures will be released Monday.
1. "Mission: Impossible -- Ghost Protocol," $31.3 million.
2. "Sherlock Holmes: A Game of Shadows," $22.1 million.
3. "Alvin and the Chipmunks: Chipwrecked," $18.3 million.
4. "War Horse," $16.9 million.
5. "The Girl with the Dragon Tattoo," $16.3 million.
6. "We Bought a Zoo," $14.3 million.
7. "The Adventures of Tintin," $12 million.
8. "New Year's Eve," $6.7 million.
9. "The Darkest Hour," $4.3 million.
10. "The Descendants," $3.7 million.