Tom Cruise opens up about Scientology, plastic surgery, and singing Def Leppard songs in Playboy interview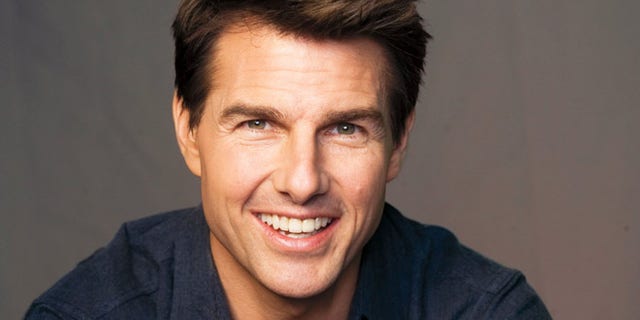 Tom Cruise's career was in crash-and-burn mode a few years ago when he went on a rampage against Brooke Shields for using anti-depressants to fight her post-partum depression.
But that was 2005, and this is 2012. Today, Cruise is much more careful with his words in a Playboy interview online now, and hitting the newsstands May 18.
"Reviewing the whole thing and how things can be edited and misinterpreted, I decided, You know what? Here's the deal. I take responsibility for what happened, but everyone now knows that if I am dealing with humanitarian things, I will talk about that," he says in the June issue. "When I'm promoting a film, I'm not going to get caught up in anything else, and that includes all my personal things."
PHOTO: Cruise shows off abs in new poster.
[pullquote]
Which means anyone asking him about Scientology, Brooke Shields, or anything else while he's out promoting this summer's "Rock Of Ages" is in for the silent treatment.
Except for Playboy, apparently, with whom Cruise, 49, broached all of the subjects and more. Here are some choice quotes from the interview.
On his comments about Brooke Shields, and the subsequent testy interview with Matt Lauer: "I never meant it that way. When I go back and look at it, I find myself thinking, I don't feel that way. I get how it came across, but I don't feel that way, and I never have. Telling people how to live their lives? I saw how that came across and how pieces were edited."
On attributing his success to Scientology: "I have respect for what other people believe. What I believe in my own life is that it's a search for how I can do things better, whether it's being a better man or a better father or finding ways for myself to improve. Individuals have to decide what is true and real for them. I'm fortunate in the life I have."
PHOTOS: Katie Holmes out on the town with Suri.
On ignoring rumors: "Does refuting things help? Not really. There comes a point when you just have to go, You know what? Here's how I've lived my life: I've never been late to a set. I make films I believe in. I feel privileged to be able to do what I love. You just have to keep going and remember that. The other stuff? I hear it, I read it, I get it. But life is not a matter of trying to prove anything to anybody."
On when lawyers become involved: "If I have to, I will sue. You start with a letter saying, 'Okay, you know it's not true. Apologize.' But with certain ones you have to go, "Okay, you crossed a line, and now you have the attention of my lawyers. [laughs] When it involves your kids, you have to go, 'Here's the line, and anytime you cross it…."
On whether or not he's had cosmetic surgery: "I haven't, and I never would."
On the perception that he's quite competitive: "Here's the thing about competition. I don't think that wanting to do my best qualifies as that. I love making movies. Whether it's making a film or raising my children, personally I'm striving to do the right things and to learn. I'm an all-or-nothing kind of person, and when I become interested in something, I give it my all. I guess I'm always striving to be competent. But when it comes to working with other actors or releasing movies, I don't feel competitive. It's a group effort."
On making blockbusters: "I understand the box office game. I was there in the beginning when they started fixating on the number one film and the competition in that. I really came up with promoting films around the world, and studios fought me, but I mainly did it because I wanted myself and my kids to see the world. But here's the game I'm playing. I want to make great films that entertain an audience and hold up. I can control only the effort I put into it and the experience we all have making it. After that, it is what it is."
On singing "Pour Some Sugar on Me" in front of Def Leppard while filming "Rock of Ages": "Well, the lead singer, Joe Elliott, points at me and goes, 'F**k you! F**k you!' Then I saw big smiles on their faces, and I realized I'd gotten their stamp. It was a very cool moment. It was important they knew I was honoring their music and not making fun of them."
On how he feels about Katie Holmes: "She is an extraordinary person, and if you spent five minutes with her, you'd see it. Everything she does, she does with this beautiful creativity. She's funny and charming, and when she walks into the room, I just feel better. I'm a romantic. I like doing things like creating romantic dinners, and she enjoys that. I don't know what to say—I'm just happy, and I have been since the moment I met her. What we have is very special."