'Today Show' split? Staff must pick between Team Matt, or Team Ann, source says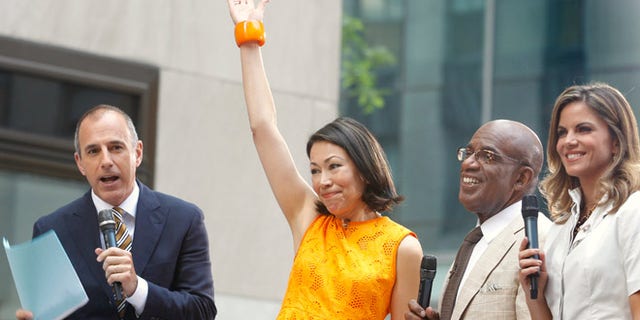 NEW YORK – "The Today Show" is quickly morphing from the number one network morning show into something that more closely resembles "Days of Our Lives" when it comes to the behind the scenes drama.
What put the show, and its once beloved host, Matt Lauer, under public scrutiny was the unceremonious firing of Lauer's co host, Ann Curry, in July. Much was blamed on Lauer, with lovable weatherman Al Roker even making a snide on air comment that Lauer threw Ann "under the bus."
Roker and Curry are off-air friends, and it was rumored that Lauer played a major role in pushing Curry out. She was soon replaced with a new co-host, Savannah Guthrie.
A "Today Show" sources tells FOX411 that the ensuing fallout soon created an uncomfortable work environment for many staffers who felt they were splitting into two camps: Team Matt or Team Ann.
Much was left unsaid, but everyone knew where they stood.
"No one is at fault here," the source went to great pains to point out. "But things over there are not good, and this was the natural progression that happened. There are the people that love Ann because she's so sweet and loyal and gives it her all. There are the people that adore Matt because he's done so much for so many people. Matt is beloved at the show. He's had one assistant in 15 years, producers that have all been with him over 10 years, he's kind and gets a bad rap."
The NBC source says that when Katie Couric was co host of "Today," everyone liked Matt better. "Matt is the guy that knows everyone's names, turns up to their birthday parties, calls if he knows if something bad happened in their family, he responds to favors and non work e-mails," the source said.
But now the staff is torn because Curry was publicly embarrassed by the network and some staffers loyalties lie with her.
"Ann's great too, but it's as if you can't love both," says the source. "This was a decision made at the top. Everyone was sad when Ann left, but she just didn't fit into the new role."
Staffers understood the need for a new host, but some turned on Lauer when it was rumored he played a role in her ouster, says the NBC insider. The show's subsequent fall form its years-long perch on top of the morning show heat to the No.2 slot behind "Good Morning America" has only exacerbated the schism.
The insider says staffers still respect Ann, especially in her new role as an international correspondent. "Ann is now of interviewing heads of state, it's not exactly a role suited for anyone who doesn't have the smarts. It's just that she fits better there than she did in living rooms on a daily basis. That's it," says the NBC source. "When she is in New York, yes of course she is in the building, and yes, she has seen Matt. The initial uncomfortable feeling with what went down has subsided, everyone has gotten on with their roles. Listen, they are not best friends, but they are also professionals. They greet each other and it's fine. Ann's picture is still on the walls along with all the other hosts."
As for her feelings towards Guthrie, Curry is "not one to gloat," says the source.
Amy Rosenblum, a former "Today Show" producer turned media trainer who shares a media training company, Media Masters, with NBC host Jane Hanson, says that people invest so much into these hosts because it's common to feel like they are "family."
"People like to wake up to them. You're in the morning, by yourself or with one person, you look at what they're wearing, what mood they're in. You feel very connected to them," Rosenblum says. "You start feeling like you know them."
Rosenblum says the morning television ratings shift for a simple reason: "People naturally gravitate to who they like, it's like seeing a best friend."
The NBC source says the problem at "Today" goes to the top. "Everything is fixable, they just have to decide what they want to do," said the insider. "They messed up with Jay Leno, they have a long tradition of messing up."
NBC famously gave Conan O'Brien the "Tonight Show" and Jay Leno an earlier timeslot, before hedging on its plan, prompting O'Brien to quit the network altogether and Leno to resume his "Tonight Show" gig. Leno recently had to cut the "Tonight Show" budget in half as well.
FOX411 reached out to NBC for comment on what's happening behind the scenes at "Today," and show spokeswoman Megan Kopf assured us the staff is getting along.
"The entire 'Today Show' staff works together as a team," Kopf said.